Hi guys,
I know there has been a lack of updates for The Fall of Gyes graphic novel, so let me devote this New Year update primarily to the comic.
GENERAL PROGRESS
First, I realize that the delay for our "estimated delivery date" is unacceptable. There is no excuse that either party would find believable when we're five months behind, but here are the facts. As an indie developer I depend on the freelancers I work with, and when they miss deadlines it inevitably affects the whole release. I understand that you've trusted me personally with your money, so as the game director I take the whole responsibility for any delay.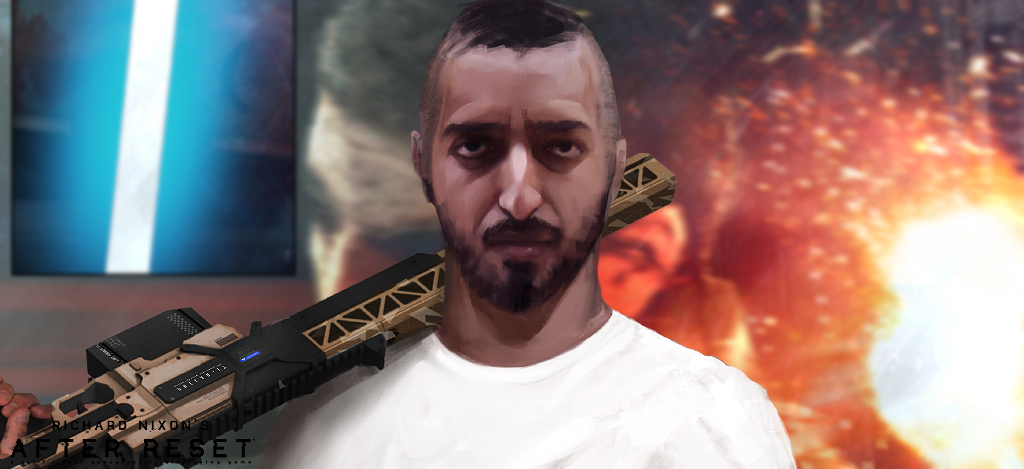 But right now you don't want to hear excuses, you need deeds. Thus, how do I compensate for the delay?
1. Quality. You can see through updates and new builds (with your approval I rejected the strategy to release them too early just to meet the EDD) in favor of releasing small but cool and completed steps. We do something until I, from my picky point of view, can say something about it is really cool. Sometimes this means starting over from scrap if it's just not working, and when you see our page previews (shown below) I think you'll agree that it's paid off.
2. Money. It's inevitable that delays, even if accounted for in a product's budget, put a lot of stress on the team's finances. I've therefore put more of my own money into the development to be sure that we'll not compromise on our quality standards and deliver trash content just to stay under budget. The novel, for example, will end up containing 37 pages instead of the initially planned 32, and at no extra cost to you even though is increased our budget requirements.
3. Time. I toil away on After Reset 8-12 hours a day and rarely take a weekend or holiday off (except for Christmas). I sold my other business some time ago and have been completely focused on this task ever since. Frankly, I'm quite happy with our progress and the support from our backers.
Therefore, after TFoG is done it'll be judgment day from our fans. However, I think you'll be satisfied in the end and support our next novel. Until then I'll do everything in my power to make sure you'll be happy with the result.
PAGE PREVIEW
As of my last meeting with Adam we have 14 pages completely finished, 16 pages under review (adjustments/repainting), and that leaves 7 pages incomplete. Below we've got 12 of the finished pages for you to preview, and even as thumbnails we decided to leave out the lettering to avoid any possible spoilers. This way you can make up your own mind as to whether the delay is worth it (frankly, I myself have rarely seen such quality in other graphic novels).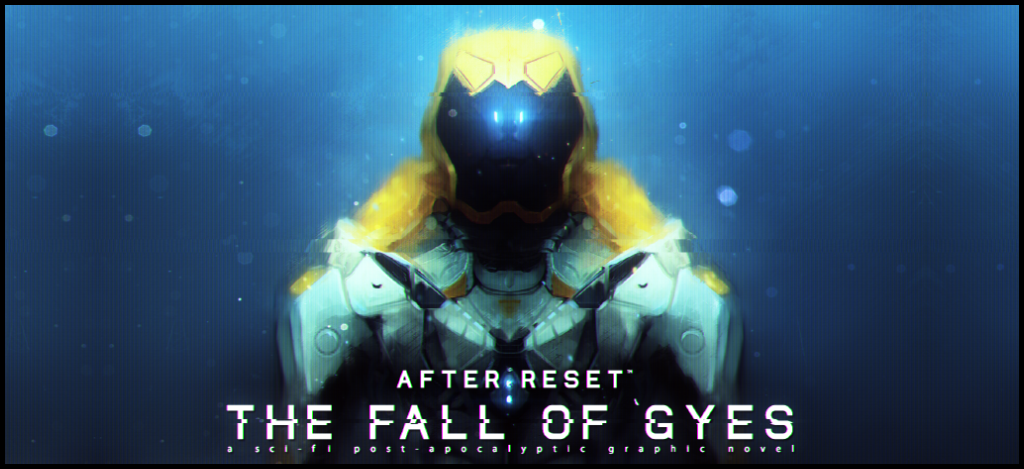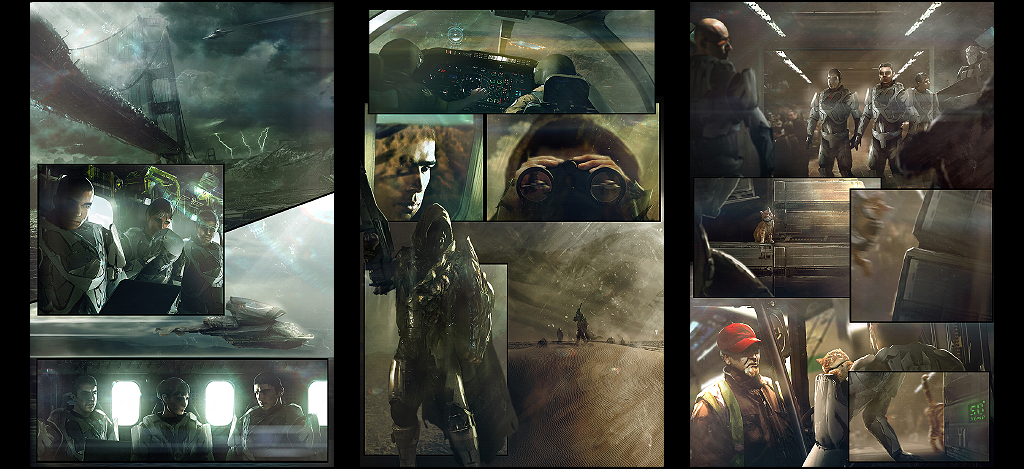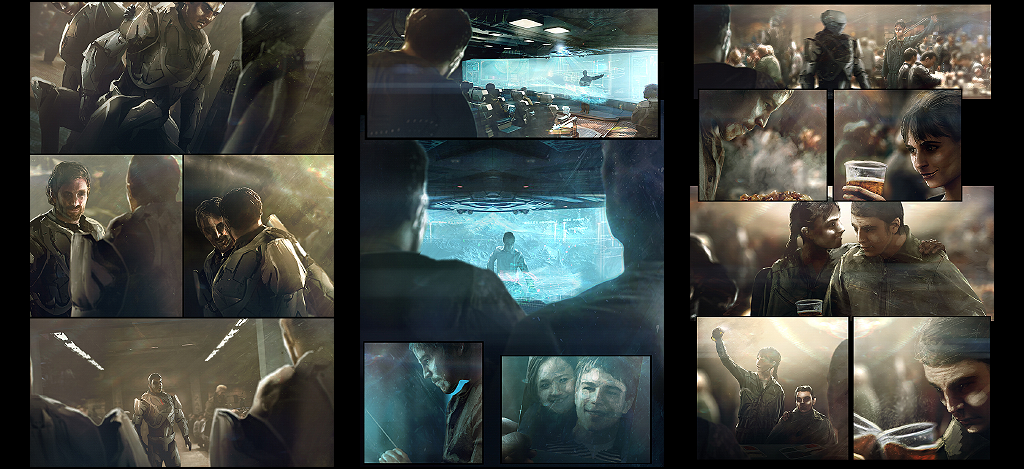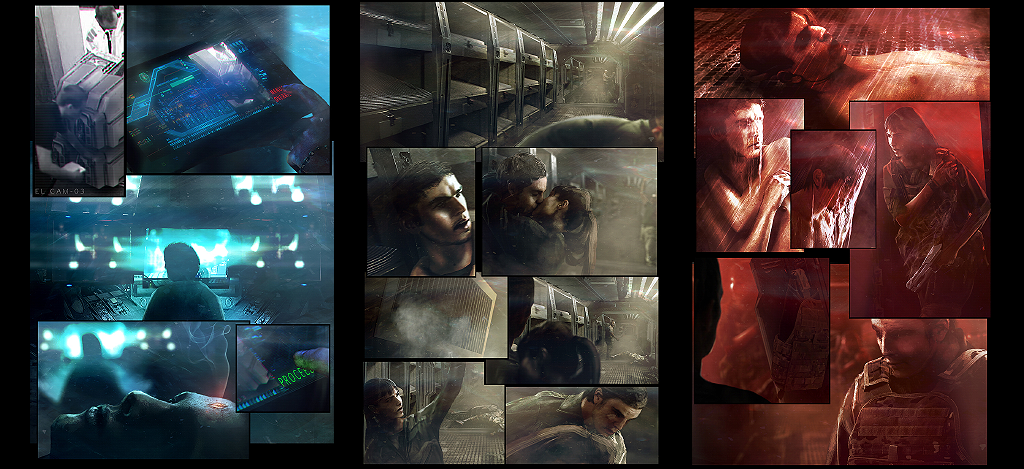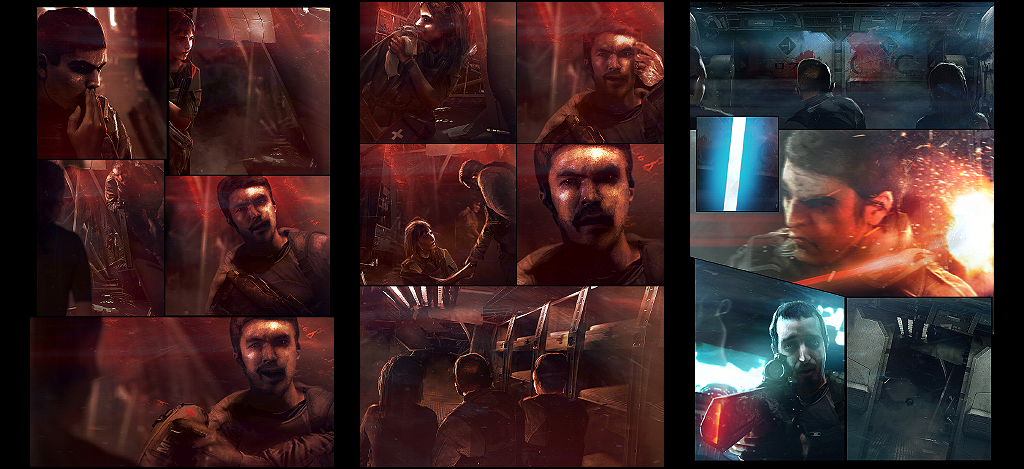 EXCLUSIVE REWARDS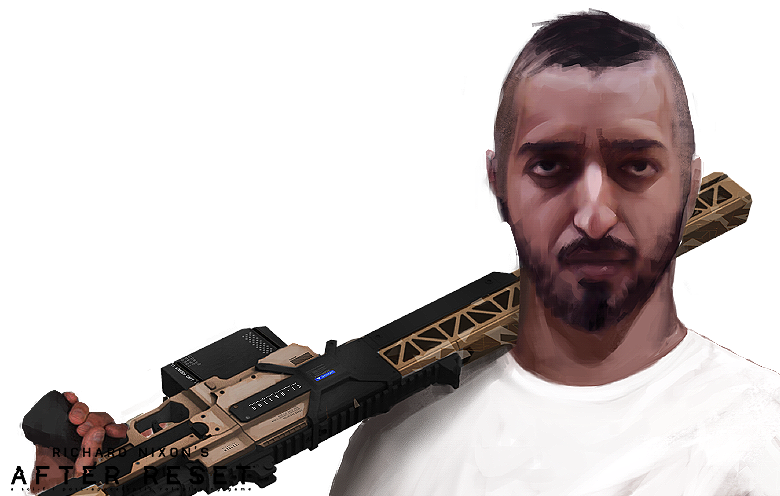 As some of you remember, during the TFoG campaign on Kickstarter we promised a legendary reward for up to two very special backers. It was an 'exclusively made character poster of YOU as a citizen of the United Governments in the After Reset setting, made in very high dimension to be printed in any photo studio.' I'm very pleased to present backer Ahmad Khan as an NPC in After Reset setting.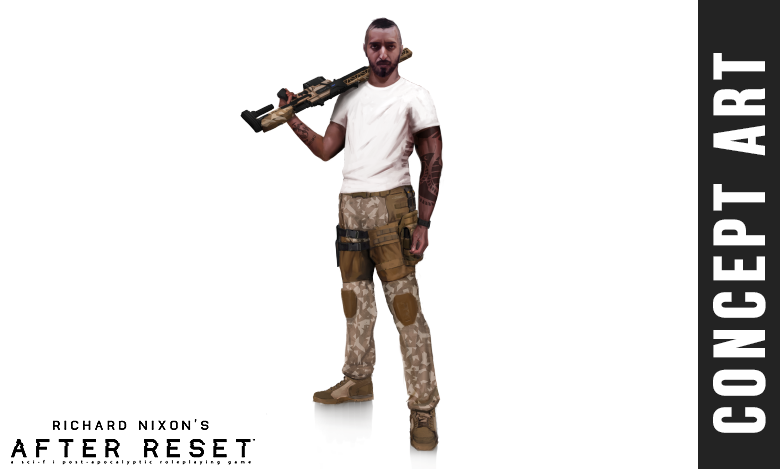 Name: Ahmad Khan
Nickname: Khan
Race: Pastager
Date of birth: March 4, 92 A.R.
Place of birth: Selene, Underearth.
Ahmad was born March 4, 92 A.R. in Selene (one of the three underground cities of the United Governments, located in the former USA) in a fairly normal family of government employees. When he was born his father, Sebastian Khan, was a colonel in the UG Military Corps, and his mother worked as a lieutenant in the Selene Police Department (SPD) in the ranks of the Social Corps.
Despite the Social Corps' decline in popularity after "the Riot of Cans" in 87 A.R., Ahmad had wanted to follow in his mother's footsteps since childhood, and even prepared to enter the Selene Police Academy. This made it all the more unexpected for everyone, including his parents, when he chose instead to join the ranks of the Military Corps after completing his tour of duty in all four Corps of the UG, which is traditional for all citizens.
It is completely possible that the reason behind this choice was his move to Helios in 125 A.R. (the capital of the UG), and the intensified advertising campaign there for the President's upcoming administration program to "Take Back the Surface!" The request Ahmad sent (to be transferred) into the subdivision of the Military Corps on the Surface was nevertheless met with resistance from his father, who did everything in his power to stop him. The conflict between father and son lasted almost a year, but after the Dallas Incident in 129 A.R., Ahmad finally understood that his father was just trying to protect him.
These events markedly decreased Ahmad's enthusiasm for deployment, but nonetheless after two years, with his father's approval, he was transferred to serve in New Dallas on the surface. Later, in 123 A.R., he was sent on an assignment to Bunker N3-H1 under the code name "Gyes…"
Ahmad, thank you for your support and dedication, and we've updated our official forum to include your unique avatar.
CO-FOUNDER STATUS
As I promised, we are no longer giving out "Co-Founder" status as a packaged reward for any future purchases in order to preserve its value. There is now no way to obtain it other than special events (such as giveaways) or by outstanding achievements.
Now, it's time to pull back the curtain and reveal some of my plans for our Co-Founders. As you know, everything in After Reset is about role-play.
As I stressed many times before, After Reset's setting is realistic hardcore sci-fi and it is not linear, it depends of YOUR choices. The choices you will make not only affect your game but also beyond it.
Another example, exclusively for Co-Founders, is the ability to select the new President of the United Governments.
I imply that (according to our timeline) that by the time you've completed After Reset RPG, there will be elections for the new President of the United Governments, the new Primus Inter Pares. Therefore, I want to give our Co-Founders the opportunity to take on the role of a UG citizen, and vote. I'm currently working on a virtual election (on our forums), for two DMs to take on the roles of the candidates, election videos, etc, and I think it'll be a lot of fun.
STEAM
In this news I'd also like to include some info about the transition to Steam, keys, tiers etc.
First, we've prepared the STORE page on our forum according to the documents of the new platform. For now the STEAM buttons don't lead to anywhere, but by the time we release a build to Steam Early Access (SEA) that will change. With time, I also hope that there will be GOG buttons as well. Especially for several of our backers who asked us to provide them with direct download link of the game outside of STEAM: don't worry, "cum promisseris, facias".
Second, you can already find "XX" instead of pledges' prices in the STORE. That means that we don't accept those pledges via PayPal any more - we are waiting for the SEA release. Due to some legal limitations I can't reveal those prices for you yet, but I can say that our Kickstarter and Direct backers will find just how good of a deal they got by supporting us earlier.
Third, we are already sending SEA keys for the game and its add-ons based on a priority system of who funded us first, according to the following:
1. Direct Pledges.
2. The Fall of Gyes Kickstarter.
3. After Reset RPG Kickstarter.
By the time you read this we'll have sent out all of the Direct Pledge and The Fall of Gyes Kickstarter keys.
Forth, we've already prepared the new patch for the game, but we'll wait to apply it until after the torture of sending out all 7000+ keys. Meanwhile, don't be shy to report any issues you do find in the current build here: www.afterreset.com/forum/showthread.php?p=871
* * *
Well, I think that's all the news for today. Stay tuned for the next juicy update! I hope, you're all still with us.
Merry Christmas, dear fellows! And Happy New Year!
Sincerely,
Richard, Ivan, Mariusz, Jeremy, Max, Andrew, Angelina, Osman, Yannick.