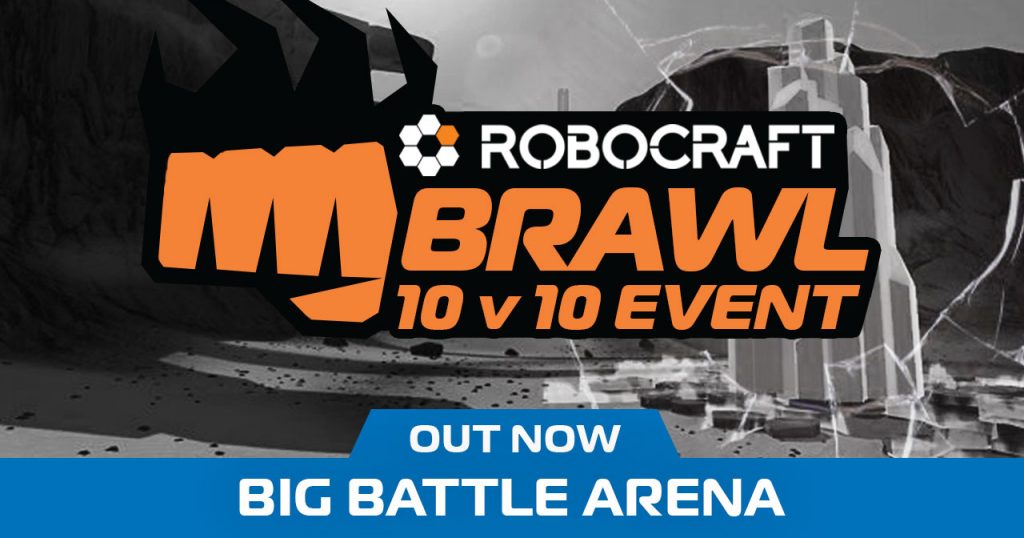 Today, February 1st, we swapped out the Total Elimination BRAWL for a big Battle Arena BRAWL that we imaginatively titled the "Big Battle Arena BRAWL". We doubled up on team sizes to really ramp up the battle action and excitement. More players on the battlefield means more enemies to watch out for and more teammates to assist in winning the war - it's EPIC! In addition to the new BRAWL, we made some balance changes and rolled out some improvements to Insect Legs.
See you on the battlefield
---
NEW:
Big Battle Arena BRAWL

Rules: Standard Battle Arena Rules
Game Mode: Battle Arena
Players: 20 (10 v 10)
Map: Gliese Lake
CPU Limit: 2000 CPU per robot
XP for Building A/B test - Our new Building XP system allows players to level up while they are building robots. As long as you're actively building, and not just sitting in the edit mode, you'll earn XP. We want to ensure that the feature works as expected outside of studio and so we're going to be rolling it out to a portion of new players in what's known as an A/B test. If all goes well with the test, we'll roll it out to everyone. You can find out more about XP for building and the A/B test by reading our recent Dev Jam.
BALANCE CHANGES:
All Nano projectile ranges increased by 10%
Nano Mender energy consumption reduced by 20%
Nano Constructor energy consumption reduced by 20%
All Tesla weapons base health increased by 12.5%
Gyro Mortar base health reduced by 12.5%
Sprinter Leg base speed reduced from 180 mph to 170 mph
Thruster Lynx Force increased by 10%
Thruster Panther Force increased by 10%
OTHER CHANGES:
Improvements to Insect Legs - We have made changes to Insect Leg parts that make them a lot more stable. They now flip less frequently and work smoothly with copters and flyers. There was an issue before where an insect would flip out of control if it had rotors attached and it tried to land on the ground. This has now been fixed in such a way where the insect leg mechanic does not take effect until the legs are touching the ground (before they would take effect a short distance off the ground).*
*note: If this doesn't make sense when reading, blame Josh, he wrote the explanation. ¯\(ツ)/¯