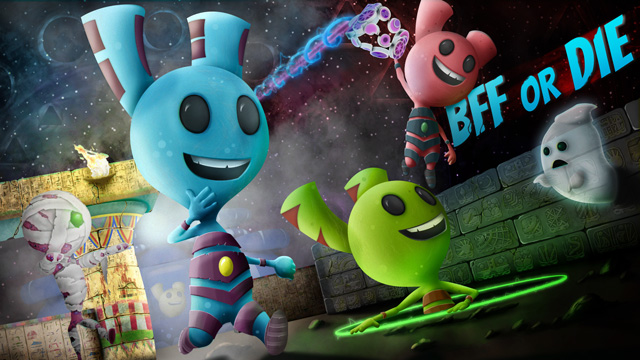 We had some good news recently. BFF or Die won a thing..! An industry panel comprised of senior members from Team 17, Rebellion, The Guardian, Marmalade, BAFTA, Barbican International and Norwich University selected BFF or Die as best multiplayer game for the UK leg of Game-On 2.0.
It will join over 100 other playable games as part of an history of video games exhibition that will run for 5 months at the Life Center in Newcastle, England. We'll be taking the latest build of the alpha demo which is currently at v0.2 at the time of writing. You can head over to the download page if you want to play it.
TIGA, the trade body for video games in the UK created 5 categories for indie studios to enter. The 6 winners were:
Best Education Games: Bossa Studios' Twelve A Dozen and Space Budgie's Glitchspace
Best Mobile Game: Inkle Studios' 80 Days
Best Multiplayer Game: Honey Tribe Studios' BFF or Die
Best Oculus Rift Game: Tammeka Games' Radial-G
Best PC Game: State of Play's Lumino City
Chris Kingsley, CTO at Rebellion, Europe's biggest independent games publisher had this to say about BFF or Die:
"BFF or Die is just great fun, with compelling and rewarding multiplayer gameplay."
More details can be found in TIGA's press release.
We recently took BFF or Die to the Gadget Show Live at the National Exhibition Center in Birmingham, England. You can see what people thought about the gameplay in the video below.