This update is largely focused on improving the loot system based on the issues covered in this blog post. There is now a chance for new ships and repairs to be added to all (non-supply) shops and generally increased the number of shops available in each sector. This goes some way to addressing the issues relating to the availability of items to purchase – we'd love to hear your feedback on this.
Please note – saved games won't reflect the changes in currency (shop prices will increase, but your bank balance won't). The system will work as normal when you start a new game.
Also in this update are a number of additions and improvements to UI & usability: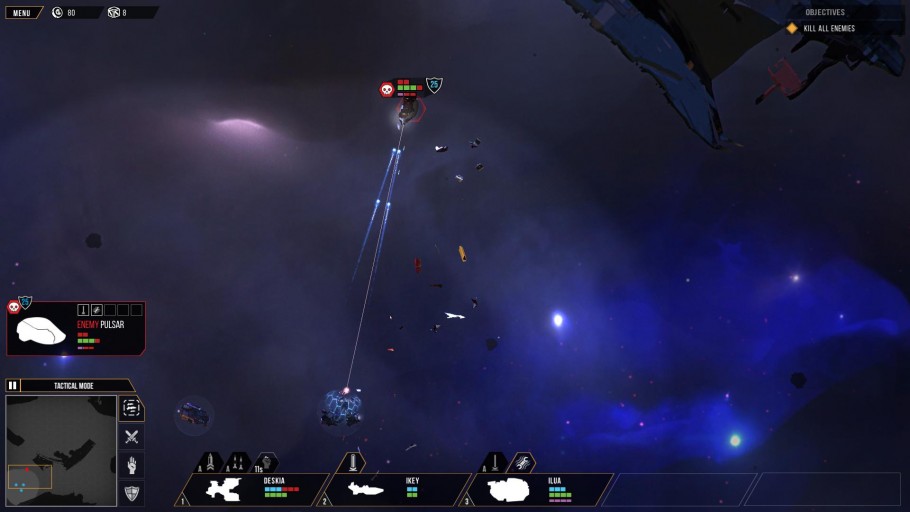 Ships will now display an icon to show whether they are friendly or not.
All ships have a shield icon which indicates whether or not their shield is recharging and how long it will take to regenerate.
Clicking on an enemy ship will show an info panel which displays its class and equipped weapons & attachments.
And a number of bug fixes:
Fixed a bug causing the sector and galaxy map squashing information.
Fixed a bug where ships would randomly ignore your attack orders.
Fixed a bug where enemy ships could be invincible.
Fixed a bug where storms caused excessive lag.
New attachments:
A number of new system and support attachments have been added. These will allow some classes of ship to increase damage, rate of fire or repair hulls and shields as well as adding a selection of new support abilities for the Pulsar. While there are still more attachments to come (and upgraded weapons), these go some way to adding more options in combat for your fleet and also offering new challenges to defend against.
Some of the work that has been completed with this update is in preparation for more extensive changes coming later in the month to address combat and how enemy fleets spawn in missions.
Full patch notes can be found on our blog - let us know what you think.