Hi all,
Tracey here! I'm the producer on All the Delicate Duplicates and we are running our Open BETA this weekend. We want to get as much feedback as we can from as wide and audience as possible to inform our final stage of development before launch next year, and we'd LOVE to get some constructive criticism from fellow indie devs as part of this.
Taking part in the BETA is easy! Simply sign up on our BETA site and await instructions on how to gain access.

The BETA is for PC only, will run until 23:00 GMT on 28th November, and is open to anyone over the age 16.

We'll be sharing BETA updates and impressions on Twitter using the hashtag #DelicateDuplicates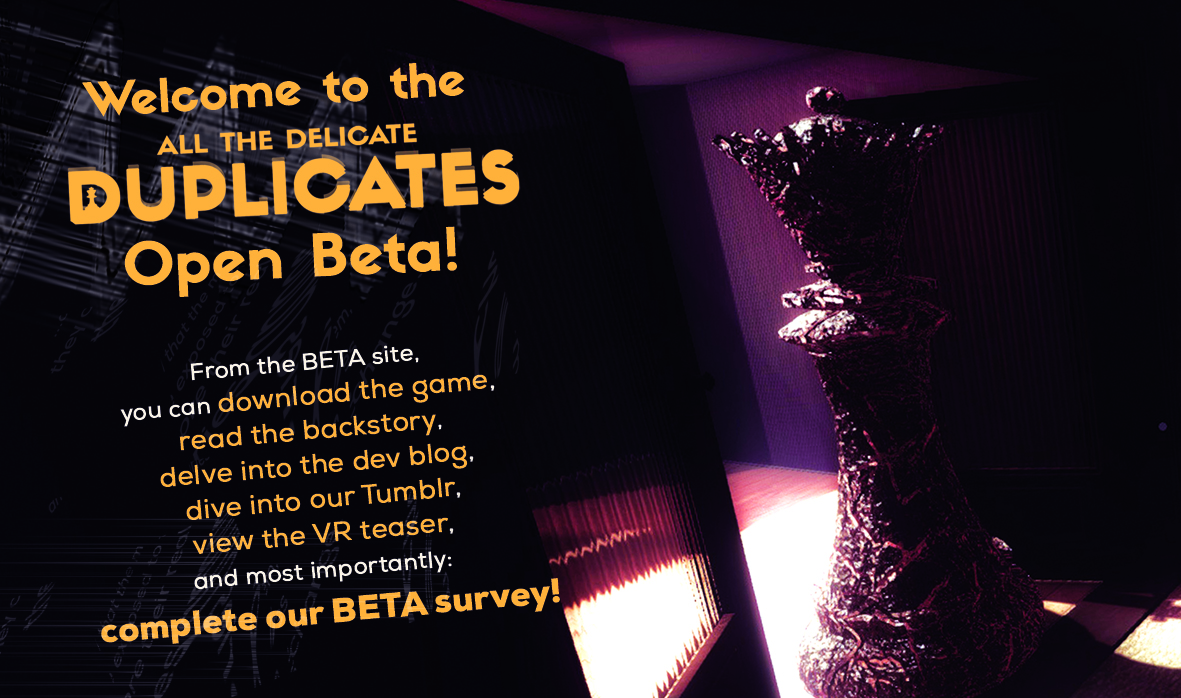 About the game
Developed by Andy Campbell and Mez Breeze, and winner of the 2016 GameCity Festival 'Best Overall Game' Award, All the Delicate Duplicates is a work of digital fiction with a beautifully immersive gameworld at its core.

John, a computer engineer and his daughter Charlotte inherit a collection of weird objects from a mysterious relative, that oddly, neither of them can really remember anything much about. Eventually, John and Charlotte start to believe that the objects might be transforming their realities and memories…

A central part of the non-linear language in All The Delicate Duplicates is the poetic, hybrid language Mezangelle. It remixes the basic structure of English and computer code to create language where meanings are nested inside each other; packed. You have to read; then re-read; then re-re-read in order to piece together the disturbing truth behind 'Aunt Mo'...
THANKS!
Best wishes, Tracey
@tamcgarrigan