Hi everyone, in this week's update we got a new little critter for you. It's just not actually that little and rather murderous. Soooo… enjoy!
First, a short excerpt from Karin's Log detailing the creature in question:
Bestiary Entry 14: Skitter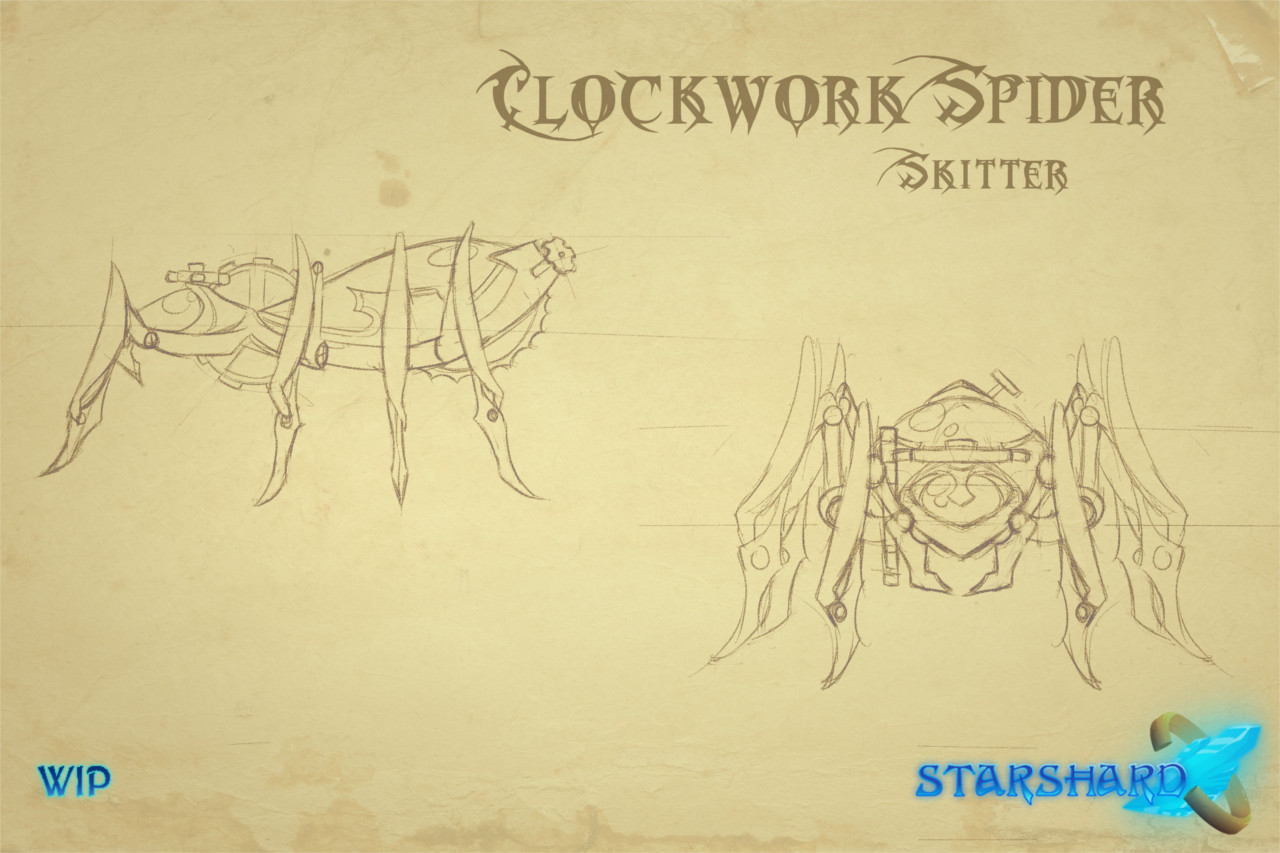 Over the countless millennia since the dawn of time, many have sought mastery over the living beasts which inhabit all corners of the known universe. For those who failed at every turn, the promise of artificial lifeforms hold a particular allure.
None know who created the first clockwork creatures – the details have long since been lost to the annals of time. What we do know is that the beauty of their craftsmanship has endured for aeons, weathering the ages in an almost supernatural fashion. Despite this, few such clockwork beasts remain in working order, most reduced to heaps of scrap by opportune adventurers seeking a quick source of income.
Of these survivors, the Skitter is undoubtedly the most feared. The characteristic clicking and scraping that echo through the hollow metallic halls of their lairs has been known to cause severe cases of arachnophobia in even the bravest of souls.
Concept
This monster is the first in a series of clockwork monsters. As you might have guessed from the name, their designs are based on actual clockworks. It goes far beyond that though. Within the metal and glass case a mysterious ancient glow powers the creatures and gives them life. To the untrained eye it might seem like it's just any modern shard technology but don't take those creatures lightly. The mechanical gears of a Skitter can be turned into gruesome weapons in a blink of an eye. The saw-like gears on the abdomen are especially deadly. Their whole body is full of sharp edges of hardened metal ready to slice you up. I mean just look at their feet. Yet they are made of precious metals and carry valuable scientific resources so it might just be worth picking a fight with them.
So what does this fearsome creature look like when I meet it in-game you ask? Let me answer your question with this little gif of the Skitters idle animation.
As always, be sure to check us out on social media!