Hi everyone it's been a busy couple of weeks for Rumpus. We have literally been on a world tour to give people a taste of Bertram's universe . Last week we were at EGX London to showcase the game in the Rezzed area dedicated to indie titles. It was a lot of fun to see people enjoying the game, and look at the other creative indie games on display. We even found this guy who looked like he did nothing else but pointing and clicking!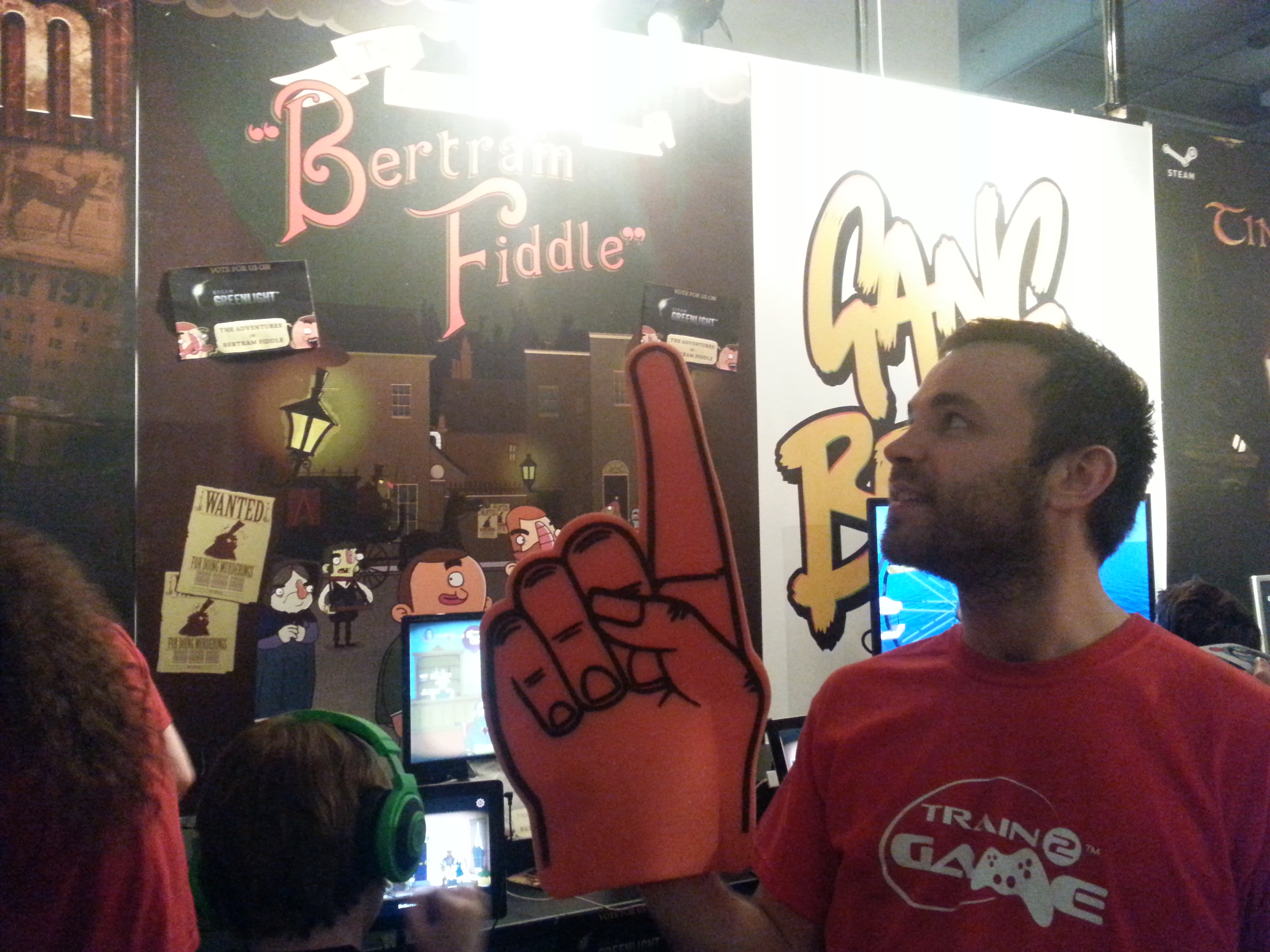 The greenlight campaign for Bertram was also launched last week so we could use EGX to get the word out. A big thank you to everyone who voted for us and left us such nice comments. It is very motivational to see people connecting with the game!

The journey to London was a bit hectic. We had borrowed a new iPad so journalists could record footage from it. We had made sure the game was working on it a week in advance, but in the meantime it had been upgraded to iOS8 which meant the game was not running on it anymore – and we only found out a couple of hours before we had to leave! As a result we had to bring a mac mini, screen and everything with us to London so we could fix it at the hotel. It felt a bit like being on a stakeout setting up all this equipment in a hotel room. Thankfully it was easy to fix the problem once we were there by just upgrading the our game engine Unity to the latest version and do a new build, phew! As a bonus we now know how beatiful the game looks on a retina display. Besides talking to journalists at EGX we also got to see a lot of familiar faces again. Twice Circled, another Bristol based game company showed off their tycoon game Big Pharma which looks really gorgeous and promises interesting ethical dilemas. Next to our booth Boneloaf had their popular physics based brawler Gang Beasts on display which was always drawing a crowd in and on the other side was Monstrum, a procedurally generated survival horror by Team Junkfish. So we were literally the ham in an amazing game sandwich.
Tokyo Game Show
The week before EGX took place Seb also presented the game at Tokyo Game Show as part of the Indie arena sponsored by Sony. We were selected from over 300 entrants so it was a huge honour to be there. Seb's wife is from Japan so she and one of her friends had translated the start of the game to Japanese which went down really well. For a game that is all about story, being able to understand what the characters are saying is vital.
We are thinking of releasing the game in Japan as it has a huge market for story based games, but we were unsure how the art style and story would be taken. Point and click adventures aren't that big in Japan, but there is a huge market for interactive manga and escape the room puzzle games are also very big. We had a lot of nice comments about Bertram being "Kawaiii" and that Gavin was handsome(?). Some players did remark about why Bertram had "Sashimi on his nose?" But I told them it was a sunburnt Dangomushi and they seemed happy with that.
In the end, I think the fact that Bertram looks so different and is so ridiculously English that the game stood out and we actually had people queuing to try the game. Other British brands, such as Wallace and Gromit and Sherlock Holmes are also currently popular in China and Japan now, so maybe we can find ourselves a little corner of the market.