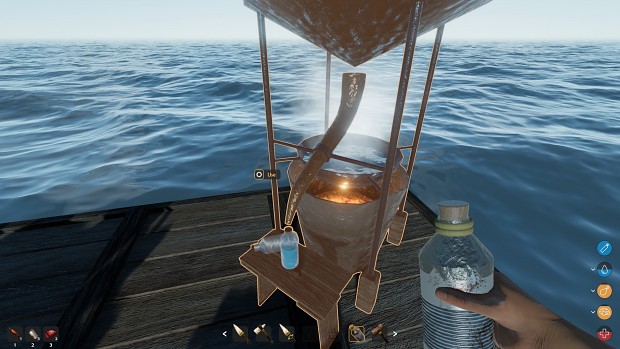 The first thing you need to know in every survival situation is how to obtain drinking water.
You should never try to satisfy your thirst with salty sea water as it will dehydrate your body even more. Instead you must distill the water. Basically, all you have to do is heat up some salt water, so it gets evaporated. The next step is to cool down the steam and collect the clean, salt less water. In Bermuda you can achieve this with a very handy distillery.
We highly encourage you to comment and give feedback! If you have questions, we'll try to answer them directly or address them in upcoming posts.

Open World
Bermuda – Lost Survival plays in an open world sea scenario containing sectors with different reefs and individual resources. Since a sector never contains all resources, you must plan strategic outposts and optimize your crafting chains and travel routes.
Dynamic Ecosystem
Each reef in the game has an individual ecosystem that is affected by your actions. Observe the wildlife's reaction and keep the natural balance as your life depends on the reefs natural supplies!
Progressive Gameplay
As you progress further, the game focus will shift: Crafting and building plays a very important role in the beginning. Your next step will be to explore deeper waters and find out about Bermuda's myth. But your activities in the depths will not stay unnoticed!
Exploration
Upgrade your equipment and prepare for the depths! Visit impressive wrecks and ancient structures. Search them for unique artifacts and hints that might lead you to the myth of the Bermuda Triangle.
Late Game
After drawing too much attention, a hostile faction guarding Bermuda's secret will find you.
Take action and fight for your survival!