Hey everyone! This is Digital Glass, and I'm the programmer behind Armor. We started development 3 weeks ago have been in crunch mode this whole time, and I'm happy to say we hit our first milestone on schedule. We've managed to hit a first pass of our major features: Combat, Movement, AI, Networking.
Most importantly, our entire team is scattered around the world, and we've been concentrating on getting our pipeline as smooth as possible. The most important aspect of our pipeline right now is making everything data driven, giving our designer, and animator full flexibility on the various aspect of gameplay.
Here's a sample of our Animation Blend Tree's xml file: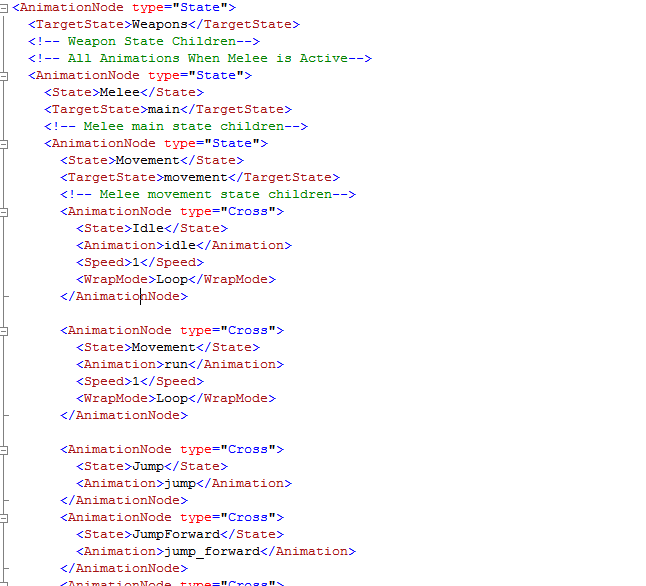 The animator is given full control over how they want their animation to play, whether it's blending from a walk cycle to a run cycle, or adding a Fire animation on top of a running animation. Anything someone can do by coding in Unity, the animator has control over with the blend tree.
The various aspects we've made data driven is our: Combat System, AI, and FX, and intend to continue making more aspects of the game data driven, such as sound, weapons, and characters. This has proven to be a great decision, and has allowed us to have everyone design various aspects of our game, and merge them together without the need for Unity Pro, and Asset Server. For our second milestone, we aim to polish our tools with a GUI to increase productivity and make things easier to manage.
This has been a "behind the scenes" look at Armor, hope you all enjoyed, and track our progress as we move forward. Also be sure to take a look at our videos, and if you have any questions, feel free to leave a comment!