Hi guys,
Today we would like to present our new campaign poster to you. We also have a widescreen poster finished but we will ship this later with the next update.
Also we have fixed our roof lettering, check it out in the "latest screens".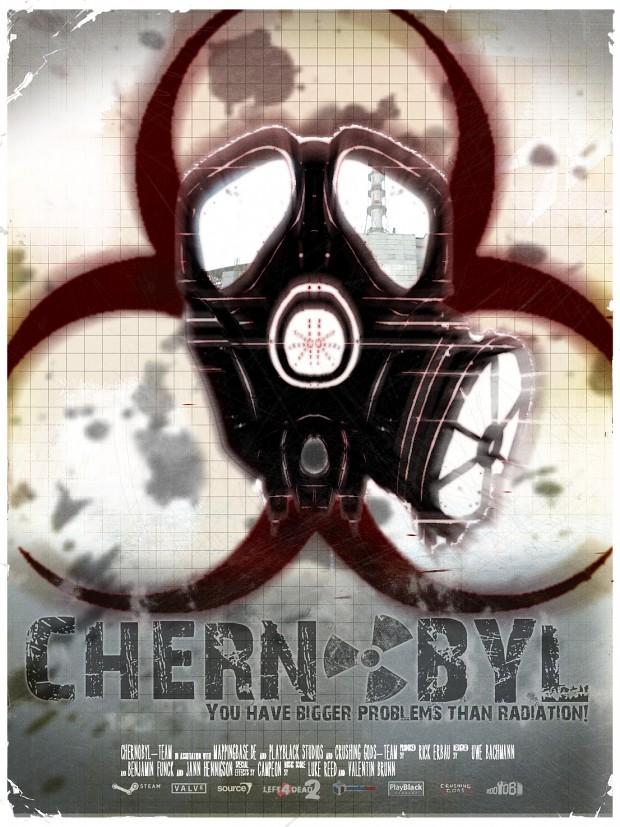 Many of you asked if we use the game S.T.A.L.K.E.R. as reference and the assets of the game. Our answear is: Not in anyway! All of our content is developed with hundreds of pictures, selfmade textures, models, custom made sounds and Google Earth.
Also some of you think that we are going to include creatures and other things from S.T.A.L.K.E.R., we would like to point out that we are developing a Chernobyl-campain for L4D2, not a S.T.A.L.K.E.R. based campaign.
Of course we are planning to add custom zombies and similar, but only to increase the atmosphere. We want to make the infected looks more east-european and also we would try to replace some weapons with more russian like weapons but for now we can not guarantee anything of this.
But now let me tell you a little story, about our project.
Some weeks ago we met the hobby photograph Timm Suess from Switzerland. In the past he was in Chernobyl and has made many photos, so we contacted him which lead to a very interesting conversation about Chernobyl, our project and the whole story. He was very pleased with our project, so he gave us hundreds of HighRes-Pictures from Pripyat and the enviroment. At this point we would like to sincerely thank you for this awesome support! Here are some of his beautiful shots, you can view more on his own portfolio "timmsuess.com".
The next media-release is already under construction! (Tip: ferris wheel)
Dasvidaniya!
Your Chernobyl-Team