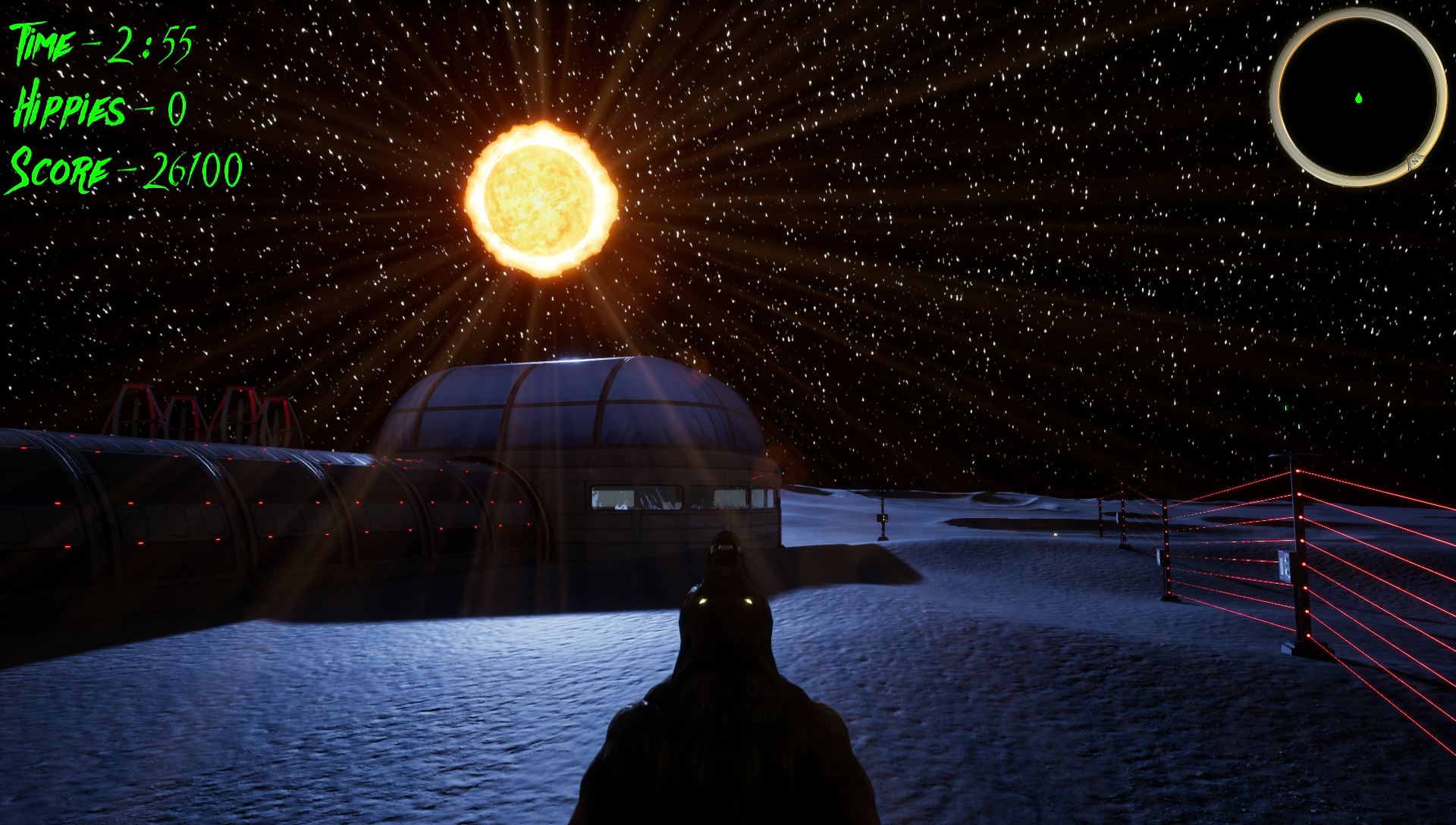 Under the gaze of a giant full moon, you flex your paws in anticipation of the joy to follow. Your fur speckled with drops of blood, the taste of a fresh kill on your tongue as it glides across the gleaming, sharp tips of your fangs. You breathe in, the scent of your enemies floating on the air; patchouli oil, how you loathe the smell of patchouli! Through the darkness you see the familiar glowing red outlines and can almost hear the blood coursing through their veins. Bunching your hind quarters you explode forth from the darkness, snarling and frothing at the mouth as screams of sheer terror pierce the silence of the night. "Eat him, eat him!" Your body slams into the back of a pathetic and helpless man and your lips peel back in a tooth filled grin as the tie-dye shirt paints a rainbow across your vision. His limp form flails, bouncing from a nearby pine and slamming to the ground as you pounce on your next victim.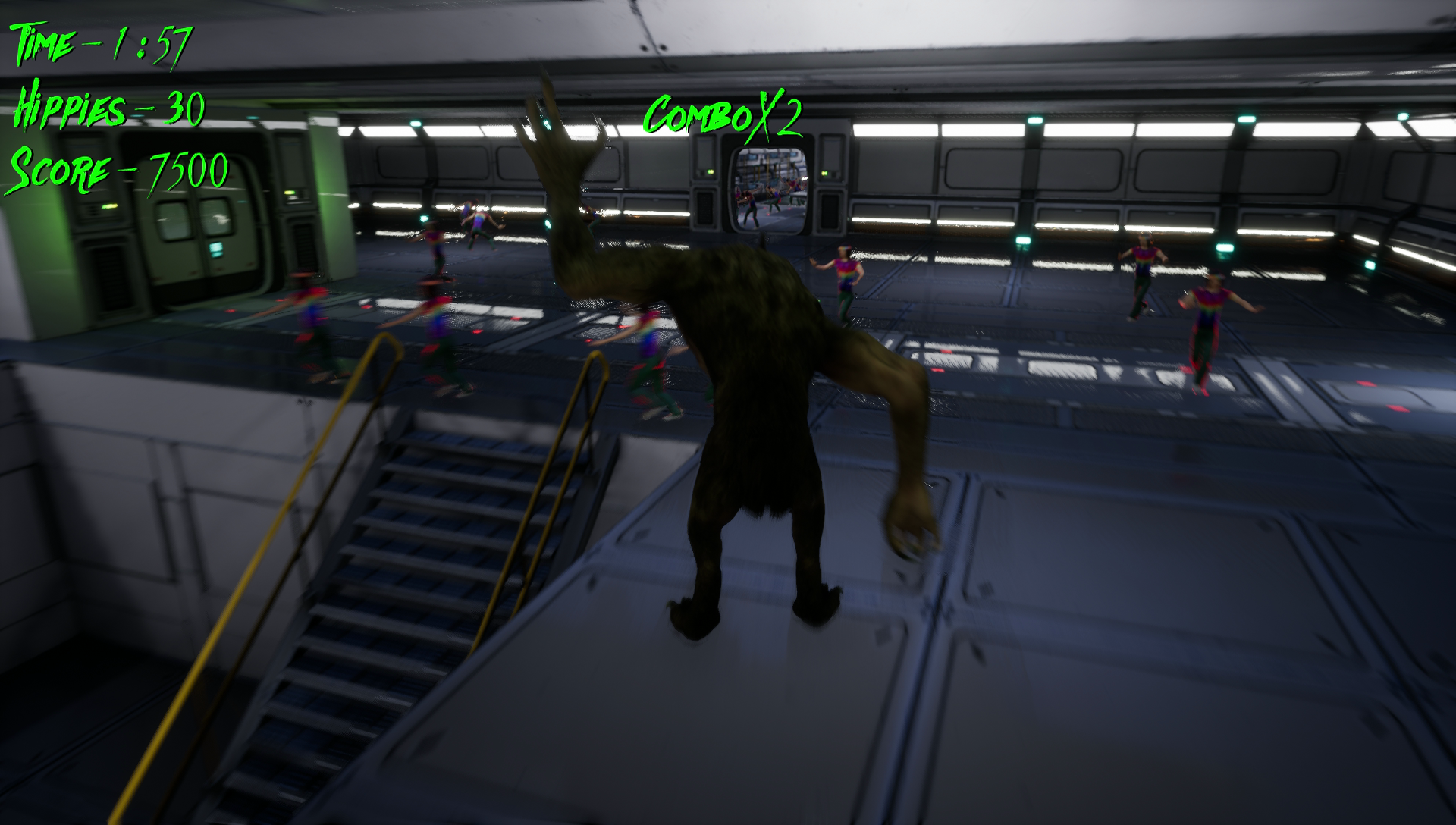 This is Beast Mode: Night of the Werewolf, a new game by solo developer Apeirogon Games. You play as a Werewolf whose sole purpose in life is to decimate a group of hapless hippies as they party in the woods, the desert or even on the moon! As the match begins, a timer ticks upwards and your goal is to kill all of the hippies as fast as possible. Kill several hippies in a row and you can chain together unlimited combos for bonus points, with every 5th kill being emphasized by an announcer shouting out an exciting killing related verb such as "Slaughter" or "Carnage".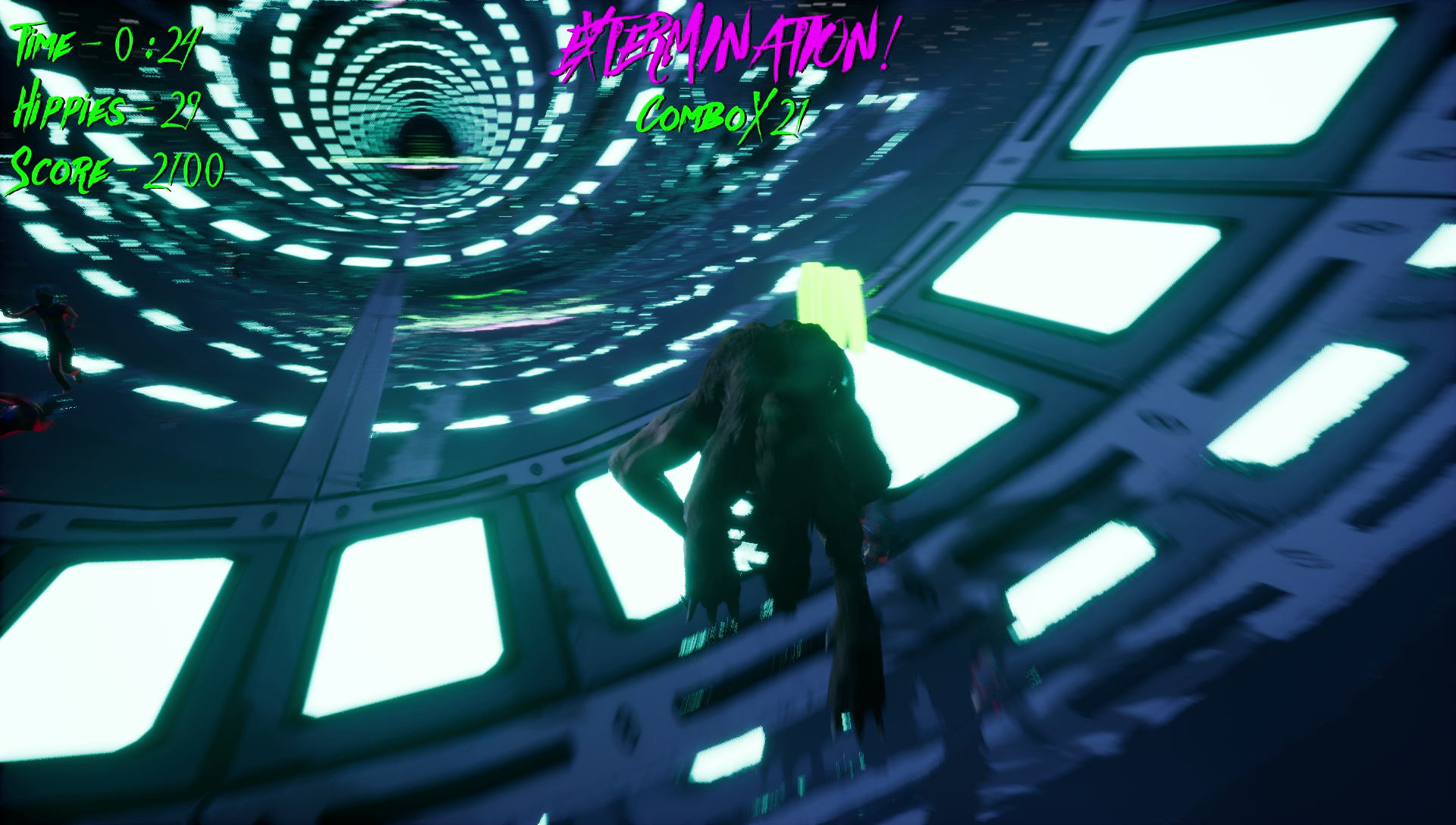 The entire game reminds me of something out of the nineties; from the over-large lettering and crazy font for the HUD, to the overall style of gameplay and yet it's also unlike anything else I've played before. The developer calls it a "Beat 'em Up" and while this is likely just to fit the game into a specific genre, you definitely shouldn't expect anything along the lines of Double Dragon or Bayonetta. It's a simple game for sure, but it's amazing how quickly it grows on you. It's quite easy to sit down for 10 minutes of mindless fun only to find that you've lost an hour by the time you quit. The online leaderboards are a great incentive too, driving you to have one more go at trying to beat your last score or push that "LaserWolf" guy off of his top spot.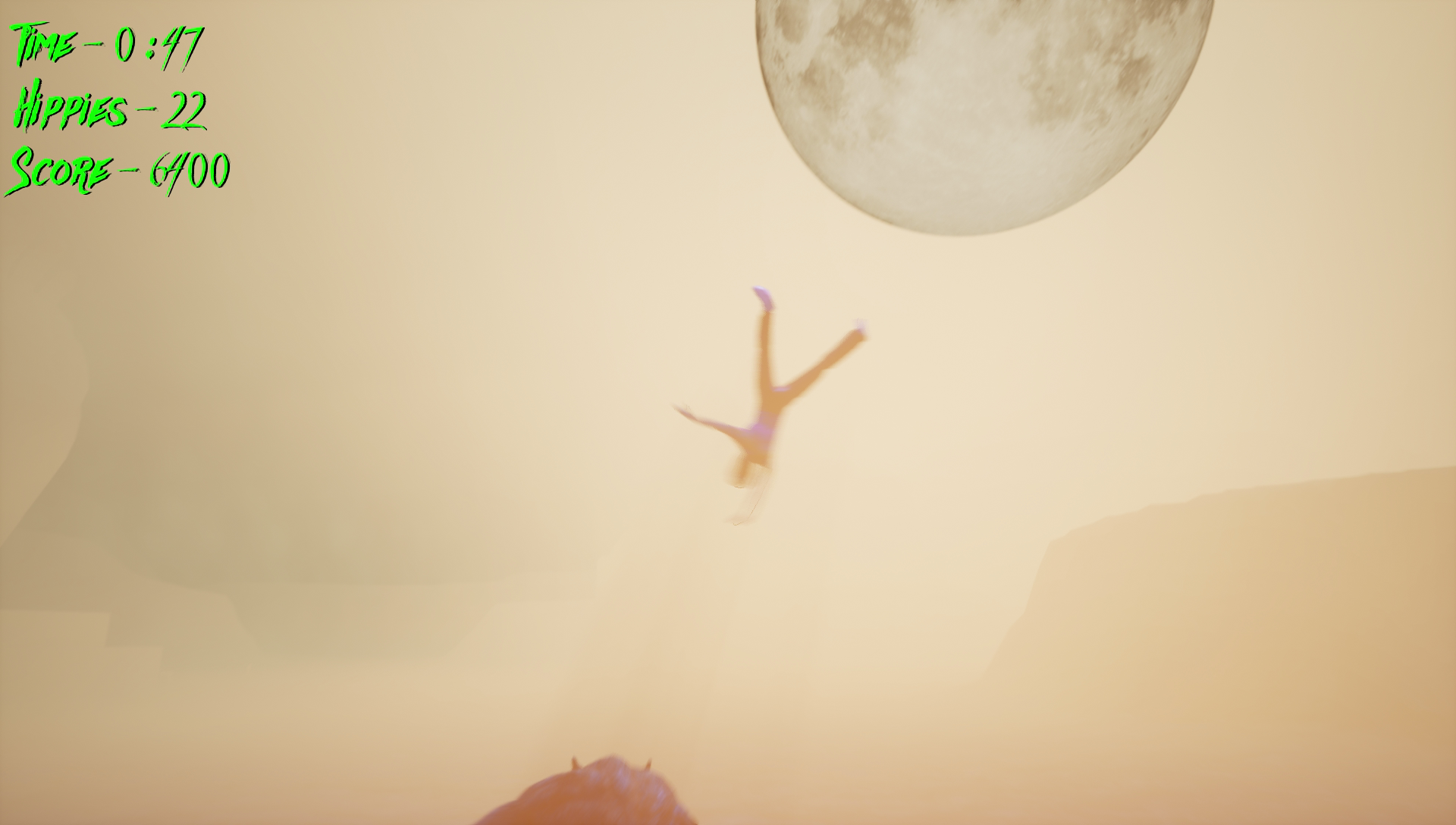 There's a demo available for those who aren't quite sure if it would be their cup of tea, but you can hardly go wrong with a $6 investment for the full game. At launch the game has 5 playable maps (if you include the playable credits sequence) which are incredibly replayable and the developer promises two free map packs in the coming months. My absolute favorite map has to be the moon base. Low gravity means the Hippies go spinning off into space when you kill them which is just hilarious to see. Just don't jump yourself unless you want to ruin your high score as it takes forever to come back down.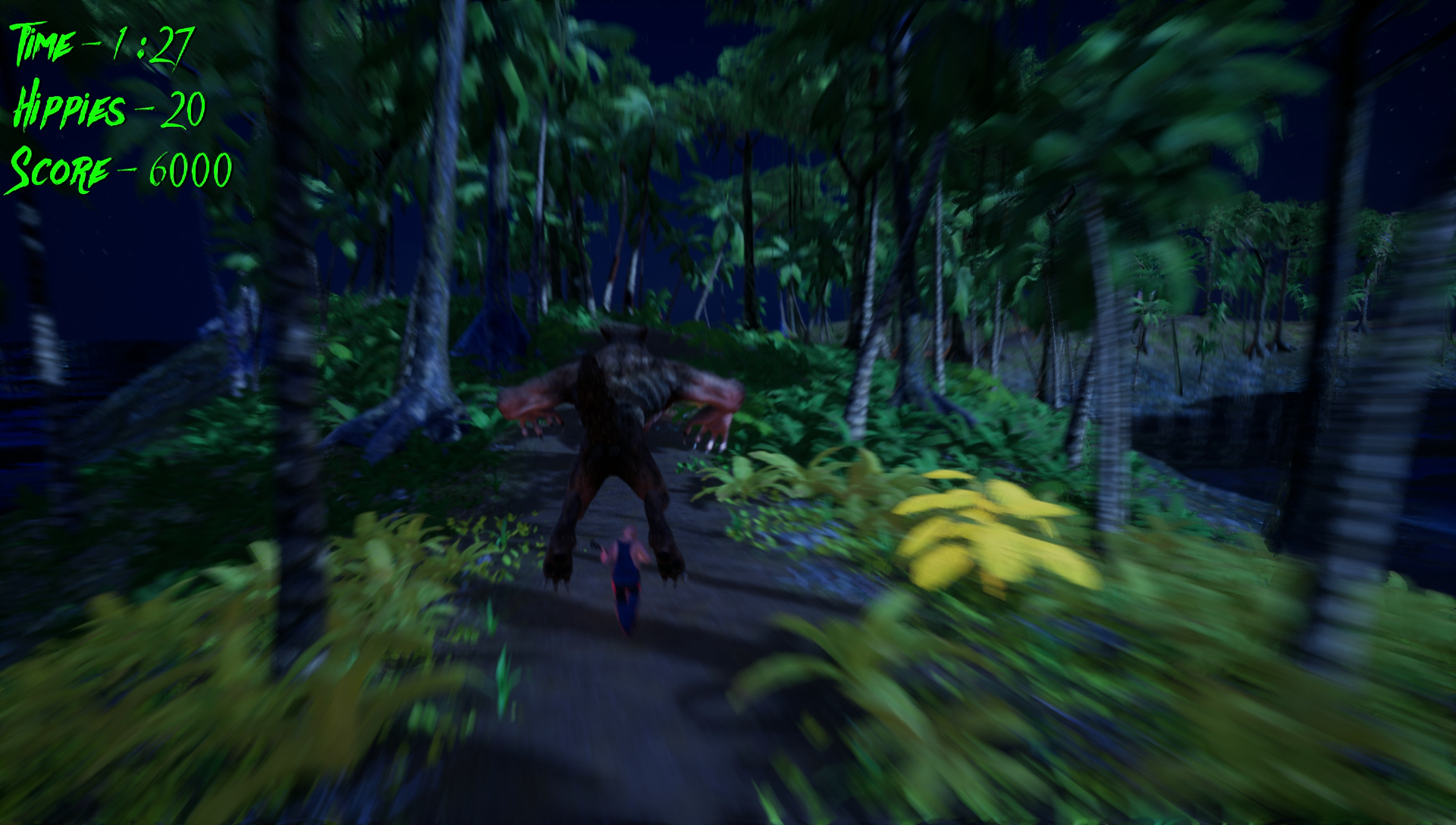 Beast Mode: Night of the Werewolf is currently on sale for a 40% discount Steam.