BBB New Trailer and Upcoming Release!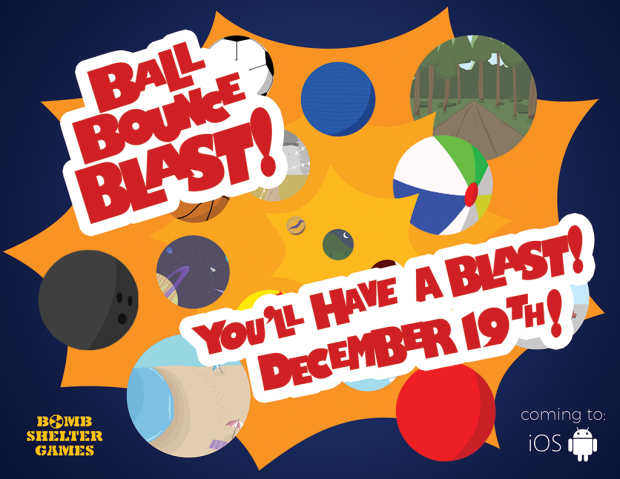 Ball Bounce Blast, a physics puzzler inspired by Glover 64 and Angry Birds, is set to release on December 169th for both iOS and Android.
The object of the game is to launch the ball towards the goal. Simple enough. But the player can change the ball midflight. With over 80 playable levels, four unique ball types, and dozens of unlockable skins, this mobile physics puzzler will keep you playing for hours on end.
About the game
BBB combines the physics launching mechanics of games like Angry Birds, with the material swapping mechanics of Glover 64. In a standard level, the player aims the cannon towards the goal, launches, and then can switch between four different ball types: Rubber, Bowling, Beach, and Pinball.
Where the game gets interesting is in overcoming the numerous obstacles. For example, the player may want to avoid spikes with the rubber and beach balls. Or they may want to use magnets to their advantage with the pinball. With endless combinations of mechanics, you'll be scratching your head over how to solve some of these engrossing and engaging puzzles.
Depending on how well you perform, you can earn Bounce Bucks which allow you to unlock alternate skins for each of the balls. Ball Bounce Blast is set to release December 19th, 2017 for free on both iOS and Android. And when we say free, we mean free. No ads, no microtransactions, just Bomb Shelter Games' gift to you.
80 playable levels
Dozens of unlockables
8 unique worlds
Catchy and addicting sound track
Hours of fun
100% free
BBB will be available Dec 19th, 2017 for Android and iOS.
Learn more here: Bombsheltergames.com
Also, check out the new trailer to get a feel for how the game is played.
Screenshots: