Bazaar is a retro handheld-styled adventure with precise arcade combat, unique character encounters, and a depth of mysteries. The game is built with an all-custom C# engine, original 4 color pixel art at 160x144 resolution, and a full chiptune soundtrack.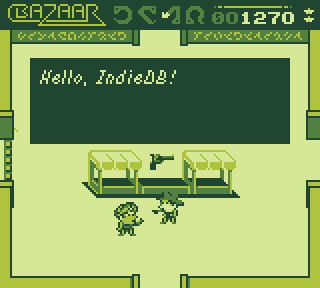 Hello, IndieDB!
We are gearing up to submit Bazaar to Steam Greenlight in less than two weeks! We just finished our brand new website and are working on a gameplay video and trailer to accompany the site and Greenlight page.
By supporting the release of Bazaar, you would be helping us to continue development on future games that would allow us to push our custom engine even further. If you are interested in following along in the development, you can find us on Facebook or Twitter.
We would love to have your support, stay tuned for development updates and the trailer in the next week!
- @LargemannLC + @HomskilletLC