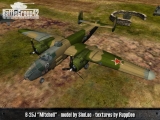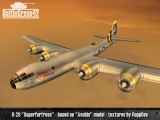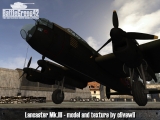 First there is the Avro Lancaster. The well known British bomber has been in the mod already for quite some time, but when there's an opportunity to get a better model, we take it. In this case the Lancaster Mk. III made by clivewil, who was already responsible for our Spitfire update. As usual, the model and texture are of a superb quality.
We have seen great success with the integration of the American medium bomber North American B-25 "Mitchell" in variant J. The model was created by SimLac in the first place, and lay unfinished "in the drawer" for some time until our modeller RuppDee took care of it. He not only finished the model, but also provided a whole bunch of textures for it. Because of this we can use this versatile and very successful two-engined bomber on a lot of maps, serving several different allied armies like the American, British and Russian - from the mountains of Tunisia to the plains of Russia and over to the Pacific islands.
There are vehicles which are rather useless for the usual BG42 gameplay, since they can't be used in historically accurate situations within normal scenarios. One of these vehicles is the B-29 Superfortress, a heavy strategic bomber which only comes close to ground during take-off and landing, flying sorties at a height of at least 6 miles. In order to transpose something like this into BG42, mappers and modellers have to work closely and so our new B-29 model, including an interior, was created in RuppDee's workshop - along with a custom tailored objective-mode map made by SargeSurfat. He was inspired by the "space battle" maps of the Galactic Conquest mod. The B-29 is "flown" similar to the spaceships of the GC mod. One can spawn inside them, occupy the weapon stations and even repair the bomber if necessary and it will be necessary; since the Japanese interceptors will try everything to destroy the B-29s.
At the end of this news update yet another proclamation: We're desperately looking for new team members, for BG42 as well as our new standalone project, most of all modellers, animators and coders. Without the appropriate manpower there can be no progress. So take a look at www.battlegroup42.de and our forum or contact our project leader Senshi directly!