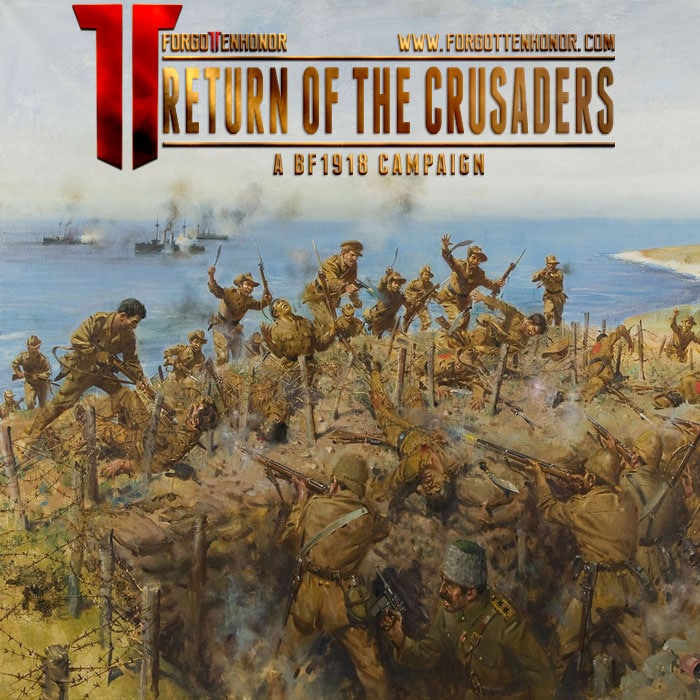 The Middle East, site of the dawn of antiquity. For half of a millennia, the Ottoman Empire has ruled the region as part of its Empire. Fearing a waning Empire, the sultanate chose to side with the Central Powers. For the first time in nearly a thousand years, a European power has come to wrestle control of the region away from the Ottomans. Rather than fighting a war between lancers and swordsmen, a modern warfare emerged across the desert featuring machine guns, armored vehicles, and aircraft. Graveyards of carnage will take place across the Middle East from the cliffs of Gallipoli, to the sands of Arabia, and the ancient cities of Bagdad, Damascus, and Jerusalem.

In this campaign, you will get the choice of serving as a British Commonwealth soldier, fighting against the Turks, or as a Ottoman warrior serving the interests of the sultanate.

Experience a balanced and exhilarating Battlefield 1918 campaign with:


A continuing legacy for Battlefield 1942
Organized tournament play featuring custom maps specifically modified for competitive tournament play.
World War 1 gameplay as it ought to be played on the Battlefield 1918 mod.
Grueling Saturday battles in combined arms ranging from battles on the high seas, the sands of Arabia, and the shores of Gallipoli
2 sides led by experienced veterans with teamwork oriented armies employing strategies and co-operation with promotions and rewards for your achievements.
New friendships with like minded people from all over the world
It is free and everybody is welcome!

About Battlefield 1918

Battlefield 1918 is a modification for the highly acclaimed Battlefield 1942 game. Players get the opportunity to play on historical maps featuring the various factions of both the Entente and Central Powers. The World War 1 setting allows the use of a variety of assets including bi-planes, dreadnoughts and colossal field guns. A player can choose play on the trenches of Europe, the sands of Arabia, or the jungles of Africa. At the time of writing Battlefield 1918 features 15 different armies, over 90 weapons, and over 90 maps.
Click the below link to join this Campaign , Remember to have fun :
Source: Forgotten Honor announcement post by Buddydog