This game, in its current form, already consists of:
-dozens of enemies
-over 12 hours of game play
-10 unique "turrets"
-and about a dozen levels created so far!
This game has a few "standard" TD style levels to it, set in a 3d space environment. But also comes equipped with some new modes never been seen before. And will become available to show towards its time of release.
Nodes: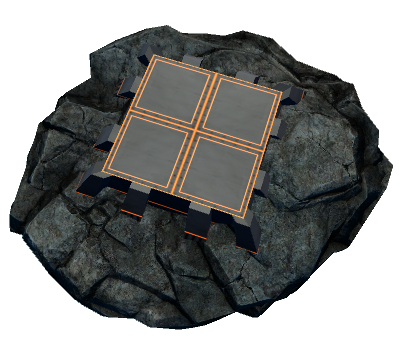 These nodes are for placement of your turrets. These come equipped with certain colors, as a reference for the placement of you turrets.
Orange Nodes are for close range turrets, and for the "Special" section Lasers.
Blue Nodes are for upgraded turrets, and lvl 1 missile turrets.
Yellow Nodes are for lvl 2 missile turrets, and other "Special" section weapons not already specified.
Though these nodes have a color coordination, this does not mean that you cannot place any turret on any nodes. Its more of a reference for understanding and learning the turrets ranges, and how well the fire depending on their location in the level.
Important examples would be to place Lasers and Rapidfire turrets on orange nodes, due to their limited ranges. Having these on corners allows for maximum usage out of their firepower.
This is played out with a UI like any TD game. Click on a turret in your menu to select it, then click on any node to place it as long as you have enough funds to do so!
Unlike other TD games:
With this game, rather than placing turrets and then upgrading them when you have obtained enough credits. You now have the option to just place a (pre) upgraded turret in the level while still using the lvl 1 turrets as well.
This game has a nice balance for using each turret type in game. It helps to have both lvl 1 and lvl 2 turrets out at the same time, as certain enemies are affected more or less by certain turrets and bullets.
Example: Missile turrets can not damage bombs, along with their shoot speed being too slow to hit fast moving enemies. This is where basic sentry and rapidfire turrets come into play nicely in the beginning of the level