Demo Update
This version of the demo comes with new levels and now contains the Backyard Course, Ballf Course 1, Islands Course, Hoops Course, Warehouse Course, and the Town Course. We have also posted a download for the level editor that we used to make the levels. The instructions are included in the download as a text file, and should include everything you need to know to make your own courses! It isn't the easiest format to read, so we will eventually need to create a proper wiki in the future, but it will suffice for now. Please send us any suggestions or comments if something isn't clear, or some information appears to be missing from the instructions. We're hoping to maybe organize a bit of a level design competition for our Greenlight campaign, in which our favourite couple levels will be included in the full release if we get on Steam.
Particle Effects
This release has new particle effects that help add a bit of liveliness to the levels. There are now little white fluffs that aimlessly float through the air, and leaves that blow in the wind. The leaves blow the same direction and speed as the wind now, just like the clouds. This means that not only are they an aesthetic improvement, but they also serve as a wind indicator.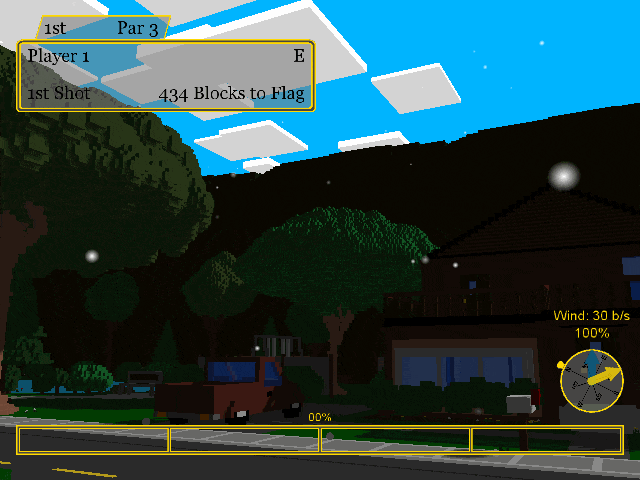 Sound Effects and Soundtrack
We have essentially finished adding all of the sound effects, with a couple minor improvements still planned for one or two of the sound effects. We are also pleased to say that our next update within the next couple weeks will begin to have music. We are working on getting an OST put together for Ballf, and will start adding them to the game as they are finished.
Future Updates
Our next update will focus on adding music, speed run mode, and xbox controller support to the game. There will likely also be some small minor improvements, such as a dynamic background for the main menu. Once we are happy with the core game and polish, we will begin work on leaderboards and multiplayer. This will likely take place some time around the launch of our Greenlight campaign.
Please feel free to leave comments with suggestions!