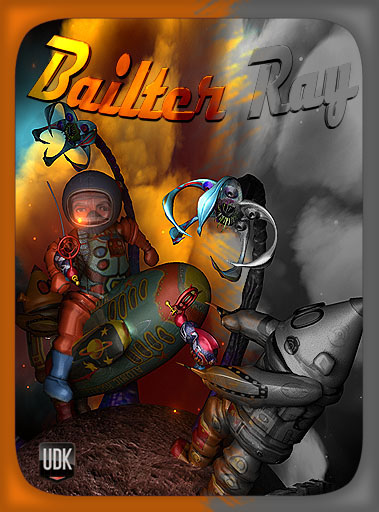 Demo Background
Originally Bailter Ray was made with a target audience of children (4 +) in mind, we felt there was a need for child/family friendly UT3 Mods.
We wanted to focus on simplifying game design by scaling the scope of the project to enable a small team to iterate quickly within a short time frame. We spent a few weeks building a simple demo/sandbox to try out some of our ideas, for example the dodging in and out of the 2d gameplay plane. We then experimented with different level design configurations and added a simple UI.
Though we liked what we had, we decided to spend another 12 weeks redesigning the art assets (an excuse to refine modeling/texturing skills), we added power ups, collectable items and a gameplay introduction tutorial.
What we end up with was a kind of portfolio piece 15- 20 minutes of demo gameplay with a fun prototype level as a bonus reward.
Demo Summary
Bailter Ray is a retro style (side scrolling) sci-fi platform shooter. Inspired by games such as Turrican, Megamen and Abuse.
Take control of marooned Astro-Explorer, Captain Phoenix Valentine as you're compelled to explore, jump and ray-gun to survive the dangerous attacks of an alien planet's inhabitants.
In order to get home, Phoenix needs to retrieve his space ship's power supply (a wind up key), and locate his rocket ship.
The player navigates and explores various areas of the level and is rewarded with points by eliminating enemies and finding collectable alien planet "samples".
Points are deducted for losing lives so a negative score is possible. In the process of exploring, the player discoverers new enemies and learns new skills to progress though the game.
We are:
Paul Smith - Artist, Level Designer
Pip Robbins - Script Programmer
Zhao Zhang - Script Programmer
Contact - Syntheticnest@gmail.com