I have released the Google Play version of the Battle Demo! Check out the link below:
Google Play's BAEL's Children battledemo for Android!
It has gotten 82 downloads in 2 days, which is more exposition than in the indie scene, but still not enough to be considered popular in the market. I have gotten feedback from 2 different players who state they really liked the TWEWY (The World Ends With You) similar battle system. However, as much as I would like to please TWEWY fans, I would also like for BAEL's Children to stand on it's own, to have it's own identity. But it is also a honor for me to make a TWEWY fan happy, so this has given me further motivation!

Dungeon Example in the Android version
And as far as the first chapter of the game goes, I'm working on various gameplay systems and also on the story screen, which you can check out an early version below: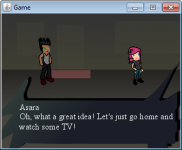 The graphics may get a huge upgrade soon, since feedback from some players say that they are kinda ugly... It's tough since my specialty isn't graphics, but I want to carry this game by myself, so I'll just have to try harder!