Battlefield: Bad

Company 2 Xbox 360
Release Date: March 11, 2010
Also on:
PS3
,
PC
Genre:
First-Person Shooter
Publisher: Electronic Arts
Developer: Digital Illusions CE (DICE)
Bad Company 2: Multiplayer Beta Hands-on
We journey to the desert to destroy everything in sight.
<!-- START: latest media -->November 6, 2009
- PlayStation 3 gamers are in for a special treat on November 19 when
the Bad Company 2 multiplayer beta launches exclusively for their
favorite system. PC gamers can look for a beta to launch in December,
while Xbox 360 users can expect a different demo to launch early next
year. I recently got the chance to venture down US-101 to EA's Redwood
Shores studio to get my hands on the PS3 version of the multiplayer
beta. Players can look forward to a classic Battlefield experience with
tons of vehicles and finely tuned geometry that encourages large
vehicular skirmishes in the beta map titled Arica Harbor.
The map is a desert setting with buildings following along a dirt road
that bisects pretty much everything in the stage. The mode I played was
called Rush and featured an attacking side and a defending side. The
attackers were charged with raiding the enemy encampment and destroying
two gold bullion locations. You can do this a number of ways. You can
either infiltrate the structure housing the gold (or blow the walls up
and create your own entrance) and set C4 to do your work, you can
rattle off several shots and grenades or you can drive a tank into the
place to speed things up.
<!-- start image div -->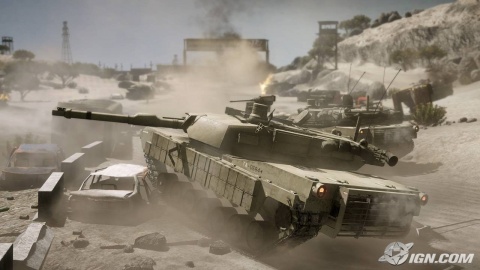 <!--- end image div -->Among
the tanks, hummers and ATVs that Arica houses, there's also a new
vehicle in the form of a small UAV. This is used mainly for scouting as
it has limited offensive capabilities. If you get in a bind, there is
access to rockets but the reload time is pretty lengthy and the design
of the UAV isn't exactly built for heavy combat.
I found myself selecting the engineer class more often than not as he
packs a hefty rocket launcher in his kit along with repair equipment
for damaged vehicles. Since this map is filled with all sorts of enemy
and friendly vehicles, having the ability to combat and aid them was a
must. Grenade shells still do next to nothing against a tank (for
whatever reason) so you'll want to have a heavier weapon in your stash
when you hit the sand in Arica.https://www.youtube.com/watch?v=f5lnzScc6ZE
As I've said, this map is perfectly suited for some epic vehicular
battles. With TOE missiles garnishing the tops of buildings that look
down on the main alleyway there's plenty of room for players to setup
shop above the mayhem. I, on the other hand, liked the more direct
approach of hopping in a tank and bringing the hurt. I was disappointed
to learn that the build I was playing didn't feature the squad support
that you'll get to enjoy on November 19. It made it difficult to join
up with teammates and formulate a cohesive attack. Hopefully the
feature is working well when the beta drops.

<!--- end image div -->
The amount of vehicular battles that I saw transpire as my defenders kept
getting pushed back -- thus making the map expand into new areas -- was
staggering. Humvees and ATVs were usually the first to hit the scene
and were easy enough to deal with, but once the tanks rolled in all
hell broke loose. I found that arming myself with a rocket launcher and
keeping between the houses worked as the best defense. Tank shells
would have to be perfectly aimed to cause damage while sneaking between
buildings. It was only when the structures were rendered into rubble
that my cover solution got me into trouble.
The Arica Harbor map is a great introduction to classic Battlefield
multiplayer for those who haven't experienced it before. It packs tons
of vehicles into a relatively small space and the results can be pretty
spectacular. You'll be able to get your hands on the Arica Harbor map
on November 19 if you're a PS3 gamer, in December if you're a PC gamer
and Xbox 360 players can look forward to a different demo coming early
next year.
We'll have more on Battlefield Bad Company 2 as its March 2, 2010 release date on Xbox 360, PlayStation 3 and PC draws closer.