Back to Hell Update #4
Hello guys, today we are going to show You again some new content from Back to Hell.
Last time we presented you the AutoPickup and the Generators, and this time we want to show you some (more or less) new weapons. Enjoy!

The TMG (Tank-MG) is maybe not what you would expect as it can´t be find on any tanks, but on defense lines and transporters. Similar to the well-known Crysis-MG it has experienced some improvements: The even lower firing rate is compensated by the high penetration effect of the Cal.50 ammonution which allows you to destroy anything up to the scale of usual vehicles with ease and bring devastation to your enemy´s troops!


H&K`s MP5 has been the international favourite of many spec ops-teams and now found his way from the Crysis Wars Ex Mod to Back to Hell. In this new overhauled version the Akimbo-Mode was removed and the whole weapon rebalanced – still the first choice for any Close-Combat-Specialists!


The list of the guns that are static or placed on vehicles is growing: First, the AH-Minigun, the unchallenged leader when it comes to firing rate, and on the other hand the AV-Machinegun, which will bring the boom-effect right to your enemys, thanks to its 20mm-explosives (both known from Crysis Warhead). Especially in vehicle-fights both of them are welcomed support.


The best-known newcomers in Crysis Warhead were adapted for our project, too: The FGL40 is a handy grenade launcher, which can be equipped with different types of ammonution and was slightly rebelanced, while the AY69 is an even handier Micro-SMG, which can be used single-handed or akimbo, just like the pistols; this way, high firing rates are brought into close combat.
The here presented objects are the basic newcomers of the weapons, but nothing here is final and maybe we will announce some more stuff later on.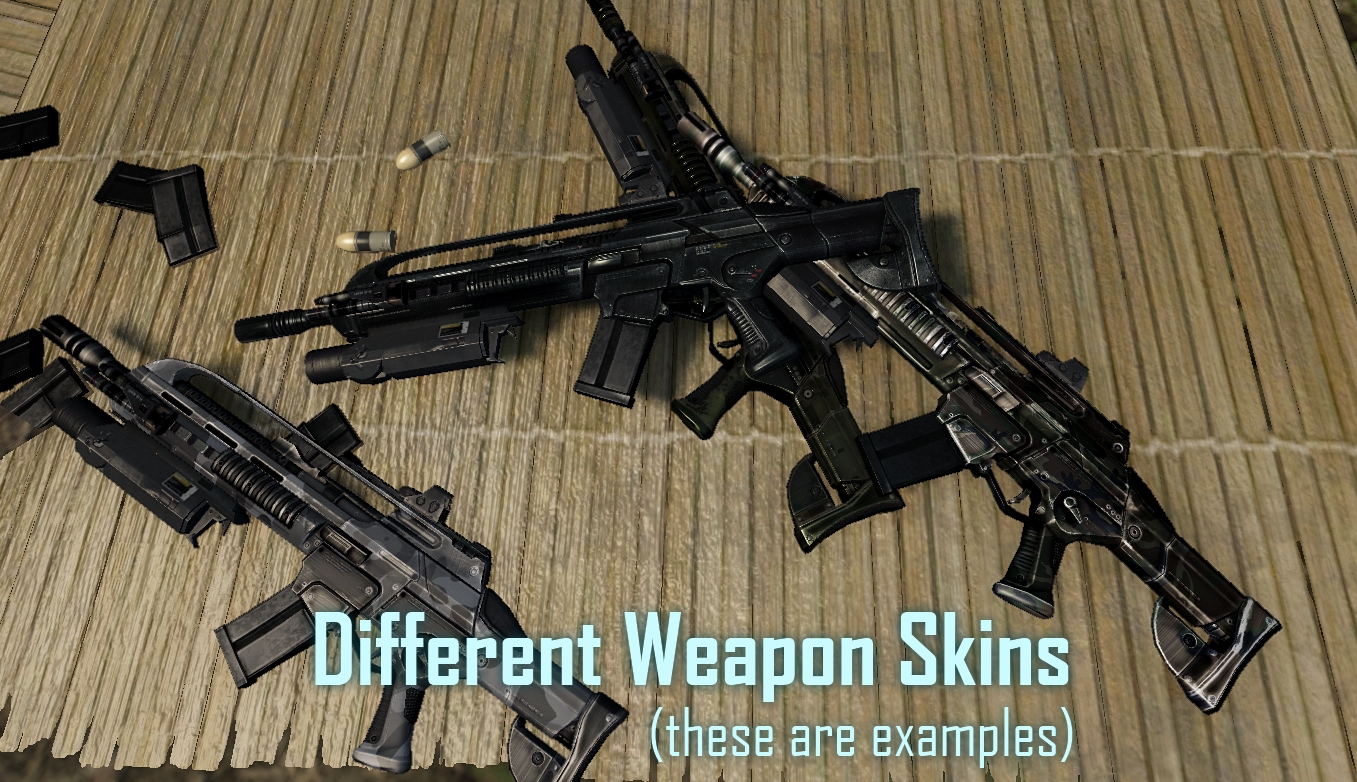 But there are not only new weapons, there are also some changes which affect the weapons themselves.
So there is now an allnew Skin System for Weapons. The system was written by Flow Groover in Lua and C++ making it possible to find multiple weapons of one type, but with different skins. For instance, a SCAR with a camouflage and another one with a unique Skin. Every SCAR is a SCAR and they all use the same *.XML Script. Different to Crysis 2, where the Cell-skin-SCAR has its own item class. The Leveldesigner decides clearly the skin of every single item.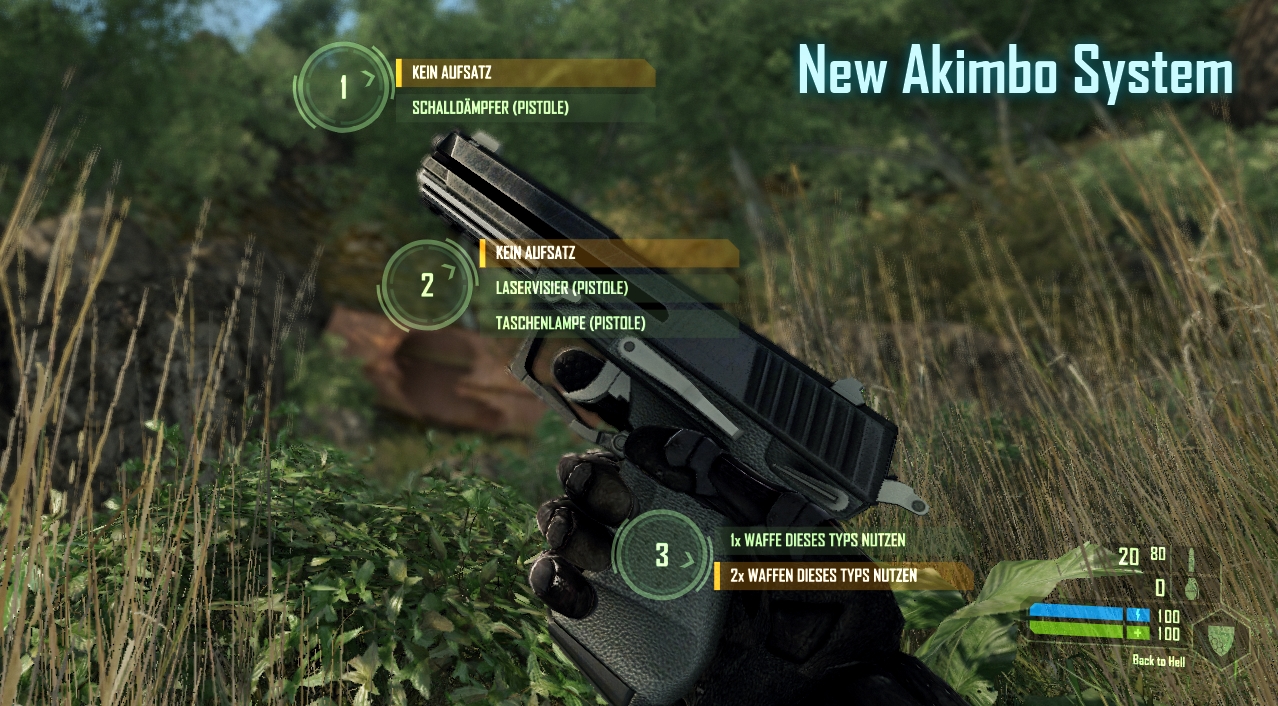 There is also an overwork of the Akimbosystem of Crysis: Some People were bothered when they wanted to carry only one pistol, but it wasn't possible to pickup another pistol and just to take the ammo. The Player automaticaly switched to akimbo-mode when he picked up another Pistol, and this was the bothering. Flow Groover overworked it on the surface. And now you can decide whether you want to just pickup the ammo and still carrying only one pistol, or switch to akimbo mode. You can decide it in the weapons' modification menue, take a look at the picture. If you want to play with just one weapon to sneak around stealthy, you can switch to non-akimbo mode. But if it's getting a bit hot, you're able to reactivate akimbo mode in realtime AND deliver some serious damage. This also works for the AY69.
We hope you enjoyed the Update! There are still some other Features. If you are interested to hear more and you like to read about it, we can do something like this again soon.
Greetings, the Back to Hell-Team.