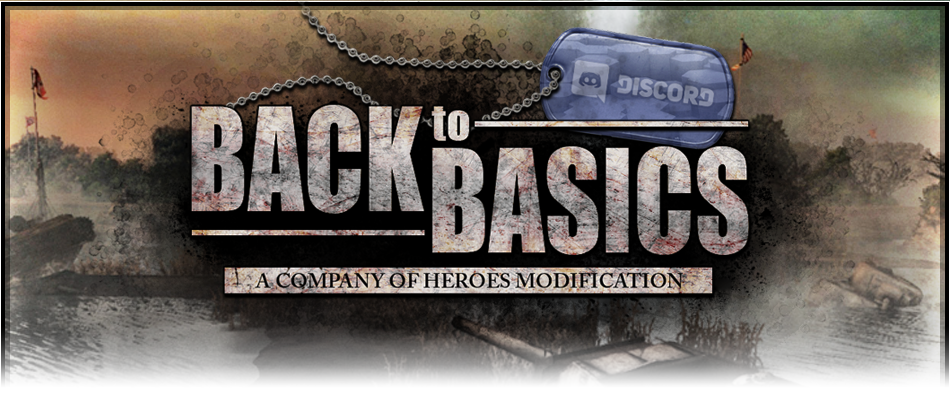 Hello Back to Basics fans,
It has been a while! Today we are glad to announce that Back to Basics 5.0 is very deep in development. In this article, we will present the core features included in the upcoming release, introduce our official discord server, as well as explain how to get hold of the Back to Basics 5.0 Sandbox.
Back to Basics 5.0
Concerning the general concept behind Back to Basics 5.0, it is important to note that playability, player experience, and overall game quality stand behind many of the changes & design philosophies.
Our aim has been to create an RTS environment that respects the nature of the original Company of Heroes gameplay, while enhancing its core features that put focus on strategy, tactics, proper decision making, and player skill.
Core features include:
Full faction overhauls of both the Commonwealth and Panzer Elite.

Major faction design changes to the Wehrmacht and Americans.

Balance and design changes with the intent to differentiate between various units, offer a wider variety of army composition choices, bring units more towards their intended roles, or to revise certain unit roles altogether.

Changes to core gameplay features and game economics to further improve the flow of the game. Changes include adjustments to income & upkeep, command point gain, overall weapon dynamics such as time-to-kill, scatter, area of effect and range, sight ranges, cover bonuses, repair functionality, and more!

Implemented a new infantry combat mechanic called "Enfilading Fire"; squads receiving fire from multiple directions are prone to take more damage.

Overhauled vehicle functionality and combat; Implemented new, and reworked existing vehicle criticals with the aim to enhance vehicle combat.

Brand new and updated AI functionalities, with the general result of now facing an AI opponent that can be challenging and unpredictable, while also being both fair and enjoyable to play against.

Tweaks and overhauls to maps we recommend and deem best suited for the gameplay the mod offers.

Full campaign support, including major enhacements and fixes to many of the iconic missions.

Improved performance.
Discord
Join our Discord! This discord server is where we keep our on-going changelogs, and offers the opportunity to be in direct contact with us concerning the mod. The platform is also the entrance to gaining access to the Back to Basics 5.0 Sandbox.
You can invite anyone to this server! Just give them this invite link: Discord.gg, or refer to this article.
Back to Basics 5.0 Sandbox
An on-going development version of Back to Basics 5.0 can be cloned from Gitlab. Install this version at your own discretion as it is a work in progress and might be periodically broken by commits straight to the master branch.
This means that everything showcased is subject to change as we are still in the process of testing and refining features. It also means that some features included in these builds may be scrapped altogether for the final release.
To gain access to the Sandbox, you will have to join our discord server. Installation instructions are provided, and we are available to help troubleshoot.
Back to Basics 5.0 Sandbox will not interfere with previous releases of Back to Basics.
Epilogue
We would like to show our gratitude to all of you who after all this time still show your interest and excitement for Company of Heroes: Back to Basics.
For that we want to say thank you for your patience, feedback and general interest in our creation.
Cheers,
AGameAnx and Celution