Hello ShockWave fans and followers,
It's been months (even years ?) since you last heard from us and this is the beginning of our icebreaking media campaign.
I know alot of you are not waiting for more render/media updates but bear with us as the upcoming version is no longer dubbed 0.96 beta but is just going to be called 1.0 and will be the final release of this mod.The navy as has been talked about many times will not become realisation anymore as over time it was realised that it would be to time intensive and to tricky to get it to work right in the mod's enviroment.
Taking that into consideration with all the other things we allready have implemented into the mod it was ultimately decided to drop the navy concept.Fear not however as w have decided to make things go out with a bang beeing the last major release and will be doing alot of overhauls to both the art, sound and other game mechanics.as a start off here is a nice render of our new railgun model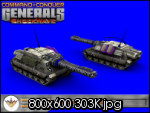 which was originaly using a model dated back to 2005(!).That is all for now stay tuned for more.The Hunter signing off.