Welcome back Ladies & Gentlemen.
It's been a long long LONG time since I saw you guys last but let me assure you that I have been working on BR to the absolute max.
The long-awaited new version of Babushka's Revenge has finally arrived, filled to the brim with new units, structures, abilities, maps, aesthetics and much much more!
Now presenting the 15 Generals!

Heavily inspired by SWR's own Generals, BR has now fully incorporated all 15 Generals, everyone from Russia's cold-hearted Advanced Weapons Aleksandr to America's wild Airforce General Griffon to Terror Cell Yusuuf, and his squadron of zealot terrorists.
These Generals have over 100+ unique differences between them, with space to grow!
I won't spoil anything for you, just jump in and find out!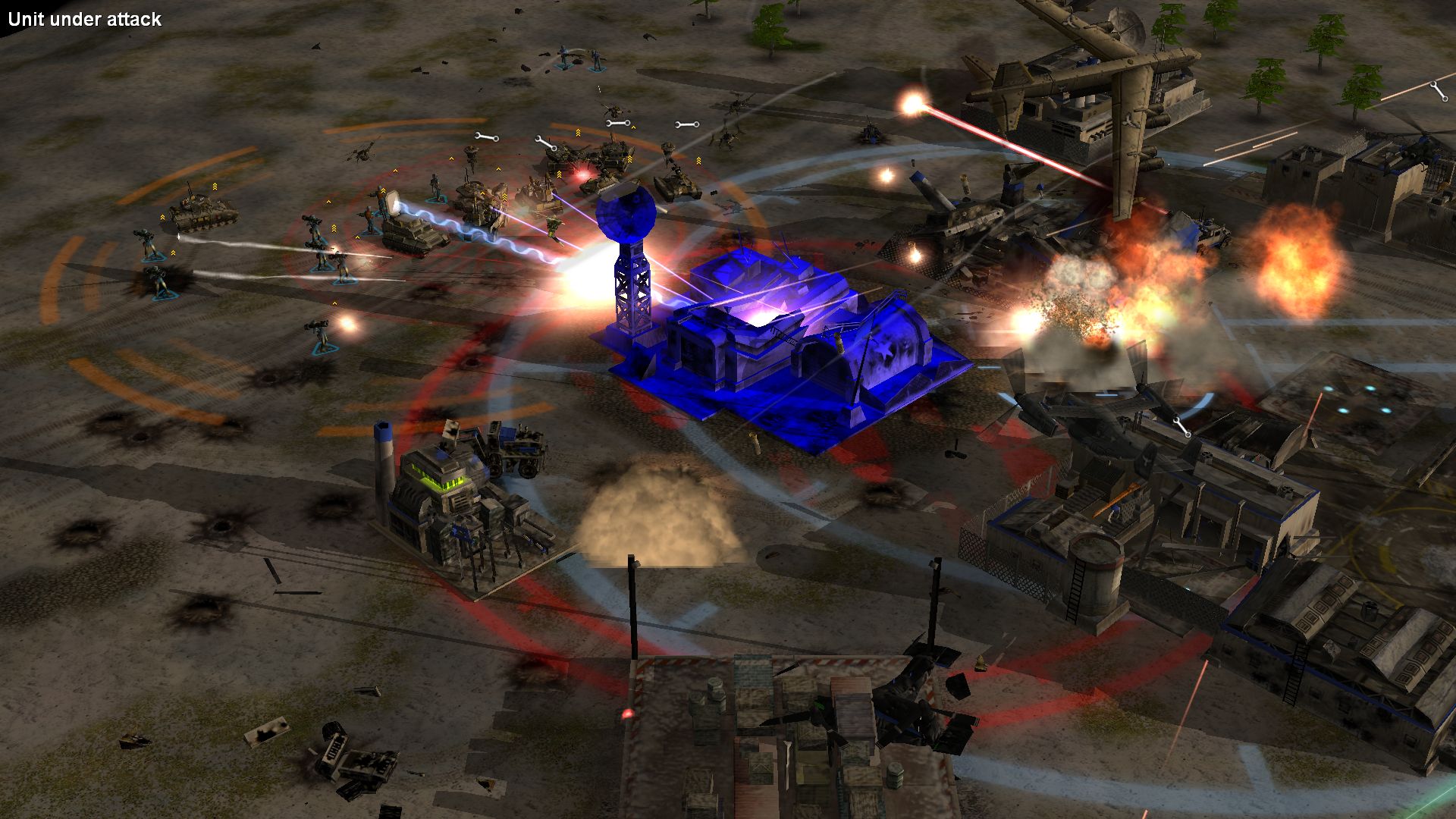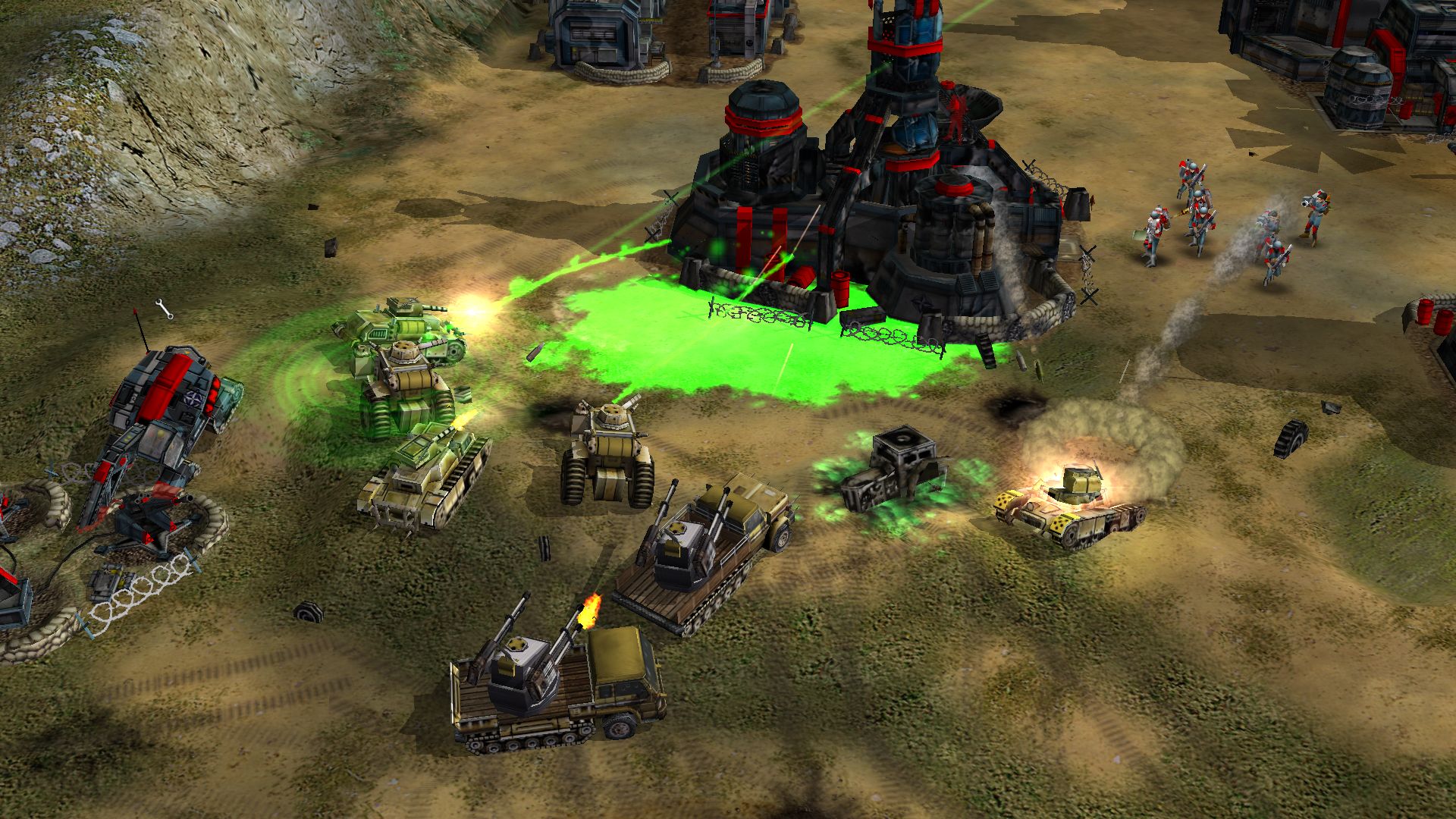 Gameplay, Balance & Content
Alongside new Generals, I have redone almost every single gameplay mechanic in the game, everything from Anti-Air to Aircraft movement, build times and armor to bring the game closer to a faster meta that more resembles the original Zero Hour.
So in terms of gameplay, the game has been entirely overhauled.
Even this, new units like the ECA Worker Drone, who can collect supplies & construct buildings, based off the Deep Impact unit of the same purpose; who the NLS team so generously let me borrow.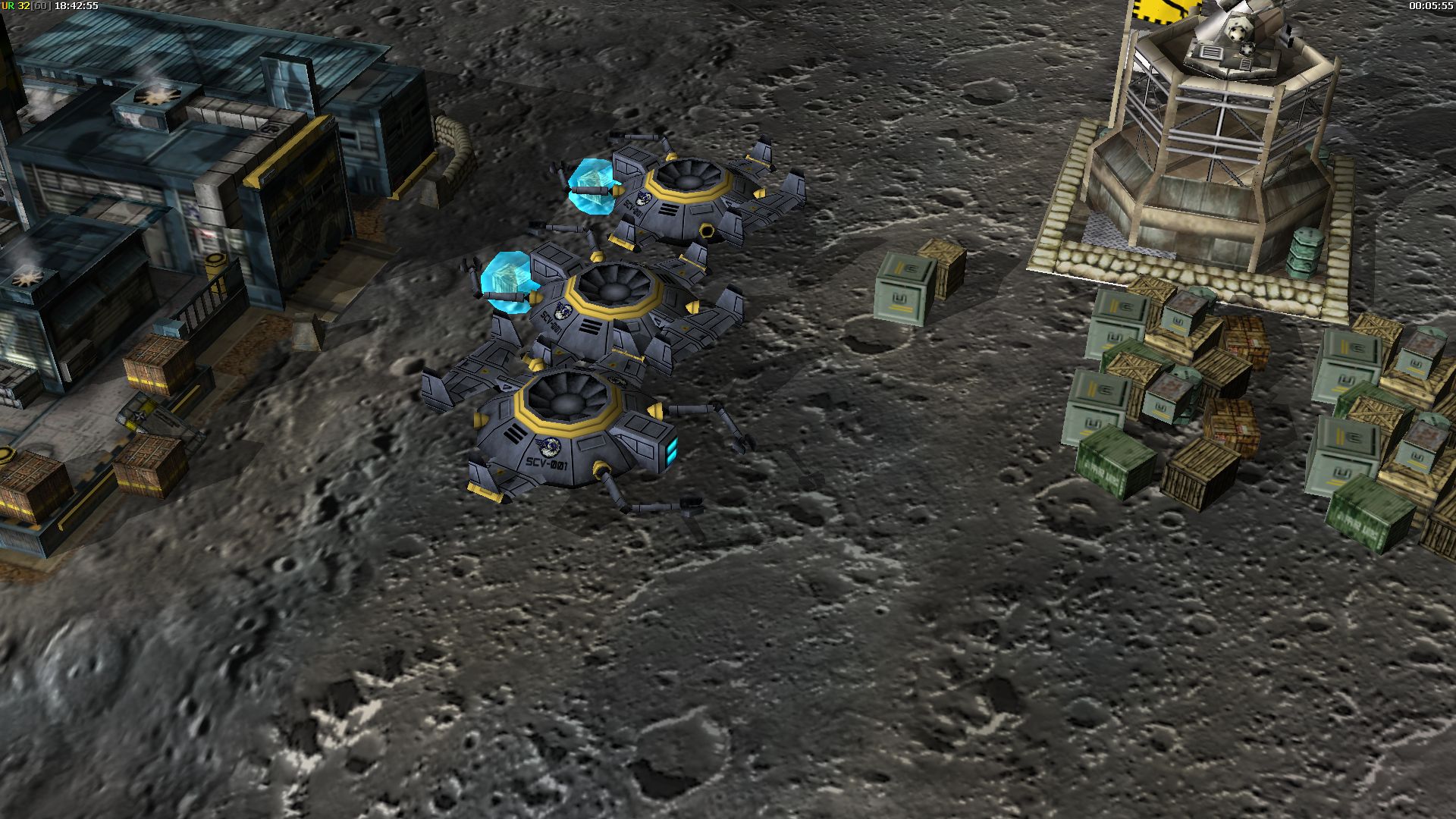 Or these two, the Lockdown MLRS and Voyager for AFG and all USA respectively, the former coming from Shockwave. These will provide countless new strategies for you & your friends.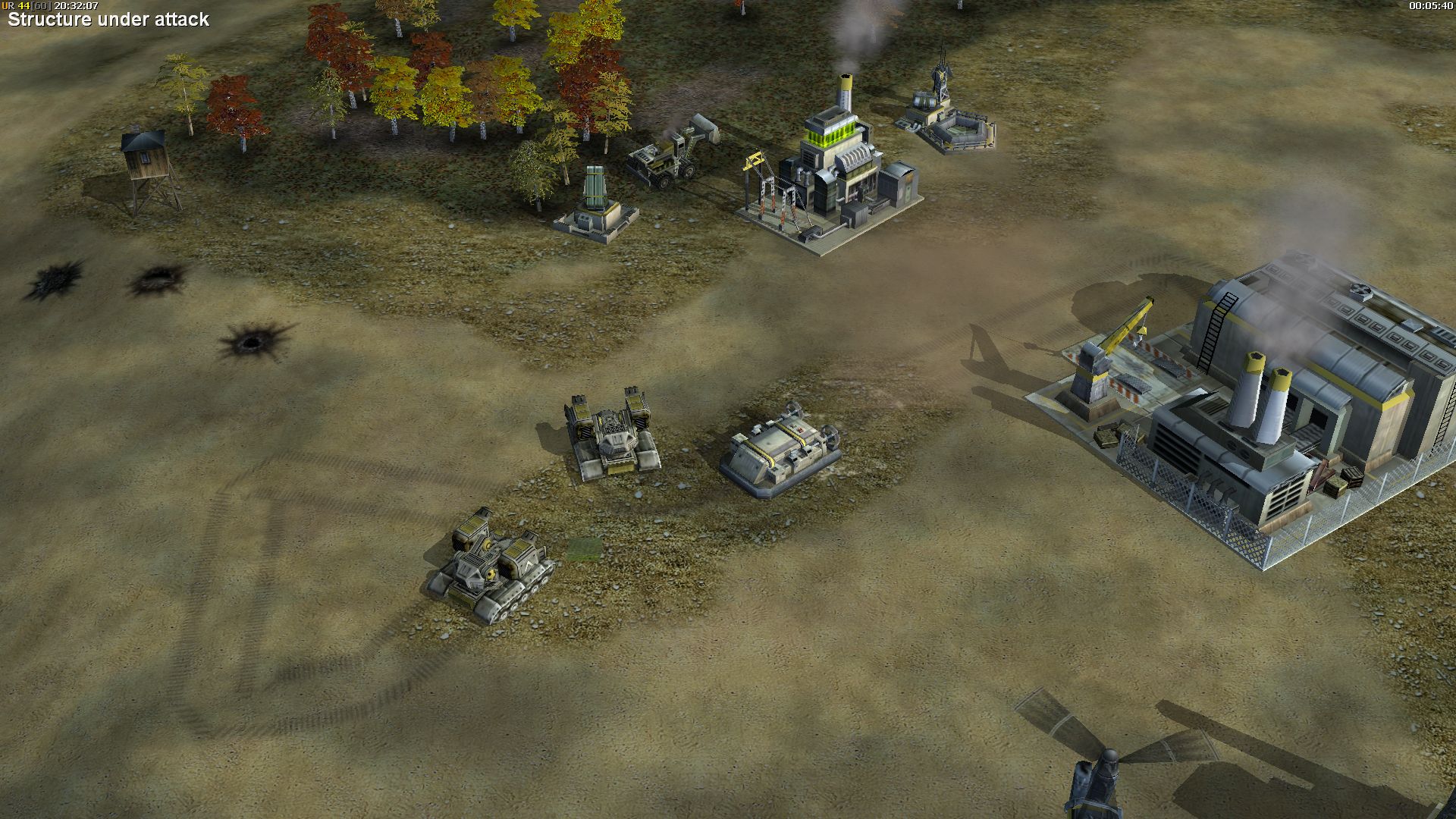 Aesthetics
I even put in the work to improve the aesthetics of the game, by adding new decals & textures, even animals to decorate the landscape. I have even reduced polygon count from European & Russian structures to reduce the effect of lag on gameplay.

This one is the new Guard decal from Contra. I am currently looking towards expanding the old ZH decals into more modernised versions.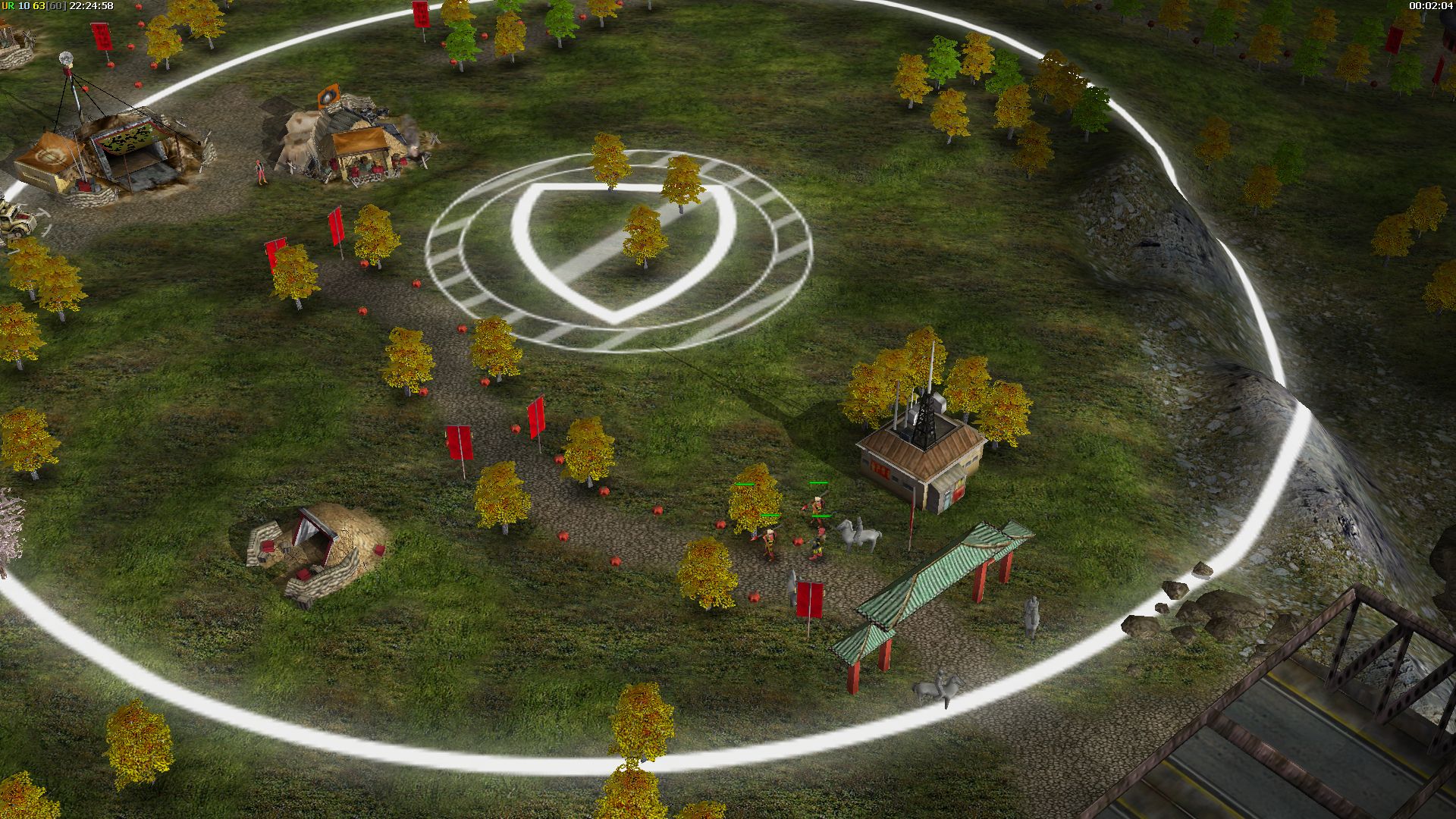 Here is a chicken, alongside rabbits, deer, birds and other animals that are roaming the landscape, with more to come!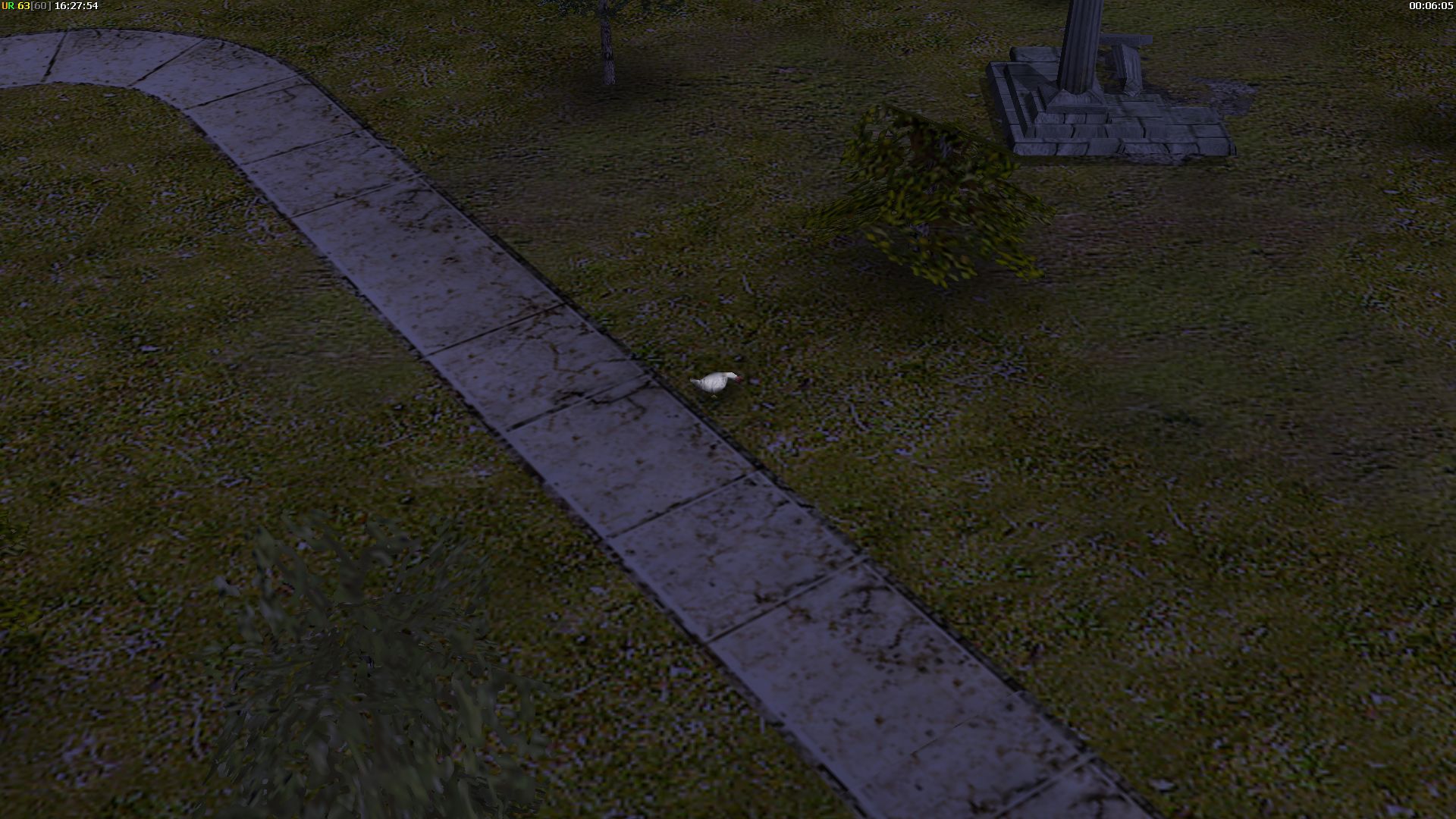 Here is an example of the reduced details: this Region Command had extra barrels and unnecessary tank traps that were removed. The frame rate is now increased.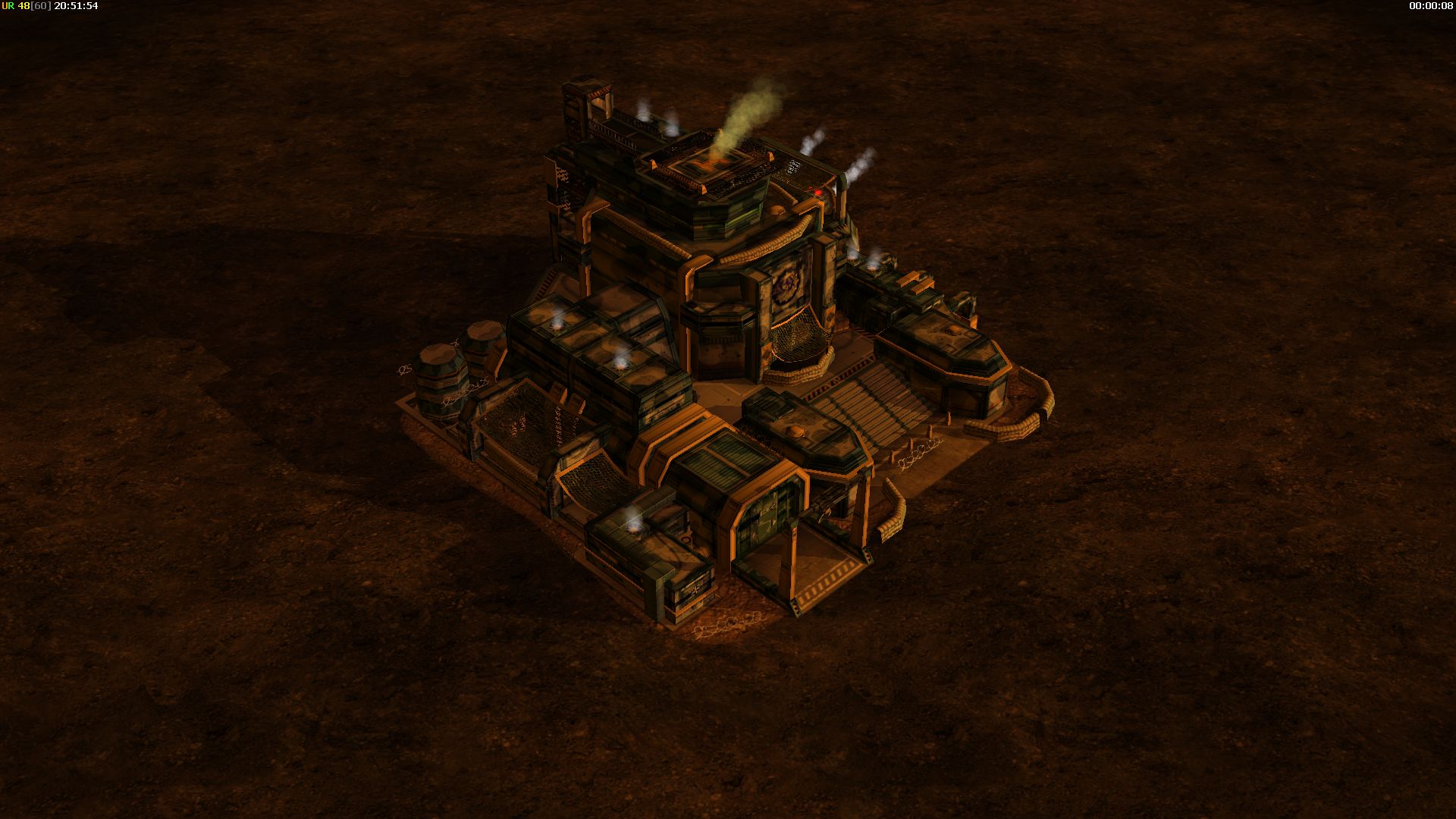 Maps
I have even redone some classic ROTR maps in a new style, and added a selection of 37 maps, some of which are made by the two legendary map-makers Jundiyy and AdrianeYves.
Some of the [BR] maps include a randomised tech buildings, a first for C&C mod, which means that every time you boot up the same map, you are introduced to a new tech building or supply in the competitive spots.
Kazakh Wrath - Night time with additional aesthetics, randomised tech buildings and adjusted map balance.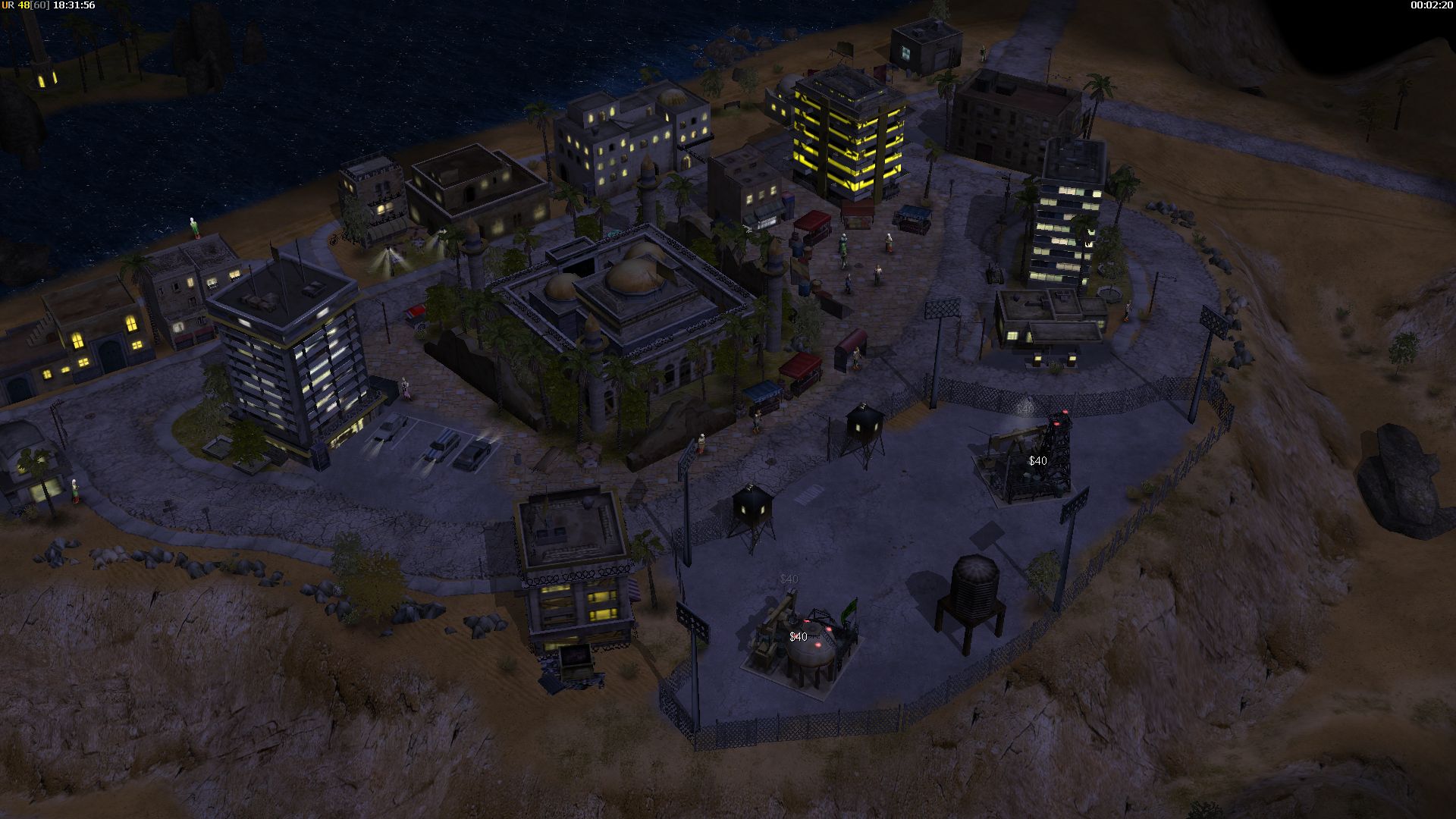 Desert of Pain - remade map with additional aesthetics and randomised tech buildings.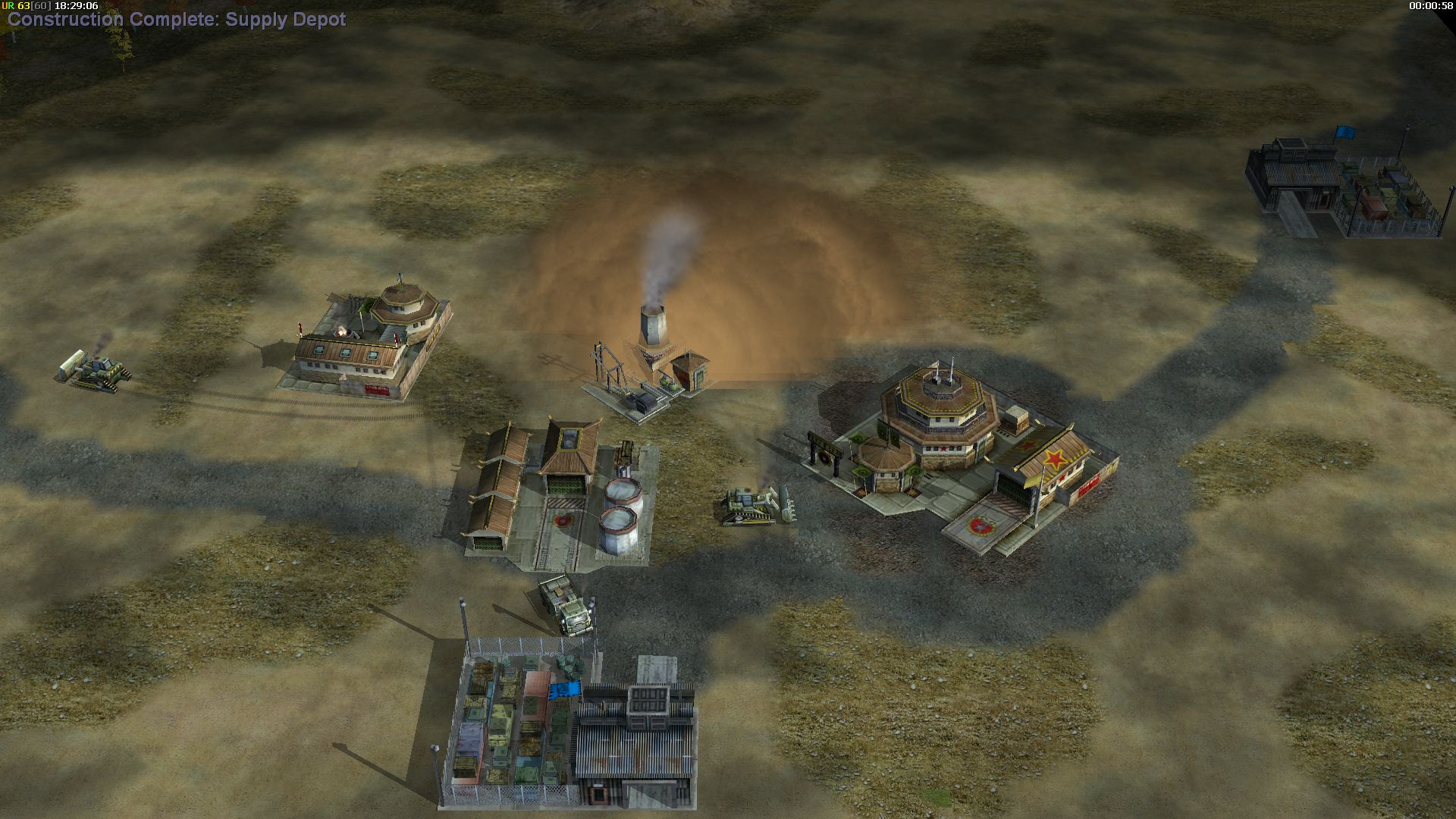 Interface
I have improved a lot on existing interface, including a new launcher, installer and generally new interfaces. I hope they breathe some fresh air into your experience.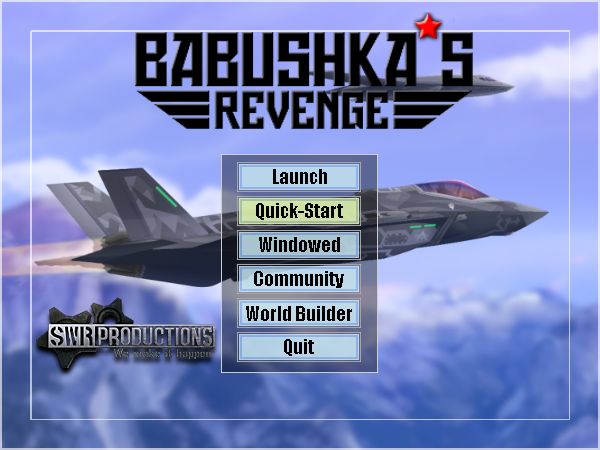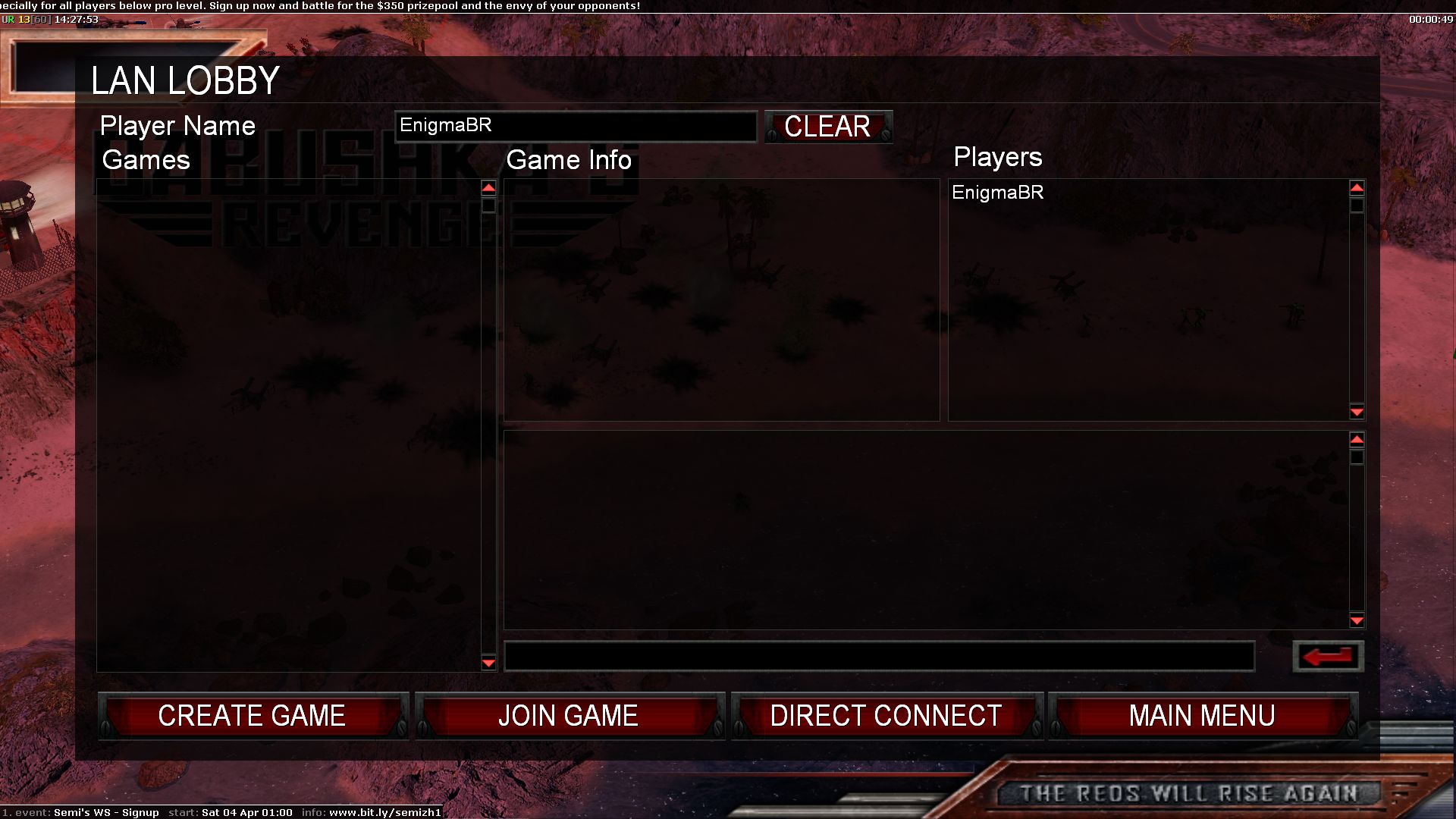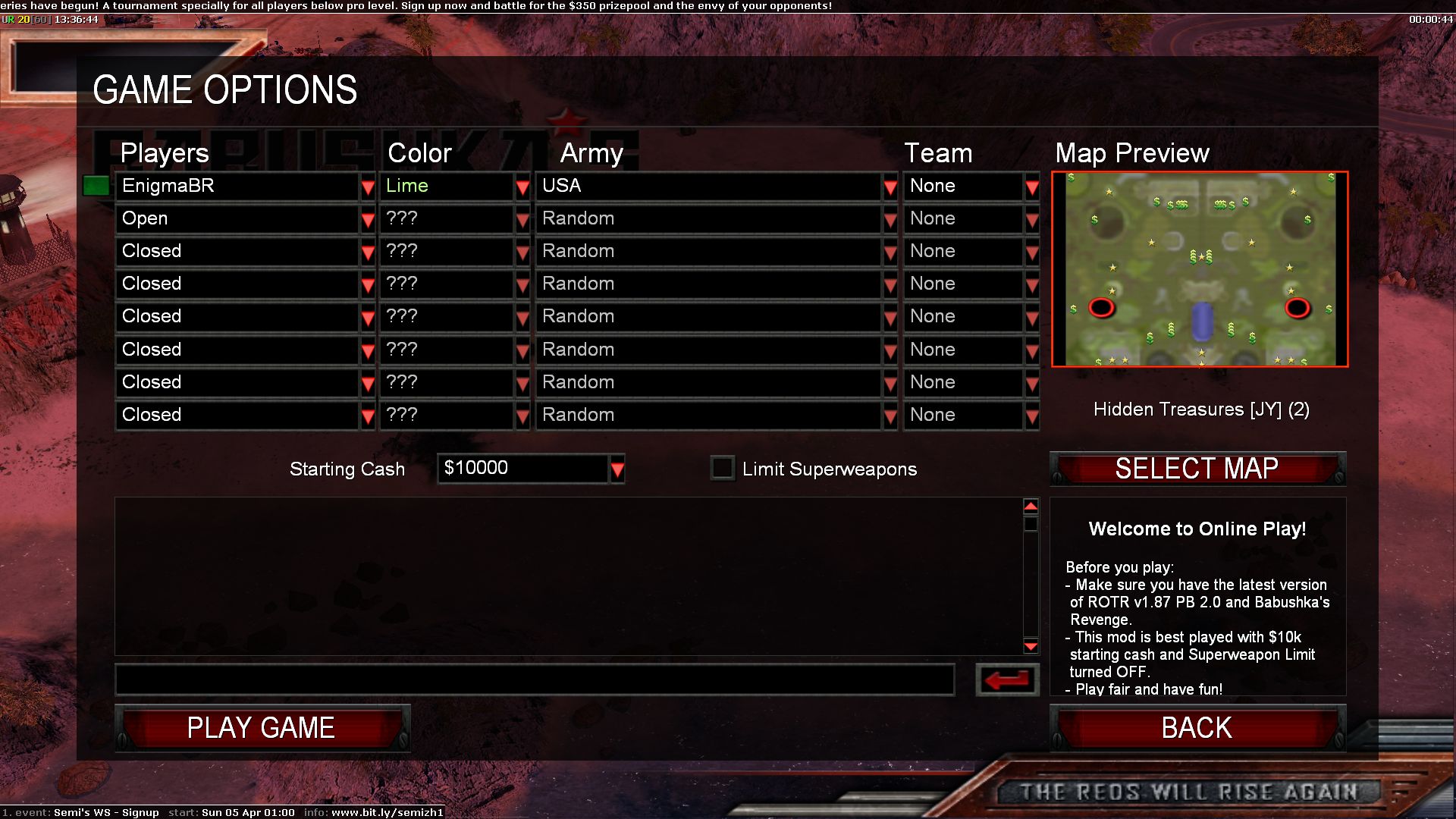 Online & Community
At some point, you must get bored of the AI and want to play online via any means possible. You may resort to Hamachi or some other service. That is where we come in.
Radmin VPN
This is a service that everyone in the ROTR community uses. By installing Babushka's Revenge, we provide the option for you to install Radmin VPN and join the rest of the community by playing online.
I have produced simple fool-proof steps to installing and running this program:
1) Locate "Radmin_VPN_1.1.3969.3.exe" provided with the install of this modification.
2) Run and install Radmin VPN via the executable.
3) Follow all instructions until the program is installed.
4) Join the Babushka's Revenge discord: Discord.gg or
) click the "Community" button on the launcher.
** the Discord allows you to arrange games with other players and feedback directly to the devs.
5) Finally, join this Radmin server, or any other Radmin server provided on the discord:
name: ROTR_BR_1
pass: babushka
6) Turn on Radmin by pressing on the power button or "going online"
7) Simply run Babushka's Revenge and go to Options. Make sure your IP starts with: 26.XX.XX.XXX
8) Go to Multiplayer > Network. Then you will be able to play multiplayer from there!
Discord
If you need help with Radmin VPN, or if you want to chat to the devs (that's me) on game feedback or any other topic you are interested in, you can join this DISCORD.
You'll also be able to join the community via the Launcher, at any time you want, and you can also get the latest ROTR v1.87 PB 2.0 from the Discord.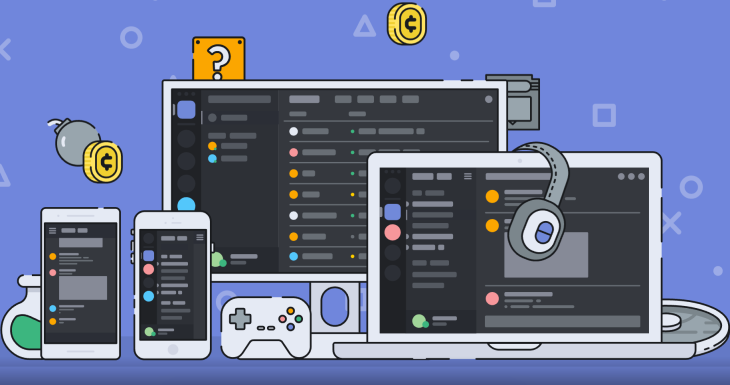 Taunts
I have added 5 taunts for online play, but I intend to grow/change them over time. They are exactly the same for all factions & generals, and they are taunts from other games such as Red Alert 2 or Age of Empires. Enjoy!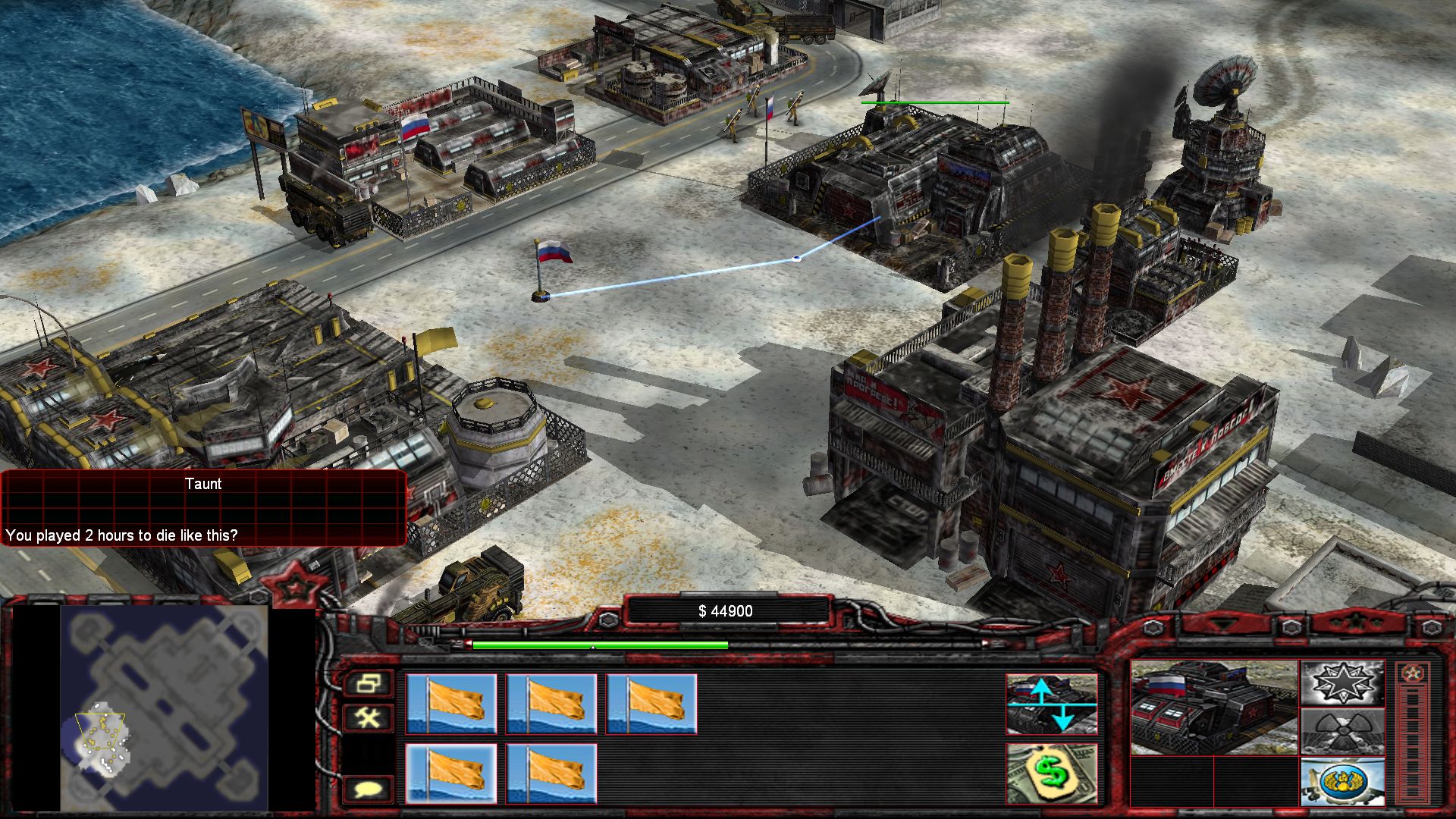 Where do we go from here?
Babushka's Revenge has grown a lot since it's inception some year and a half ago but there is still a lot of room to grow.
There is still more to add, more to balance, more to make. I plan for new tech buildings, more unique features for each General.
Campaign/World Map
While this is very much a work-in-progress, I am currently developing a set of missions and campaigns to add to Babushka's Revenge. While this is my passion, I can't promise anything whatsoever, but once I am 100% sure on the gameplay and content of this mod, then you can expect me to be working on this in my own time.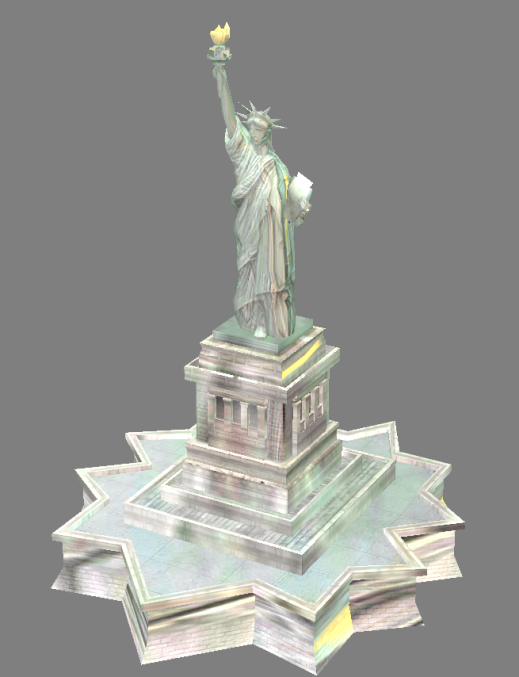 Mind the "Choose your General" at the top, this is going to be the setup for the World Map, where you can choose from an entire array of secret operations across the globe from all factions! Everywhere from Tokyo to Mexico to the Artic, it's all coming to BR.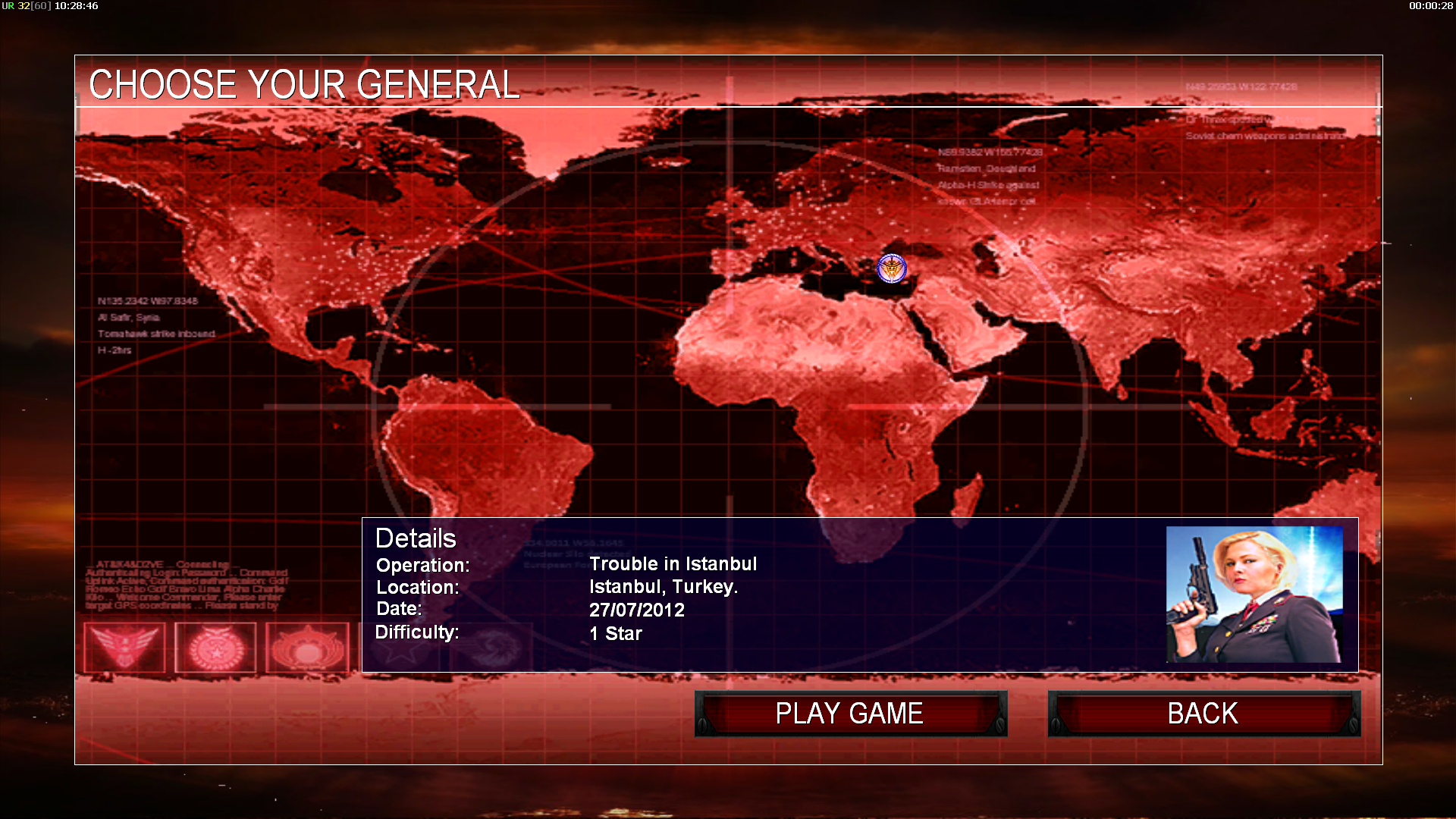 ---
---
Release Date
Friday 3rd April 2020
16:00GMT+1
I will see you all then!
Welcome Back General.