Dear Moddb,
What's going on!!
It's me Enigma!
So since my last release, I have been slowly rebalancing the mod. My testers have been hard at work (or not at all).
We've rooted out a lot of core balance issues and some mechanical changes have been made.
First, I'd like you guys to take note of the following changes:
1. Artillery increase range with veterancy (the more veterancy artillery has, the longer the range. This is to increase viability for artillery units)
2. Riflemen (Rangers, Red Guards, Conscripts etc.) have been boosted in ground DPS and range. Plus, they now all have unique re-made precise stats.
3. Tanks now gain a boost in damage against infantry when reaching Heroic (just like Red Alert 2 / Red Alert 3)
4. Removed a lot of unnecessary units and features.
Now that last point. I would like to make BR an overall mechanically simpler version of ROTR. This means that a lot of unnecessary units since 1.0 have been cut.
I've made improvements to models such as the GLA Scarab APC, replacing it with a new, retextured version from OFS (see Operation Firestorm here, all permissions granted).
Introducing a couple new units and structures, one of which is the Heavy Toxin Tractor from ShW (see Shockwave here, all permissions granted) and another which is a retextured Pillbox for ECA, also from ShW.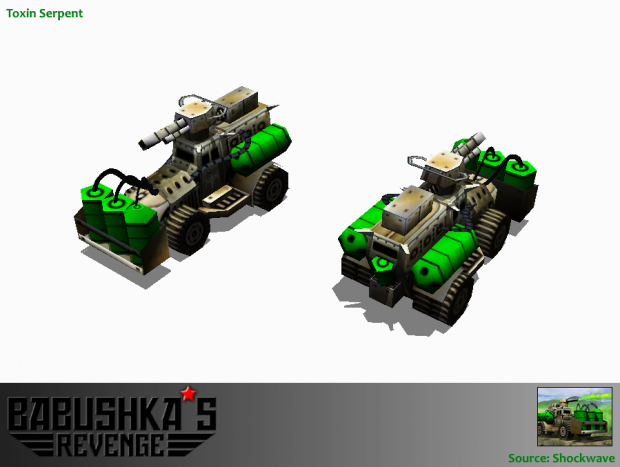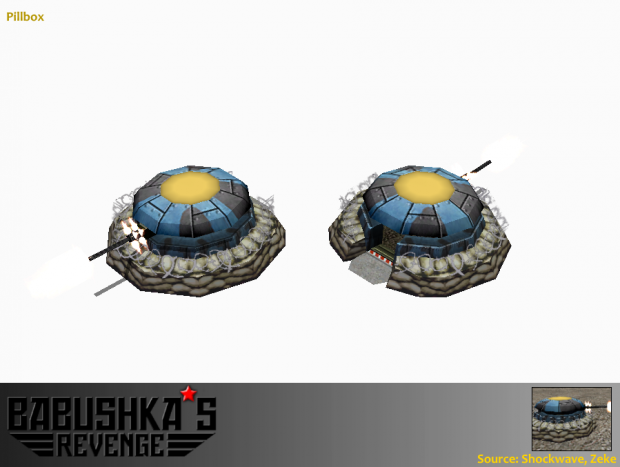 So that's what I've been working on, I hope you guys are excited to get your hands on this build, because it will be coming to you soon!!
Right that concludes my talk on Babushka's Revenge, let's get into the nitty-gritty.
---
First off, we are nearing Christmas season, so I want to wish you all a very merry Christmas in these difficult times. I hope you're all staying safe, wearing your masks, staying at home and washing your hands.
With our new release, I'll be rolling out some community managers for the Babushka's Revenge discord, which you can find below.
They'll be in charge of hosting tournaments, moderating channels, making polls, getting the community engaged and all the fun stuff!!
What I'm about to say is going to come difficult to me though.
Unfortunately, I cannot sustain continued and constant support for the mod Rise of the Reds: Babushka's Revenge.
Out of changing interests and renewed passions for a real from-scratch Generals mod, I'll most likely be ending support temporarily after the next release.
This will be like a continued hiatus, and I may or may not come back to this mod. I intend to occasionally push out balance patches and content patches at a slow pace, but I hope you, the community, will push to keep this mod alive.
It's my regret that I won't get to finish my deeper desires for this mod, like navy, amphibious support, an extended campaign and so on.
Maybe later, these can be finished but for now, I would like to take a break from Rise of the Reds and Babushka's Revenge.
You guys are the best fans I could have, the interest in my mod was much larger than I ever actually expected and you guys made the mod I make feel much more valuable.
Here's to the future! I'll still be around to answer questions in Discord (and Moddb) and you will see me again VERY soon.
That's all folks,
Thanks.
-Enigma