Aztec First Age in Sight!
Hello Folks! Today is time for a new return of the gods update, in our last Decodifying the Aztec post we had mentioned that our next update would be in January 21, with a video of the full working Aztec 1st age. Well the timeframe was two days ago and we were not ready to present the video as promised, so we will have to extend the date of the video release. However, that doesn't mean that we have just remained idle during this time, we have done a lot of progress which we are now excited to share with all of you.
Last post we described in general terms how the Aztec culture will be, now in this new update we will start describing some of those features that will be present in the Aztec archaic age. All of these features will be shown once the gameplay video is released.
Language
Previously we mentioned that the Aztecs will speak Nahuatl, and how challenging getting their lines is. Well now we got in contact with a Nahuatl teacher! He has helped us to correct the dialogues and also with correct pronunciation. Now we are working on recording the Aztecs voices. Here are some examples of the final Nahuatl dialogues:
Nimitztlahpaloa (I greet you)
Ye iuhqui (Ready)
Quemacatzin (Yes)
Nikchihuas (I will)
Elimiquini (Farmer)
Tetzotzonqui (Miner)
Nicyaotia (I attack)
Major God
Even though this is not a mythological entry, we will start describing a little bit of the mythological aspect of the culture through the first major god.
Hutzilopochtli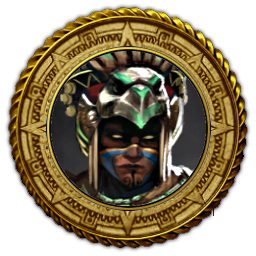 The first Aztec God to appear will be Huitzilopochtli, his name means left-handed hummingbird. He was the main Mexica God since he was God of war and zenith sun. He was associated with strength and war. He commanded the Mexica to daily feed him with the hearts of defeated enemies, allowing the sun to continue its cycle, therefore Mexica made plenty of enemies and went to many wars. This way life was always assured.
Huitzilopochtli will be an aggressive focused God, no peace just war, he will have different military boosts which will emphasize this strategy. So whenever you see in the loading screen: AIplayer(Huitzilopochtli) you know it will be like fighting Medieval II Sicily.
Bonuses:
Military buildings spawn units when built.
Human military units 15% more hit points.
Temples and altars 10% cheaper.
Military technologies and upgrades 15% cheaper.
God Power:

Warriors Blessing: Huitzilopochtli blesses a group of warriors upgrading their ranks, grants more in following ages.
Technology:

Flowery wars: Huitzilopochtli increases warriors capture rate allowing them to get more war prisoners.
Exclusive Unit:

Cuachicque (Shorn warrior): Warrior armed with macuahuitl and a shield, deals area damage. Good against infantry and bonus against other cultures units.
Wonder:

Huey Teocalli (Tenochtitlan major temple)
Buildings

Town Center
The design, model and textures of the town center is ready, there will be basically two kind of buildings in the first age; those build of stone and those built of sun-dried brick. The main town center building will be brick, secondary buildings will be sun-dried brick.
The Aztec town center with the Huitzilopochtli major God statue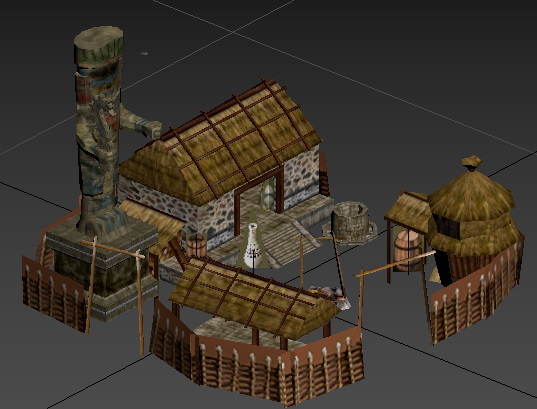 Temple
The temple structure has been based on actual Aztec temple ruins, so it will be different from other mesoamerican cultures. The main structure will be stone built just as the TC main structure and it will get bigger as the player advances in age. War prisoners will be taken to the temple and then sacrificed for gaining favor, therefore, the stairs and the sacrifice stone will be covered in blood (omg!).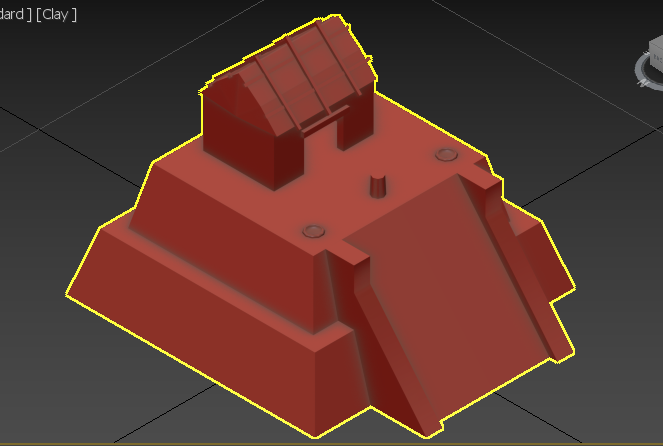 Tzompantli
Aztecs will mainly generate favor through sacrificing war captives, however war wont start until the second age. So to allow the Aztec start generating favor since the first age, they will be able to build an exclusive building: the Tzompantli (Skulls Altar). This buildings were constructed out of sacrificed captives heads for honoring the gods and as a display of strenght, since a bigger tzompantli means more captives were obtained thus they were great warriors.
This building will generate a trickle of favor, similar to egyptian monuments, however it wont generate enough favor to replace the sacrificing system. One Tzompantli will be availabe at age I and another one at age IV for a total of two.
Tzompantli altar will grow in size in following ages.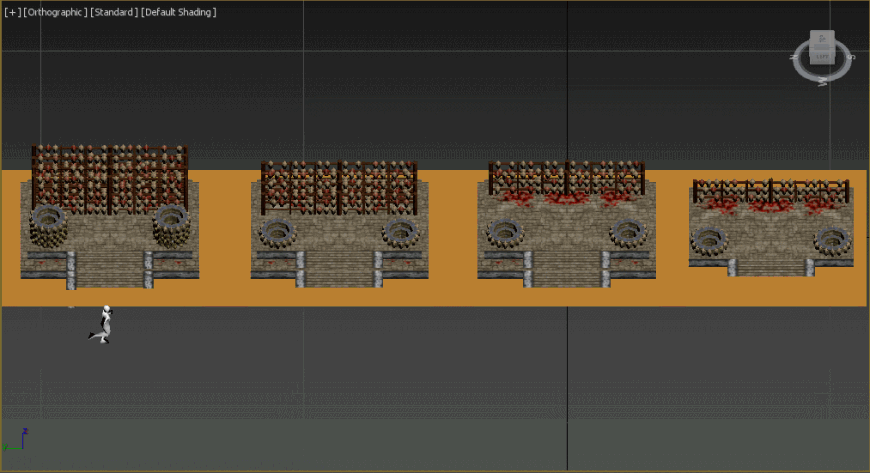 Economic buildings
Besides the Town Center, Aztecs will follow a Greek model having only two buildings for depositing resources: the storehouse (wood and gold) and the granary (food). The models and textures are all done: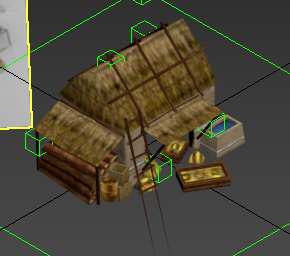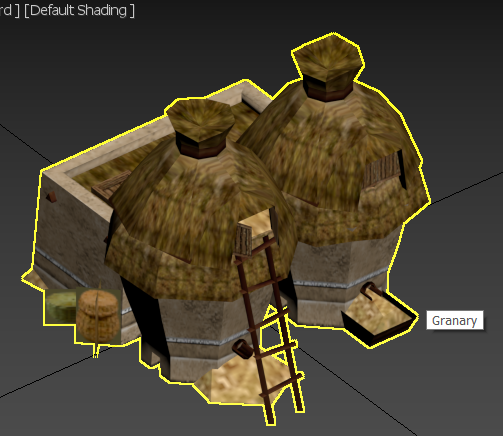 The Aztec houses models have been finished, they will be textured as the resource deposit buildings with sun-dried bricks and straw roofs.
Here is the houses models comparison, from left to right: Norse, Egyptian, Aztec.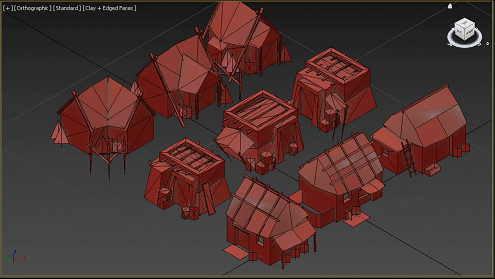 The Aztec dock lightt house will be a stone tower with a bonfire in the top, similar to the norse one. The dock will follow the same patern of age I buildings.
Here is the comparison between the Aztec dock model and the Norse one.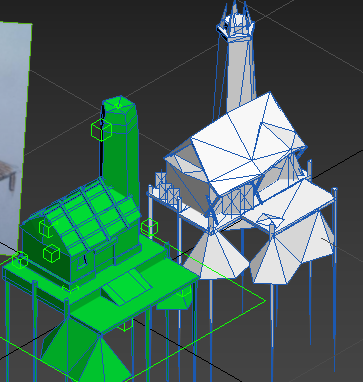 the dock will allow the construction of fishing canoes, and the canoes will be able to store gathered food in the dock.
Aztec fishing canoe model compared to the egyptian fishing ship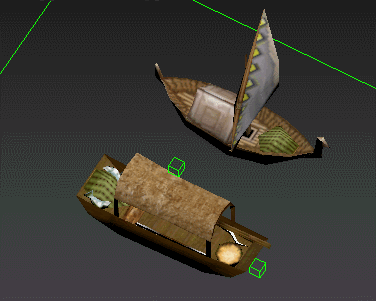 What's next?
That's all for today's update, our next update will be a video gameplay featuring the first age, we are close to complete it, however we wont give an estimated date because we dont want to dissapoint anyone. So just stay tuned until our next update.
Cheers
~The Return of the Gods Team