Hello Everyone!
It was 9 long months, i spent working on this game and i enjoyed all of them. Sure there was moments when i was in deep depression or burn out not willing to continue with it, but i always recovered and except few problematic issues with the game i enjoyed (almost) every day of its developement.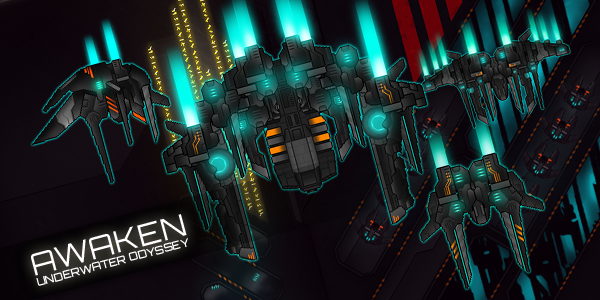 History of project
Game was supposed to be simple flash game at first and i planned to spend about month working on it. I learned a lot of things during creation process and after two months the flash demo containing first mission was made. I uploaded it to Kongregate and Newgrounds and been quite disapointed about it ratings, game got about 3/5 on kong and bit more on NG. Sure i was depressed for day or two, but then i realized i gathered valuable feedback and decided to work even harder on the game.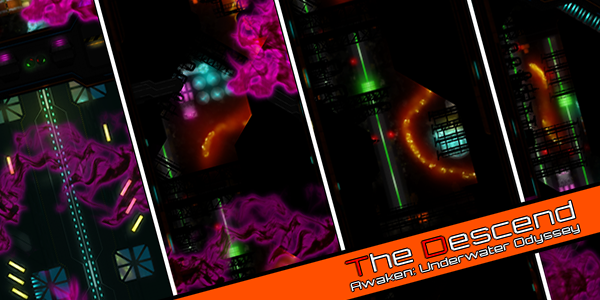 Two months later the game got much fatter and it was impossible to release game in flash couse of performance issues. However its standalone version sitted steadily at 60fps and thats why i released so called Awaken alpha(can still be downloaded here from downloads). The game made a huge progess and it had nothing in common with original demo except few sprites. While i received few words of positive feedback it failed again to catch attention of at least dozen people as it was probably not as good as i thought.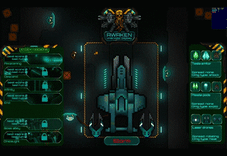 I was depressed for couple of more days to realize its time to start working even harder on the game and i basicaly rebuilt the game in next five months, again reworked almost everything to have this little game in current state. Sure i think it plays great, looks great and its pure awesomenes but in the end it ll be judged by you, players.
Current state
Awaken is "almost" done. By "almost" i mean hangar where you pick missions and compose your ship form unlocked components is done. All four storyline missions are finished(well the last one still needs few finishing touches). Boss alley mode is done as well. Only few features still left to do like, quit game button, volume controls and Onslaught mode. Onslaught mode is kind of infinite/survival randomly generated mission where your goal is to survive long enought to destroy enought squid fighters to reach the highest score.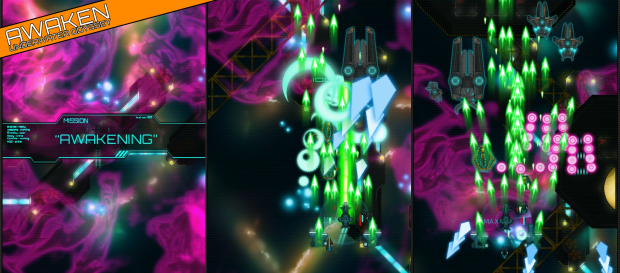 I ll not write another paragraph about how great the game is or how awesome it look with its scanline filter when in full screen, it ll be up to you to make your opinion, and it ll be soon, i promise;-)
Right now im taking much needed break till end of the week as im like super-bussy at my day job as it seems everybody got mad before xmas. But i plan to polish the game over upcoming weekend and during xmas holiday as i need to implement some importantant features like pause or quit game buttons.
Near future plans
Till the new year i plan to release the demo whitch ll contain first two missions and its unlockables. That should be enought to give players idea how the game plays and by then they ll surely know if they want to support this project by purchasing or pre-purchasing the game and gaining acces to the beta version.
Dont worry about the price if you are interested in this game, it ll be cheaper then coffe in a restaurant.
This phase ll last about one month during whitch i plan to do some more marketing, make proper game trailer, contact youtubers, reviewers and do all of this annoying stuff.
Hope you cant wait to play the demo version and it ll be worth downloading for you! See you by the release!