Hello again readers! If you like firing high powered weapons, customizing your ship and use most of it by clever switching firing mode, then you ll like todays article. Again, the paragraph below first heading is bit personal, about game feel and why i decided to make such changes.
AWAKENING
Yes, last monday i felt like i just awakened. I realized that i cant afford to make content that ll be played through just once. I would love to make the game like good old Raptor where you flew through many stages, improved your ship over time to be able to take on harder missions and repeat whole upgrade circle again. That was idea i wanted to repeat with Awaken, but unfortunately this approach requires hell lot of content and as this project is one man show i can not provide that in adequate quality.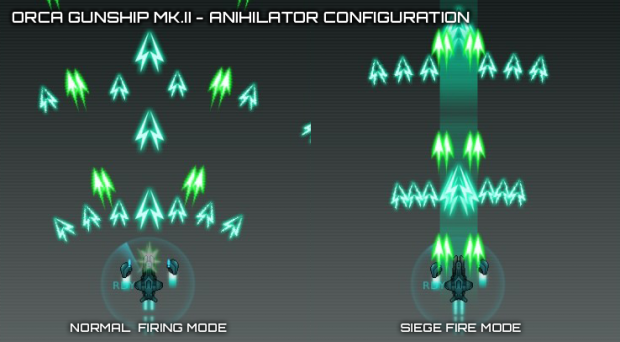 NEW WEAPON SYSTEM
Modular ship customization preview - Indie DB
Thats why i decided to change weapon system idea that consisted of unlockable weapon upgrades that provided more and more dps. The problem with this system is that once you have few first upgrades unlocked there is no reason to return to earlier missions as you can fly through it with one hand on gun trigger and second hand wherever you want. That does not sound like fun at all and as addition it ruins scoreboard effort made earlier. Why would someone tried first mission multiple times to get that achivement for perfect run, if he can return later with upgraded ship to just anihilate everything by sight?
Thats why i decided all ingame weapons for given ship slot will have same DPS, but with different visuals and diferent style of damage delivering. While keeping tier 2 variants of weapons to use them as alternate fire mode, providing more firepower, but applying disadvantages(slow movement, draining your shield) to your ship when fired, to make player think carefuly when it is worth to use "siege" mode of each weapon.
With weapons working this way i can balance difficulty of achivements much better as with this system the "squid shredder" achivement in game first stage awarded for score of 50K ll be still difficult to achive for everyone and only player skill will matter.
BUT WHERE IS MY REWARD?

Players reward will now come in form of whole ship parts and player is given the option to rebuild his ship, change how it look, and how it behaves on the battlefield. The modular upgrade system is allready implemented(however still missing interface)and working. There is not as much combinations as i would want, but i hope there ll be enought combinations to provide plenty of fun. The ship is composed from Front Deck, Hull and Drones and each part comes in 3 variants.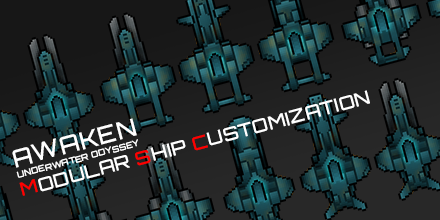 Hope you ll enjoy these changes as they enriched the gameplay a lot and i hope i ll be able to bring you beta version of the game within month or two.
Thanks for reading & until next time!
Tryzna