Hello Everyone! Its been a while since last update and while i spent most of the time since last one by polishing allready implemented content i decided to change my aproach a bit as right now i feel like im running in circles. But lets start with pices of new content.
NEW ENEMIES

As you can see above i started drawing simple concept pictures as they really help me to sort ideas in my head before i ll start working on tiny pixelated sprites for the game. I regret i did not started with this method earlier as while it might look i should spend my time somewhere else, especialy when considering Awaken is developed by single person, in fact, it would save me all the enemy reworks and especialy all the time im trying to catch right outline curves as its always hardest part for me when i start working on sprite of new enemy ship.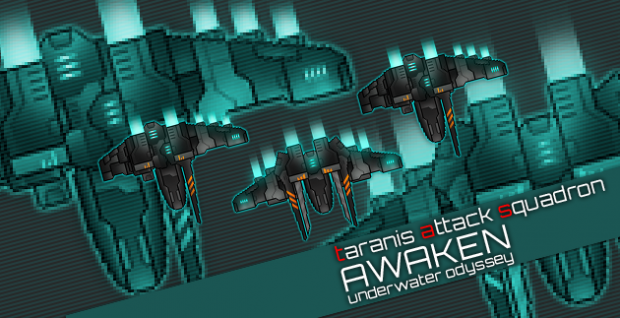 The Taranis Attack Squadron above is duo of new enemies whitch ll start appearing during third mission of games storyline campaign. First two missions are all about you, squid-like aliens and suspicious feelings, especialy after your ship computer ll start recognizing parts of alien ship as ancient earth designs.
Everything ll become clear to our hero during third mission where you ll encounter first post-human ships.
While thinking about their design i was sure i want to skip tentacles this time and decided to give them kind of "military" feel.
Still these are kind of "heavier" enemies as they took 2-3 seconds of concentrated fire as posthumans ll continue to use squids you know from earlier missions as meat for the grinder.
NEW MISSIONS
Finaly, after week of difficulty balancing the second mission of campaign is DONE! Still have to rethink boss encounter a bit, but right now i started working on third one. Background graphics is ready, Taranis ships as well, but still have to revork old post-human frigates and prepare third boss.
I gave up on idea having completely different set of enemies for each mission, as it would be overwhelming task for me, but im trying to introduce 2-3 new enemies every level to enrich the action a bit.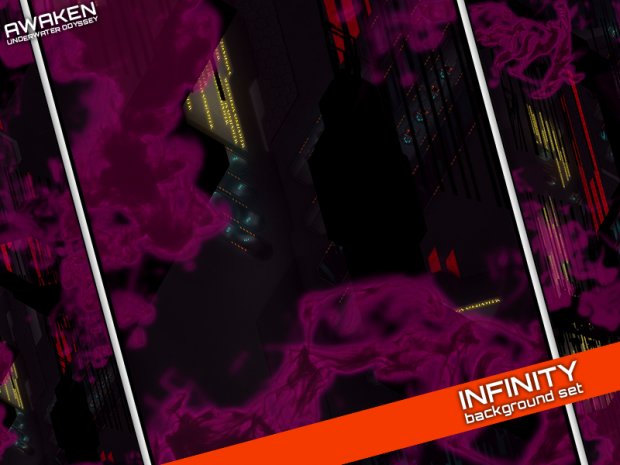 Right now im working on mission backgrounds as its on top of my priority list right now. Picture you see above is wip of background set for fourth mission "Infinity". Still needs a lot of detailing, but im allready pretty happy about it, like the shapes, like the little details like parked alien ships ready for launch, tentacle-like wiring visible through the open shafts and overall atmosphere well fitting game style.
NEW DIRECTION
I never thought i ll have to say this, but to be honest, im running out of time working on this project. Dont get me wrong, i still enjoy it and would love to have as much time as neceseary to further improve this game, but i just dont have it. This game have to be completed by December as i ll be super bussy at work for two months as every year and based on my experience with my self, i know i would never finish it if i ll just take two months long break from developement.
Still got plenty of time to finish this game, but have to change my work ethics and discipline if i want to succeed.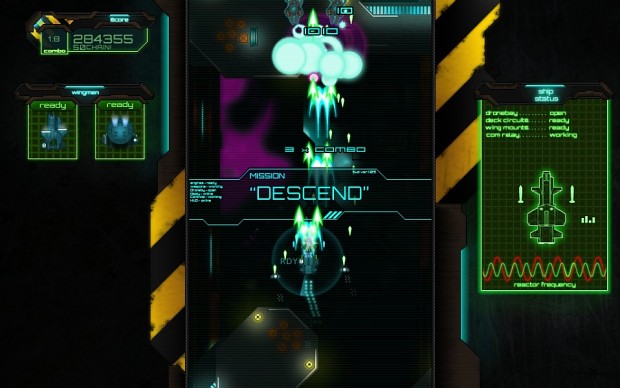 My main problem while working on this game is "running in circles" i mentioned at the begining of this article. Thats why i called "stop state" for new ideas for now and want to finish first very rough version of the game within month. I know it sounds scary, but if i ll have something in that state i ll be able to manage my time much better(and possible keep developement going even during xmas season) as i ll be just replacing "components" of the game with better, more polished ones and hopefuly i ll not catch my self again, hard working every day, but not making any real progress.
Thanks for reading, thats all i wanted to say to the world today and see you next time with new dev. progress video!
With regards
Tryzna