Again, I've been a naughty developer and not kept MODDB up to date with the latest happenings on Automation, so here is an overview of what's been going on in the past few months.
V8s Released

As of the 4th of July (how very patriotic of us!) V8s are now available to all of those who've preordered, complete with Crossplane and Flatplane (ala. Ferrari) style designs, and MILLIONS of different parts combinations.
Engine Sounds Improved

After a whole lot of work on EQ and FMOD filters we've managed to make the engine sounds lot nicer, the video below illustrates this nicely.
Won "Best Technical Innovation" Award at Freeplay 2012.
Freeplay is a great Independent games festival here in Melbourne, and they run some Awards at the end of the festival.
We're very proud to have won "Best Technical Innovation" and shall treasure our shiny glass trophy!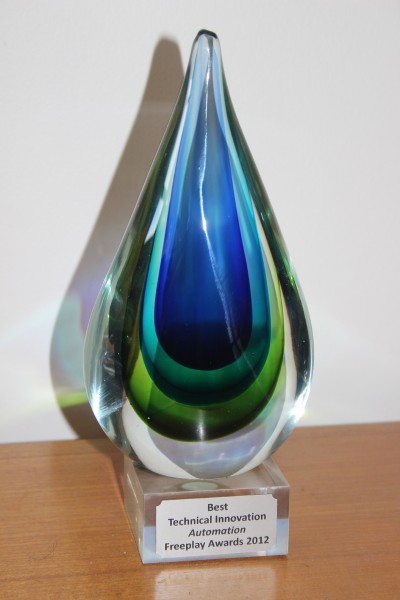 Steam Greenlight Project Launched.
Quite a few of you have mentioned you'd like to see Automation come to
Steam eventually, and so would we. The wider market that Steam brings would
give us lots of publicity, lots of sales, and more importantly lots of
money to spend on making juicy new content and features for Automation.
Now with the existence of Steam Greenlight we have a chance at getting on
Steam. We'd really appreciate it if you'd drop in to our Steam Greenlight
page at
Steamcommunity.com
and give us an upvote. (We're already in the Top 100! Yay!)
Improved UI, reworked calculations and I6s coming to next update

The next update will be a BIG one, featuring a complete rework of the stat calculations, access to Inline 6 engines and a much improved UI.
And here is a screenshot of the new UI. Lots more contrast/clarity and way less ugly than before.