Hello Everyone,
Dominic aka Cybergebi is here :)
Today is my Birthday and at the begin of the Development we wanted to release the Game Today on my Birthday. But thats sadly not possible after we switched to UE4. But the Game looks and feel much better now so it is worth the wait :D
We got News for you.


Our Characters
We presenting you Steve and Clara, our first Characters. They will be available at release.
You should allready know Steve from the last Update but we changed him a bit :P
And some of you should allready know Clara from the old Version of Vision Runner. She was the Main Character in the Unity Version, we updated here and give her more Polygons and she got higher Resolution Textures for the "New" Vision Runner.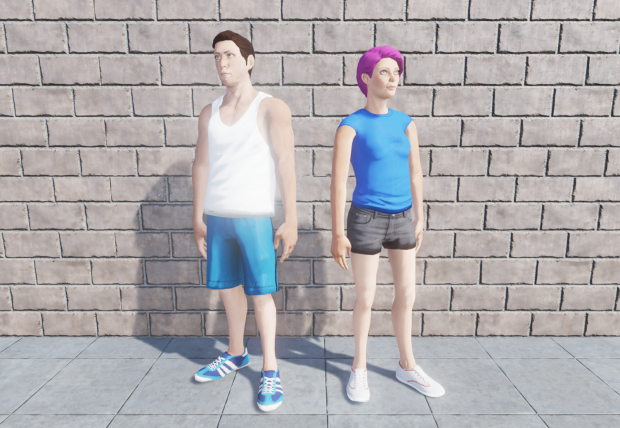 Development Progress
Most of the Core Elements in Vision Runner are finished, but there are still some big Elements who aren't implemented yet so we still need Time.
One of the Biggest Core Feature which is Missing is the Connection to the Community Server were you will be able to Share and Download Maps, Rate Maps, Profiles.
Also the Multiplayer is not ready yet. The Server Browser and the Map Changes on the Server are still missing.
GUI
Thanks to Epic, we finally received Unreal Engine 4.4 last Week, which finally included the GUI System. So we started right away to create all the GUIs and HUDs for the Game. The GUI is also the biggest missing Element of the Game. And also the reason why we currently can't show more Footage. The Map Editor is working fine but we can't really control it because the GUI was missing.
We do our best to get the GUI working to Create Maps more easily and get the most important Feature, the Save and Load Feature, finished.
Story
We are still working at the Story and can't release any Details, but we think that it will get Awesome. We will release more Information and Footage at a later Date.
Release 2015?
The Decision was not easy but we just didn't found another Way than push the Release of Vision Runner to Summer 2015. We first wanted to release it this Year in the Early Access Program but to release a Game you need to have a registered Company. There is a possibility to found a Company in our Country before 18. But this is a really difficult way and we didn't matched the criteria for that because we are still going to School. BUT we don't give up, our Game Designer will turn 18 next Summer and he will found the Company for us at his Birthday. After we got our Documents we will instantly go to the Steamworks Website and prepare everything for Release. We will release the FULL Game next year because now we got enough Time to finish the Game and make polishes.
A Demo?
We already thought about that but the Problem is, to make a Multiplayer Demo we need Servers and we don't have money to pay these. We don't know if we will release a small part of the Story as Demo, we are currently still developing the Game and writing the Story. Currently we don't even know the length of the Story. Sorry for that.
If we will release a Demo, you will hear it first here on Greenlight :)
Thanks for reading
Any Questions? Please open a Thread on the Greenlight Page and we can discuss :)
Greetings
Cybergebi