Block 72 is not all about escaping a terrible Combine prison in the Half-Life 2 universe. We try to think of what went on during the events of Gordon Freeman's liberation of City-17, in other locations.
Recently during our transition to the Episode 1 engine we have been working on heightening realism without actually affecting gameplay. Little things like replacing H.E.V. batteries with peices of armor and suit chargers with medicine cabinets. Or starting with a less powerful and dirty assualt rifle, one that you'd realisticly find in a battlefield of hl2. Speaking of that, here's a WIP screenshot of a rusty smg you find early in the mod: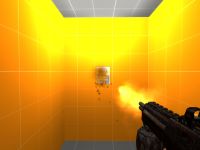 There's nothing too different between the rebel weapons and the more modern ones, less damage and lack of alt-fire like a grenade launcher. We just want to give you more firepower to play with yet staying true to hl2. And yes, there will be more weapons than weaker copies of the original.