New Stargate Universe Trailer
The new trailer titled "Where Will Destiny Take You? " features some new footage cut together with some material previously in other trailers. It looks good and is continuing to build up the hype.
---
Stargate Atlantis gets nominated for 5 Gemini Awards.
Stargate Atlantis has been nominated five times for the 24th Annual Gemini Awards which include:
Best Writing In A Dramatic Series - The Shrine - Brad Wright
Best Achievement in Make-Up - Vegas - Todd Masters, Leah Ehman, Holland Miller, Brad Proctor and Kyla Rose Tremblay
Best Costume Design - The Queen - Valerie Halverson
Best Visual Effects - First Contact - Mark Savela, Jason Gross, Paul Hegg, Brandon Hines, Jamie Yukio Kawano, Alex McClymont, Krista McLean, James Rorick and Luke Vallee
Best Visual Effects - Enemy At The Gate -

Mark Savela, Brenda Campbell, Natalia Diaz, Carina Dielissen Hunt, Shannon Gurney, Paul Hegg, Vivian Jim, Chandra Juhasz, Kodie MacKenzie and Alex McClymont
Congratulations to the cast and crew of Stargate Atlantis! The winners will be announced on the 14th of November.
---
Economic Situation is delaying the Atlantis and next SG-1 movie.
The next O'Neill-centric SG-1 film has already been approved by MGM and the Atlantis movie script has been completed under the working title of "Stargate: Extinction", but has yet to get the green light.
Robert C. Cooper has commented that the SG-1 and Atlantis movies are ready to be made, but they are just waiting for the right opportunity in this current economic situation. It's just a matter of time for the next Stargate films.
---
Stargate movie gets 15th anniversary Blu-ray release.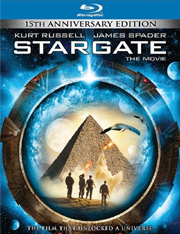 The original Stargate movie; where it all started, starring Kurt Russell and James Spader is set for a special 15th anniversary Blu-ray release. This new release will contain 4 hours of bonus features and some unreleased material. It is scheduled to be in stores on October 27.
---
30 Stargate Universe webisodes are in production.
It has been announced that 30 short Stargate Universe webisodes are currently in production. The webisodes will probably be in the form of the "Kino" ball view as it hovers around the Destiny. Distribution is set to be weekly from the official Stargate website or SyFy's website.