So, there has been a few game that's been catching the attention of many Otakus. The main one, which happens to be, "Shingeki No Kyojin: Hangeki no Tsubasa". It was announced in Japan not too long ago.
It's a game under development for the 3DS. Don't get too excited though, there hasn't been a western release yet. (I doubt there will be... at the moment.) There already is a trailer for this game. Several details have already been confirmed. Such as 4 player co-op. Eren, Mikasa, and Armin are going to be in the game. Also, it has been said that your character progresses throughout the game. The game is supposedly to be released on December 5th.
Screenshot of the 3DS Game coming December 5th.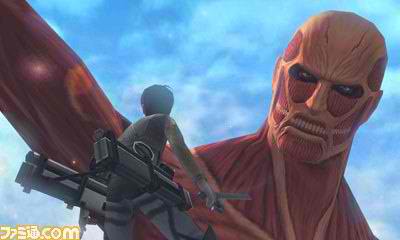 Another game that's also was causing commotion was a browser, online game. (It looks like it has the same title... not sure.) Once again, it's for Japanese consumers. (Such a shame.) The deal with this one, it's that it also will be like an RPG game. The ability to customize your own character with gear and such. Players will be able to fight Titans such as the Armored Titan, alongside with their friends. At the moment, it has been said to only be able to accept 10,000 players. Japanese players better grab a spot real quick. There's already a teaser website for the game.
Screenshots from the online game.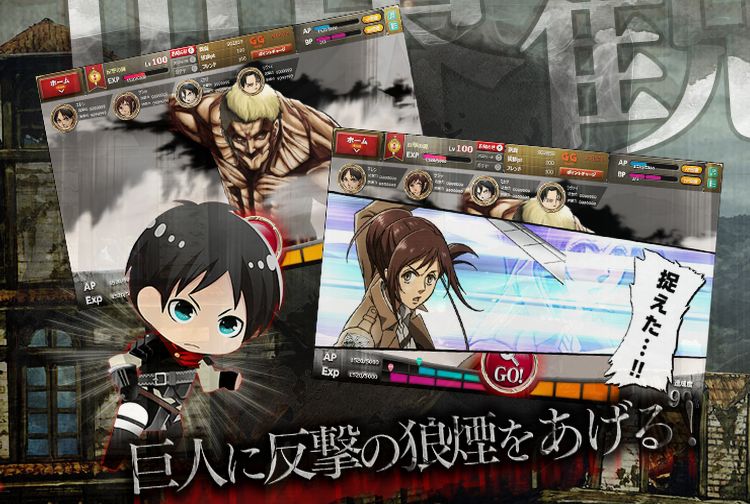 Well, that's all I have to say for now. See you later rookies. - Levi