Hey there wonderful folks!
I'm back with another update :)
The team and myself have continued to work hard on Atajrubah since our last update.
We have made a great deal of progress and currently have an early playable build , this is released to team members every one to two weeks via Steam for testing. I have taken the time to put together an update video to show some of this progress below:
[Atajrubah Development Update - 11/08/2014]
As we move forward with production and the UI becomes more fleshed out , we shall start bringing on outside testers leading up to a closed beta release and further testing before we launch on Early Access.
To that end I have setup a Trello board that the team and myself have been using to track development as we go forward. It is private to team members at the moment but we have plans to expose it publicly as Atajrubah enters closed Beta.
Technical and Programming
- First pass character locomotion animation integration.
- Third Person Functionality.
- Improvements to Death handling (player will now rag-doll on death)
- Stamina System.
- Toggle-able Torch Asset and shaders.
- Weekly Atajrubah Builds (currently at v 0.1.2 and distributed through Steam)
- Engine Upgrade to Unreal Engine v 4.3 .
- Further Day/Night cycle improvements(Nights are less dark now and the color pallet is more dark blue).
- Further User Interface R&D.
- Numerous bug fixes.
- Initial cloth simulation workflow
Modelling
Dan Reese has begun work on the long list of interior prop assets, striving for ever higher levels of quality he has made several contributions to improving our asset production workflow. Below you can see some examples of what he has been producing lately.
[Bench Interior Prop Asset]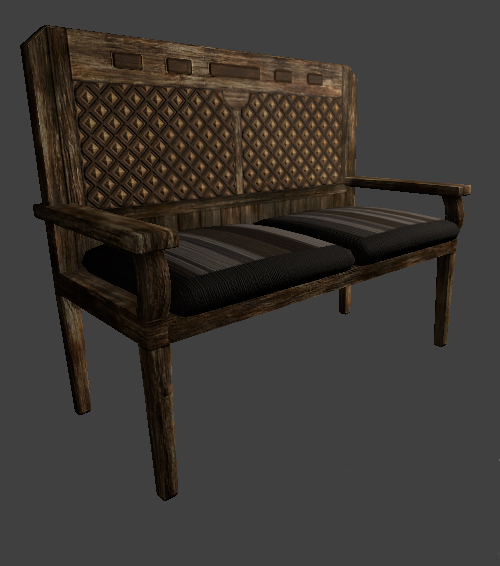 [New Explore-able Building Asset]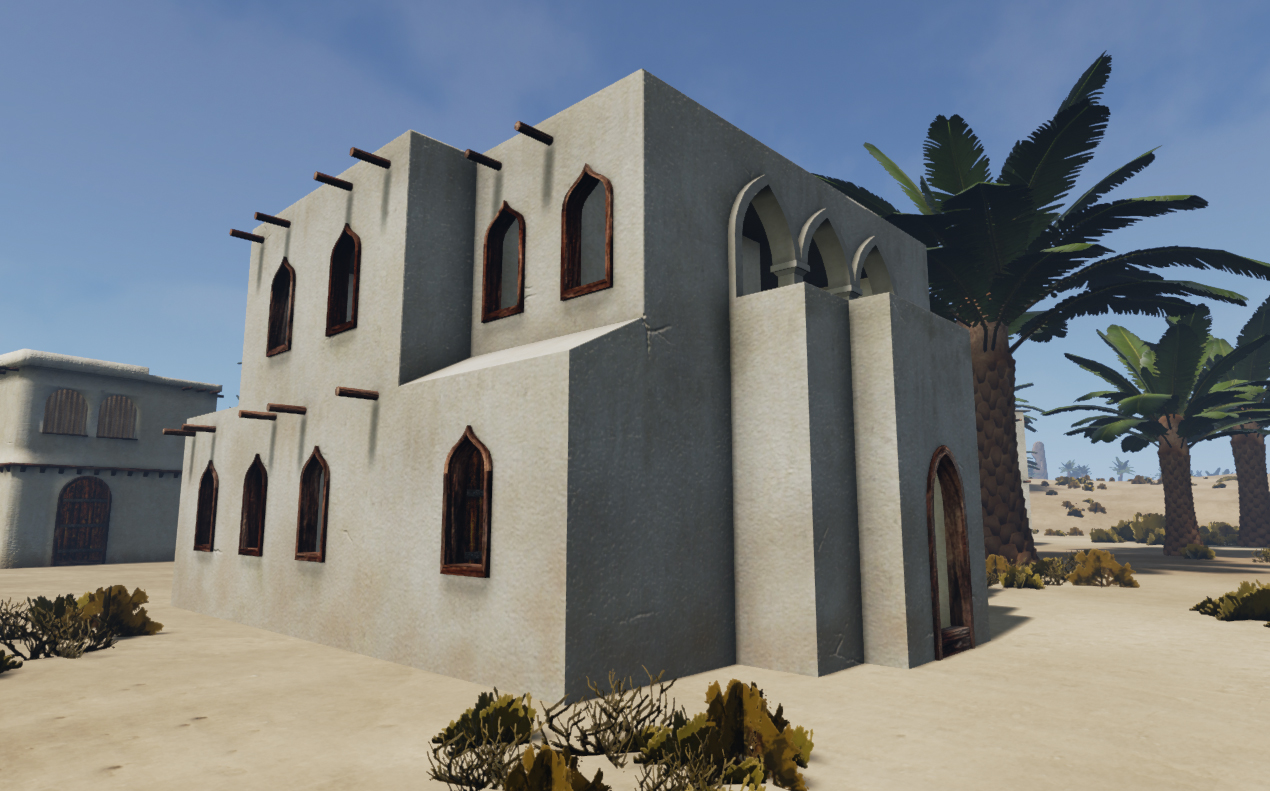 Character Assets, Rigging & Animation
Dan Hitchen has finished work on both the male and female character models, this includes textures and game ready mesh assets.Jeremy has ensured that both the male and female character models are rigged, making sure that animations can be shared between them and indeed any other bipedal characters going forward.
He has also been making great headway with the animation library. At present Jeremy is about 71% of the way through creating all the locomotion critical animations that we'll be using for our bipedal characters.
[Male and Female Player Characters]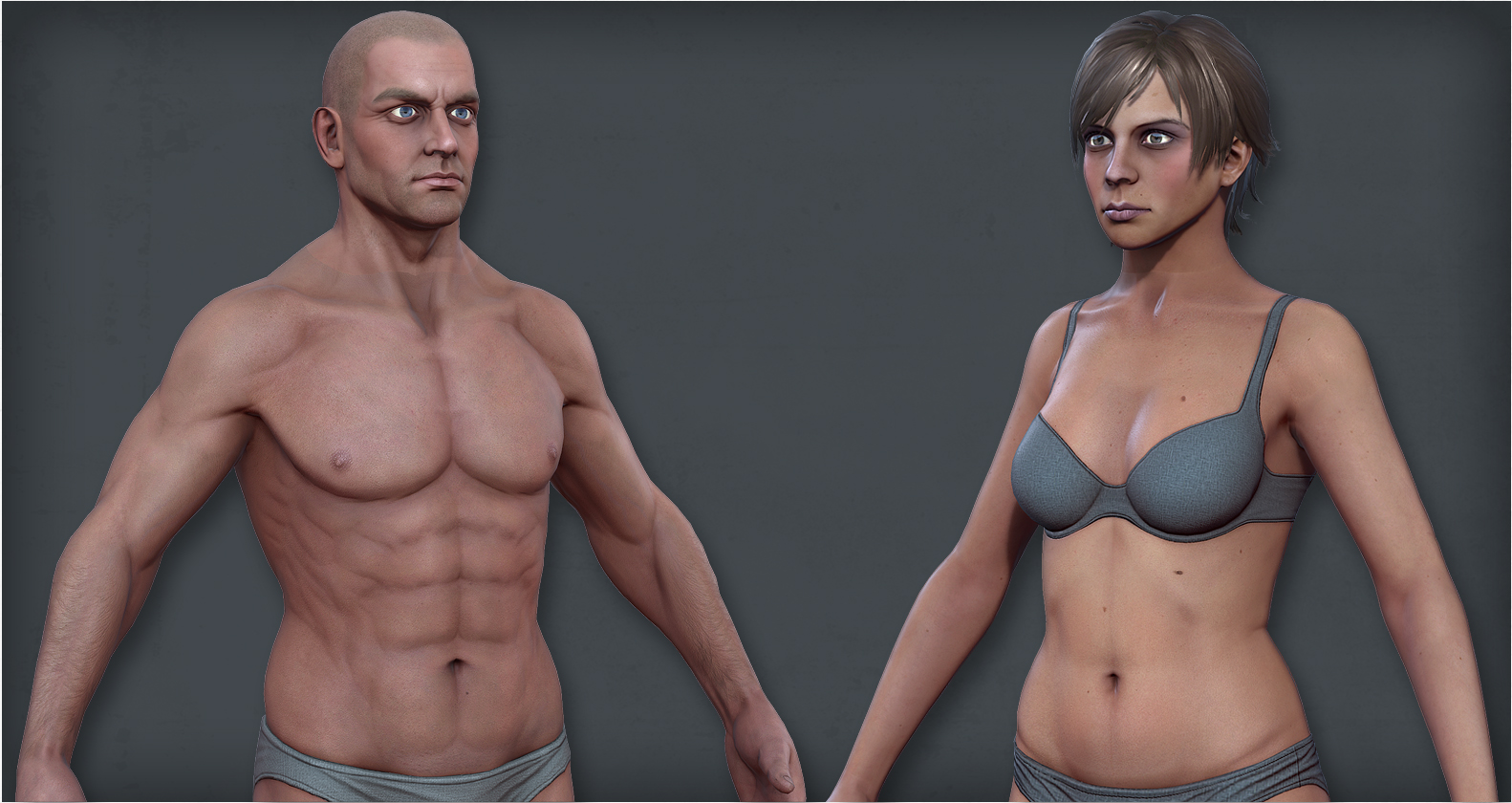 Dan Hitchen continues to deliver new content and has been making swift progress with the clothing assets, handing off the various clothing items in the screenshot below.Further to this I have begun developing a workflow using NVidia's Apex tool set for cloth simulation. I shall post an update and video once I have results to show.
[Male Character Clothing W/First Pass Textures]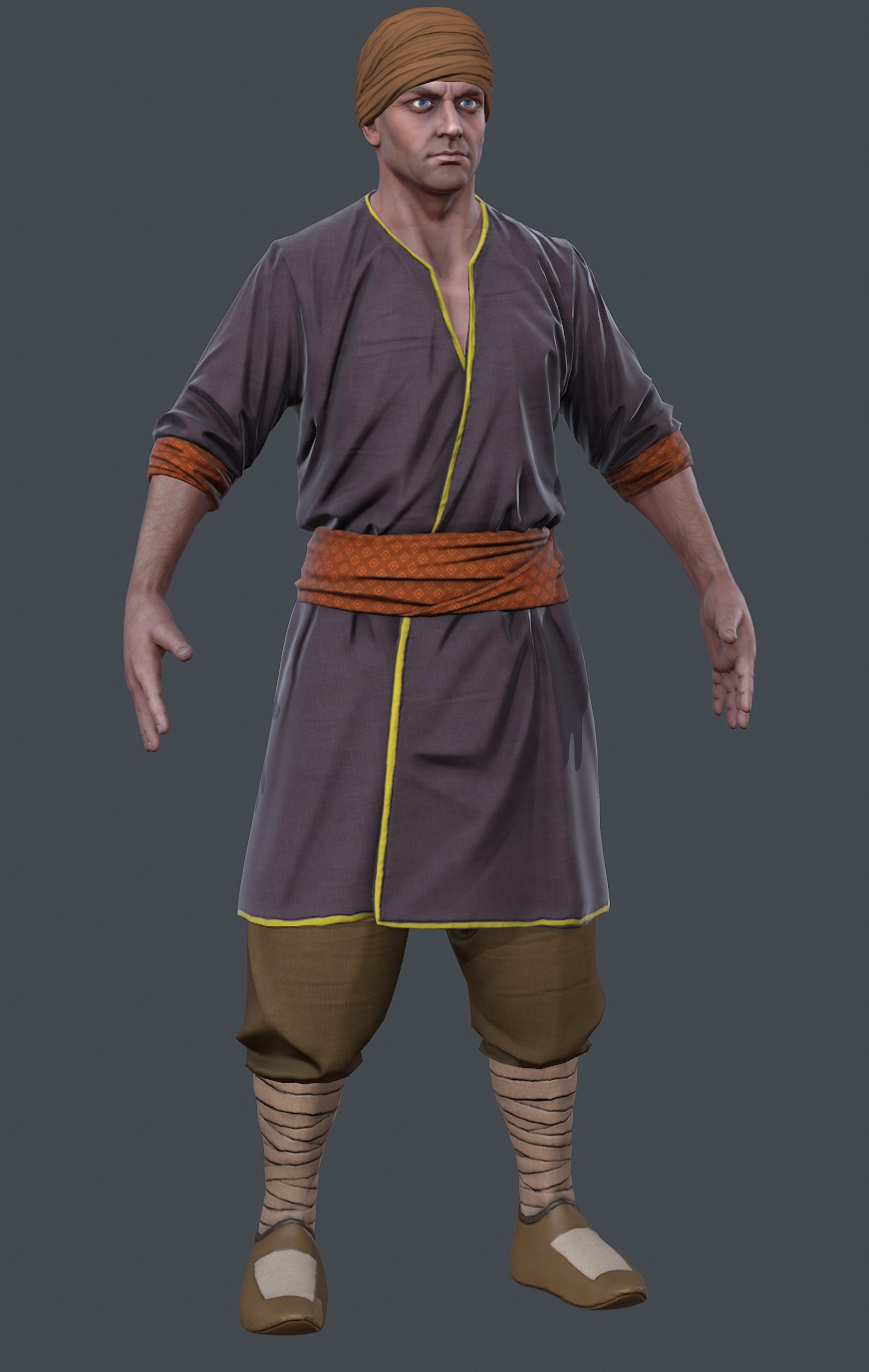 Concept Art
Tien Chi has been putting a lot of hard work into these awesome illustrations, its been a real pleasure working with him. Tien created three sheets of costume designs, then we picked one of the designs to work from in a tiered illustration.
[Atajrubah Male Costume Designs]
He then crafted this great high resolution,tiered costume illustration showing some possible gear configurations. I do like how everything is amplified in the third tier, if I saw this player's silhouette on the horizon I wouldn't be sticking around.
In addition to this he has created a wonderful piece of environment art to guide us in constructing ruined environments for players to explore.
[Tiered Player Character Illustration]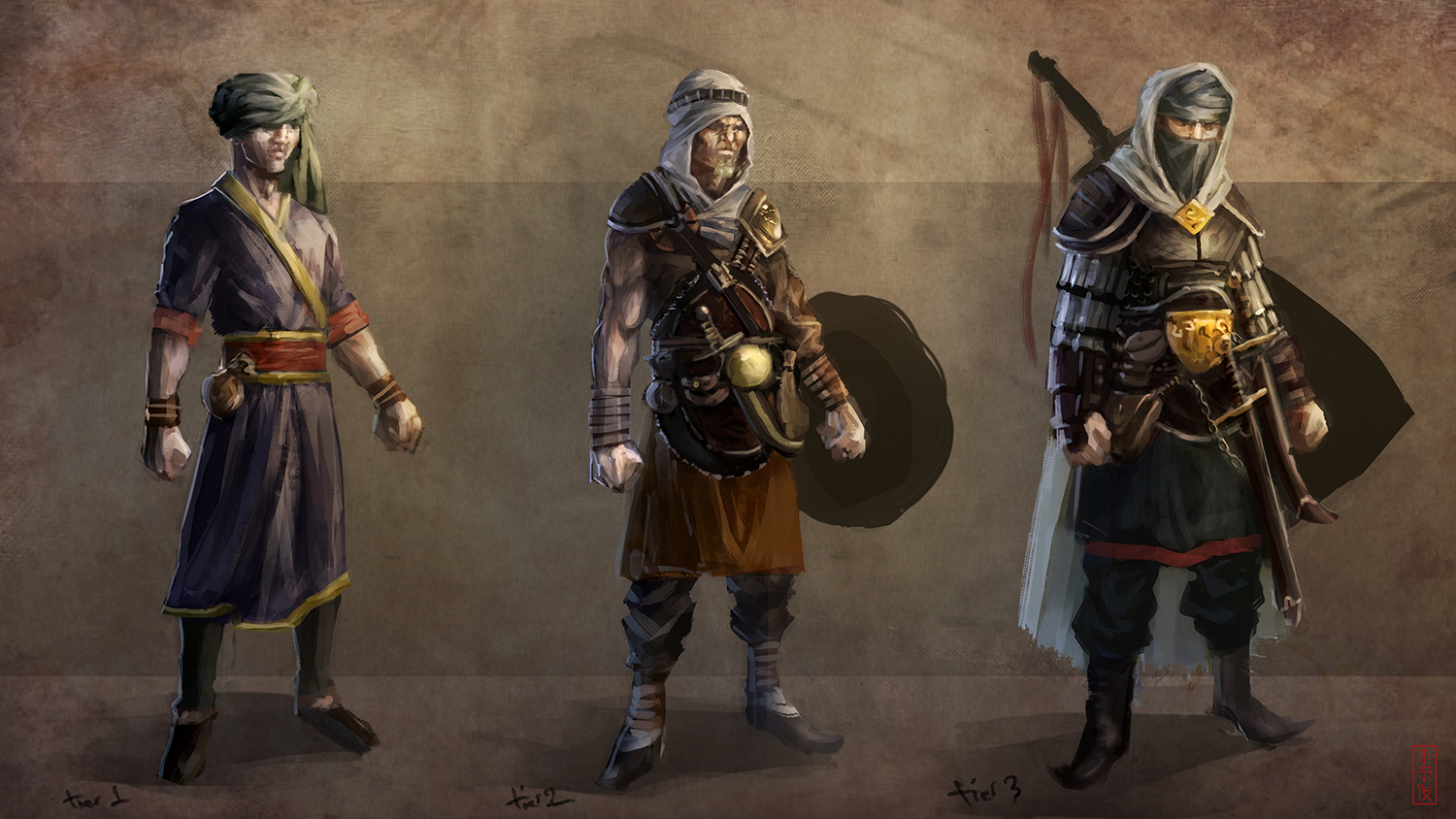 [Ruined Environment Concept]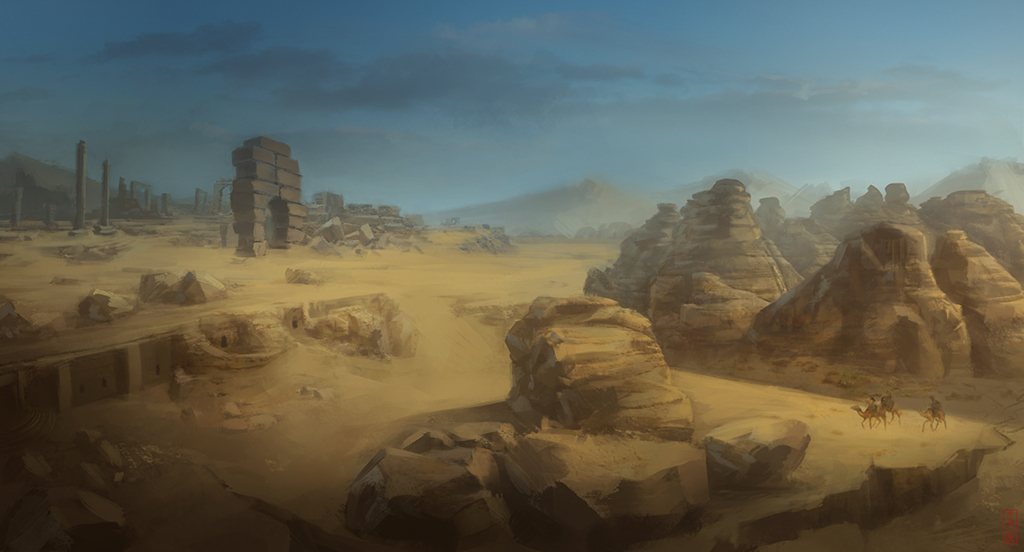 Conclusion
Thank you for taking the time to read this update and check out the images and video.I am constantly amazed and humbled by the productivity,professionalism and patience of the team. As I do for my team members regularly I want to take this opportunity to thank you for your continued support as we move forward with development.
Thoughts and feedback on the update are always welcome.
Best Regards and Much Love
Mr.Nexy and the Atajrubah Team