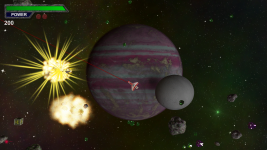 A lot has been added since the last news update. Asteroid Miner is now feature complete. So the enemies, player ships, and UI have all been added. The game has been added to the early access build, which is available on the website.
The enemies include a timed mine that will come out and blow up if you do not shoot it in time, a comet that will make a beeline toward the player, and a UFO that will randomly shoot blasters until it is killed. In addition to picking up the minerals left by asteroids, you can gain points by killing the enemies.
The video shows off the weapons and defenses available to you. Each ship has a specific defense, but the weapons are picked up in crates that appear randomly throughout gameplay. The weapons include a nuke, that makes a large explosion and splits nearby asteroids, a laser that allows for more precise and continuous hits, and a repeater blaster that allows your blaster to continue traveling after hitting an asteroid so you can hit multiple asteroids with one shot.
The defenses are a shield that appears around the ship. The shield graphics have been updated a little since the last screenshot. The other defenses are a warp drive that allow you to teleport safely to any area of the screen, and a repulser that pushes away nearby asteroids.
The two-player modes have also been finished. You can play co-op to try to collectively get points, or versus to try and get more points than your friend. Versus mode offers the ability to set a time limit to reduce the time required to play a round.
As mentioned in a previous update, Open Wheel Racing has also undergone some graphics changes. The video above will show you the new look.