It's no secret that one of our more ambitious goals for Interstellar Marines is to deliver a full tactical arsenal of 27 different weapons - 3 models in 9 weapon types. You probably already know the MeiKuy CE-6 SMG quite well... But we have a new baby we would like to present to you, and those of you who have found the easter eggs in the Xmas 2010 release (PC/MAC) know what I'm talking about.
So without further ado, I give to you:
Assault Rifle 03 - Unity Content Viewer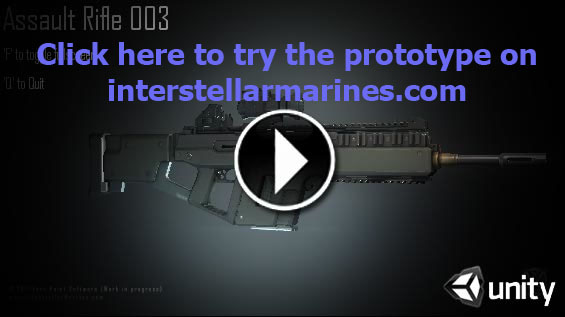 We can't wait to give you this one to shoot with - but we're not there yet... Sorry! :)
The making of ...
The first iteration of the Assault Rifle 03 appeared in the 2006 Trailer when we all met IM Commander Lt. Reese for the first time (see it floating in his hands!). I think this variant was a block-out I made in Lightware 3D based on a rough concept I did back when we made the trailer.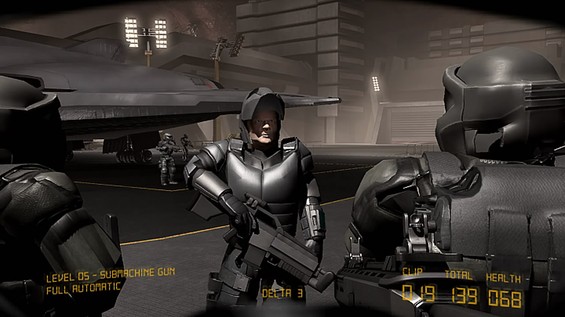 Late 2008 our former Concept Artist Andreas Von Cotta-Schønberg started working on the assault rifle again; this time in collaboration with our former Lead Artist Anders Antoft and myself. After a few iterations back and forth we had the concept of the assault rifle as we know it today. And now Anders have finally modeled and textured it in Maya and made the initial import and setup in Unity.
Concept / Weapons / Assault Rifle 03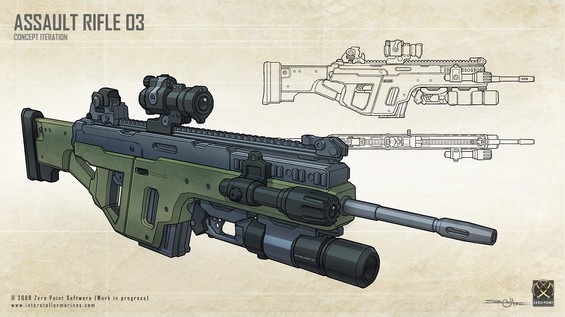 Near final concept of the Assault Rifle 03. Shown here with extensions; Light, G-Launcher, ER-Scope.
HD wallpaper (1920x1080) available in Briefing Room
We haven't given the Assault Rifle 03 a name yet, so feel free to post a few suggestions - you never know, we might use it. :-)
FOR THE LOVE OF THE GAME
/ZPSHicks