Welcome to another update from Anarchy Productions , in regards to the modification entitled as the "Assassination Mod", which is currently in development by us. The team has been working hard, and in today's update for the modification, we have a small update on various weapons for the modification, mainly consisting of previously shown weapon models having been textured.
WIP - Weapons
In today's update, we have three updated weapons to present to you, with the models having been shown in previous updates. These weapons include an updated AK101 (Now textured), the MGL140 (Now textured, plus partially rigged and animated), and lastly, an ingame render of our RPG7 that we have created. Please note all weapons are still work in progress.
Assault Rifle - AK101
First up we have our updated AK101 assault rifle, which has been textured by team member Midgard, our resident weapons unwrapper and texturer. The model was created by our weapons modeller, aku123. The first and second screenshots are renders from a 3rd-party program (Showing the dirty and clean texture versions of the weapon, respectively), and the third having been taken from inside of Crysis.
Explosive Weapon - MGL140
Our MGL140 grenade launcher, modelled by aku123, has now been textured by Midgard. Below we have several screenshots, one a third-party render and the others having been taken ingame, showing both the static model and rigged/animated weapon, with the rigging/animating having been done by myself, callofduty511.
Explosive Weapon - RPG7
And lastly, we have just one image of our previously shown RPG7 weapon, which shows the static model ingame. The model was created by team member aku123, textured by team texturer Midgard, and exported by myself.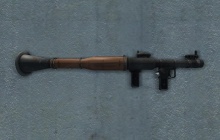 Status Update/Recruitment Positions
Progress on the modification has admittedly been slowed down by a fair amount in recent times, due to many varied issues for the team members. We are still working hard on the modification, but we are urgently in need of some fresh team members to renew our progress on the mod, and to progress even further. The below positions are currently open within the team. To apply, please send an e-mail to me at callofduty611@hotmail.com, PM me here at Crymod, or instead PM me on ModDB.com. Please include previous work with your application. I apologise for any delay in reply to any applications, as I am currently in a fairly inactive status. Further details on the open positions can be found in our Crymod recruitment thread, here.
Weapons Animator
Music/Audio Designer
Vegetation Modeller/Texturer
C++ Coder
Vehicle Modeller/Unwrapper/Texturer/Rigger
Prop Modeller/Unwrapper/Texturer
Character Modeller/Unwrapper/Texturer
Thank you for taking the time to look at our update, we hope you enjoyed it. There is still a lot more to come in the near future, so keep a lookout for our next update.
Related Links:
- Crymod Forum Thread: Assassination Mod - New Update Released (18/06/09) - Page 21!
- Recruitment Thread: Assassination Mod - Open Positions
- Anarchy Productions