I'm pretty sure Cogmind is the first ASCII roguelike to support a drag-and-drop mouse interface.
Usage of drag-and-drop is not required, but it is slick, and will help non-hardcore players get into the game by enabling an intuitive feature common to modern interfaces.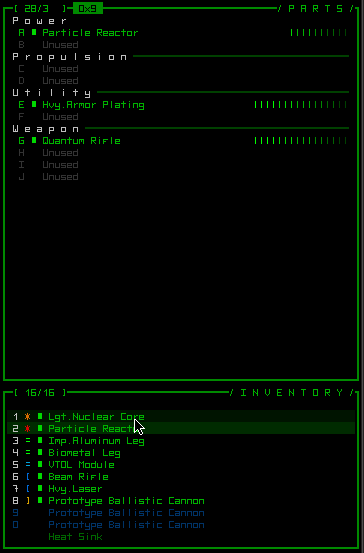 Dragging works between the parts list, inventory, and map,
meaning you can use it to drop, attach, remove, or re-arrange parts.
For mouse users, the original part manipulation controls (Ctrl/Shift-clicks) are still available (they're faster than drag-and-drop), but drag-and-drop does make it possible to arrange the order of parts in your list, a special feature previously only accessible via keyboard.

Aside from organizational preference, changing the order of parts is only
meaningful for weapons, since it determines their firing order.
Cogmind is still (and always will be) entirely playable without even touching the mouse, which is the most efficient way to play, but every command is also mouse-accessible, meaning mouse-only play and hybrid styles (probably the most common) are all possible.