Hello everyone!
Welcome to another edition of the Civics Expanded+ dev diaries. As mentioned last week, this dev diary will be quite a long one, and will focus on ascension perks, one of the main aspects of the 1.2 update, which is coming soon. I wanted to add more perks that are special, and don't just give a static modifier, but of course, there have to be some that do that. As always, the numbers are not final.
---
One with Nature
The only new ascension perk that just provides static modifiers is the One with Nature ascension perk.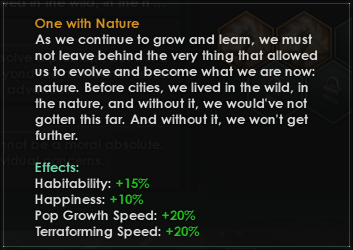 It may look very powerful, but again, numbers aren't final, and I also plan on strengthening some of the base game ascension perks.
---
Primitive Protection Program
Finally, some more interesting perks! Of course, these also provide some static modifiers, but they're also special.
Of course, to use this one, you need to have encountered some primitives. Not only does this allow the use of the Planetary Guardian mission, but it also strengthens the production from Passive Observation.

Although the Planetary Guardian only provides some resources (and cost some), I plan to add some events related to the Planetary Guardian mission. This, however, will be in another update.
---
The Master AI
This ascension perk doesn't provide very strong bonuses directly, but what the chain started by this perk provides, is very strong, and in return, you have around [REDACTED] years before [REDACTED] appears.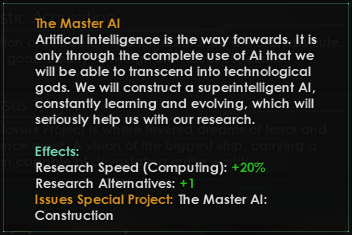 To be able to unlock the ascension perk, you need the Hyperintelligent AI technology.

Don't worry about the tooltip! It's totally safe...
---
That's it for this week's dev diary! Next week, we'll have a look at some of new civics coming in the 1.2 update, and some of the ones in the base game that will be changed too.