The art in Jobchanger Brigade is all created in a vector format.
This is different from pixel art that most indie games use nowadays, and, in my opnion, it's a format that makes edition much easier, although pixel art is often more charming. I also find that pixel art has more examples in games (and also learning resources specific to games), both indie and on consoles like the SNES, so it's much easier to find references, which is a very important aspect of progressing as an artist. You can apply some pixel art concepts to vector, but not all of them.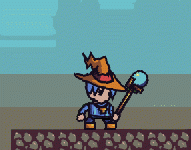 As far as software goes, I use Inkscape which is free, so that's good. It may seem overwhelming, but once you learn how the pen tool work, you can do anything with it. I also use circles, squares and the pencil tool for quickly scribling or for some wackier shapes.
To achieve the look of Jobchanger Brigade, I use only 16 colors (except for some backgrounds, where I blend the colors sometimes), no gradients and 3 pixels width of outline strokes or no outline at all for some objects. I find that limiting the number of colors goes a long way in making the game's art feel cohesive. I mainly use one shadow color and one light color for most objects, although that can change sometimes (more shadows, more lights, only a shadow, only a light, no shadow and no light...)
Below you can find some videos where I record myself creating the art. One of them is about creating a weapon for an enemy and the second one is me creating a potion. The first video has voice over but the second one only has annotations, so, sorry about that.