After the Okhlos tour, we can now focus on what's important: the game. At least for now, it's incredibly difficult to cover all areas of game development, being only two guys (plus we have to do things like writing this update

). So, this week, I kept my original plan of making Ares' minions.
Ares was the first god we had. I chose him because in the early prototype phase, we needed a warrior god, a melee oriented boss. So Ares was the logical choice. Then we had the semi bosses, which we knew had to be sons of Ares. Ares had a lot of sons, but we focused on two of them: Phobos & Deimos. Phobos being fear, and Deimos being terror. These two concepts were strong enough to give us some interesting mechanics for the semi bosses. Also they sounded cool as hell.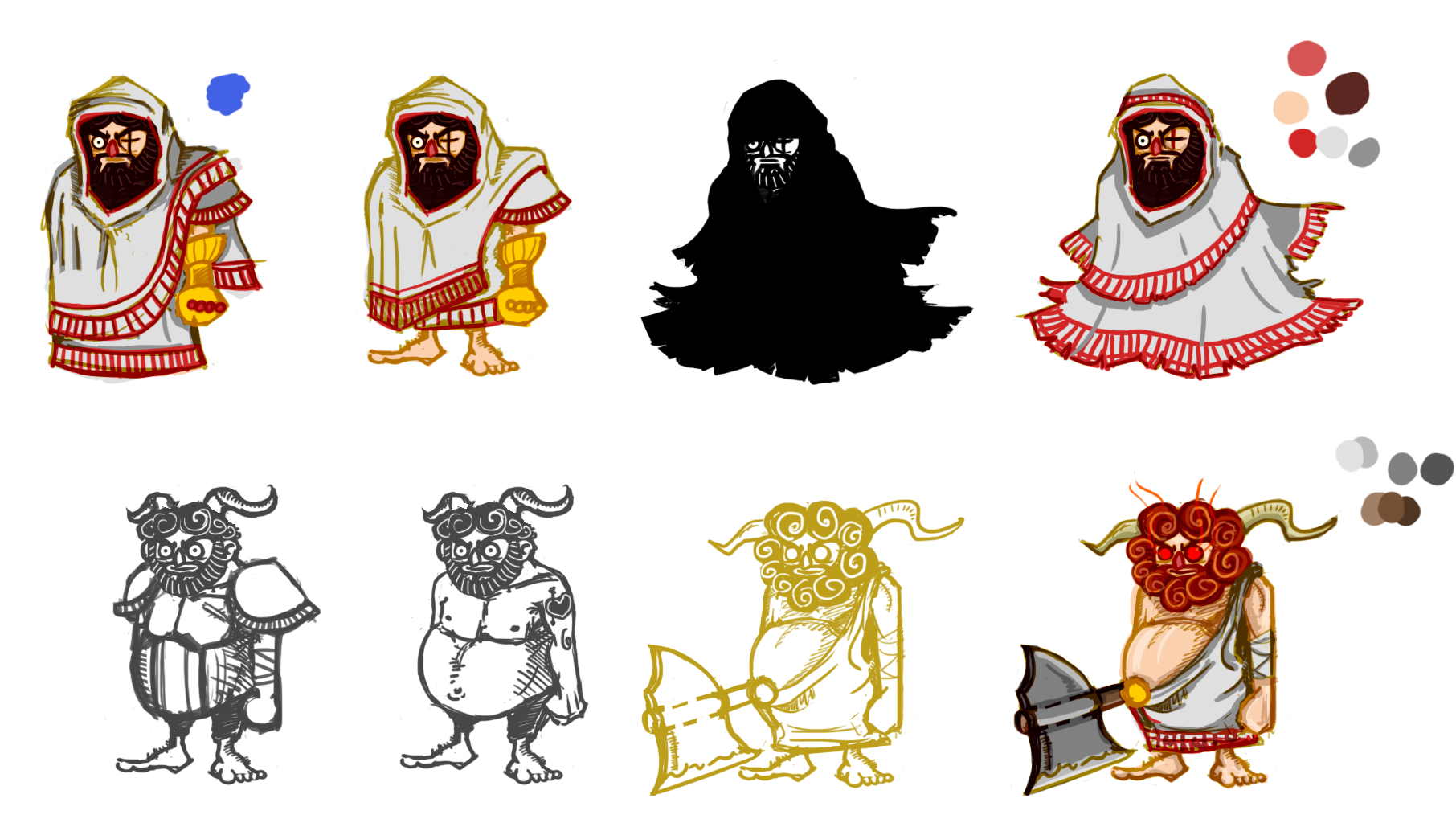 Here are a few sketches of Phobos & Deimos. I think I don't need to tell you that you can click in the picture to enlarge it.
As you see, I searched for a grimy look in Deimos, but the challenge was to not be too Hades-like. It was important not to relate Deimos with Thanatos (Death), who isn't even sketched yet but will surely be in Hades' rooster.
We ended up with Deimos having a white and red robe, to follow Ares' palette. He will be more of a ranged attacker. Phobos in the other hand, was easier to design. We took him to a primal, more savage conception, with lion hair, and fire eyes. He will be more melee oriented.
The cool thing is that each of them, represents a part of Ares. Ares will have area attacks, and melee attacks as well. So, in the Ares battle, he shows the two facets of their sons.



Here are in context, Phobos, Deimos, Ares, an Ares minion, and a philosopher.
Finally, the stage has to have a lot of enemies! So we designed some cyclops and a few warriors. The good thing about this, was that we had the main animations for the ordinary cyclops, so adding some Ares clothes was not much of a problem.
You can see the comparison between two running cyclops, to see what we had to do to animate them.
Also, we introduced our first rock thrower unit! He runs, throws rocks, and dies. Doesn't seems like much, but he can incredibly dangerous if he is in the right spot.
Below are the rest of the variations of the common units of the level, alongside Ares.


As you can see, this was all fun and games, but there is a problem. The decided to make A BIG CHANGE in Okhlos… This is driving us crazy, but we think it's a tremendously good change. What we are changing is… [CLIFFHANGER!!! DEV BLOG POST WITH CLIFFHANGER! SO ORIGINAL!] Check out what's the big change next week.
To finish, we want to say thanks to the people of Bundle In A Box, for nominating Okhlos for the Indie DEV grant. It's a big honor for us being nominated. Also, if we win some money would be incredibly cool.
If you don't know about the dev grant, basically, any person who buys a copy of the strategy bundle, can choose one of the nominated games for the grant to give them some money. The games are not in the pack, they just receive some help from the users. Also, only the most voted game will receive the money.

We are not only doing this for the potential money, (which, surely, isn't much) but in this way, we can reach more people, and they can get to know Okhlos.
That's all for this week! Thanks for reading!