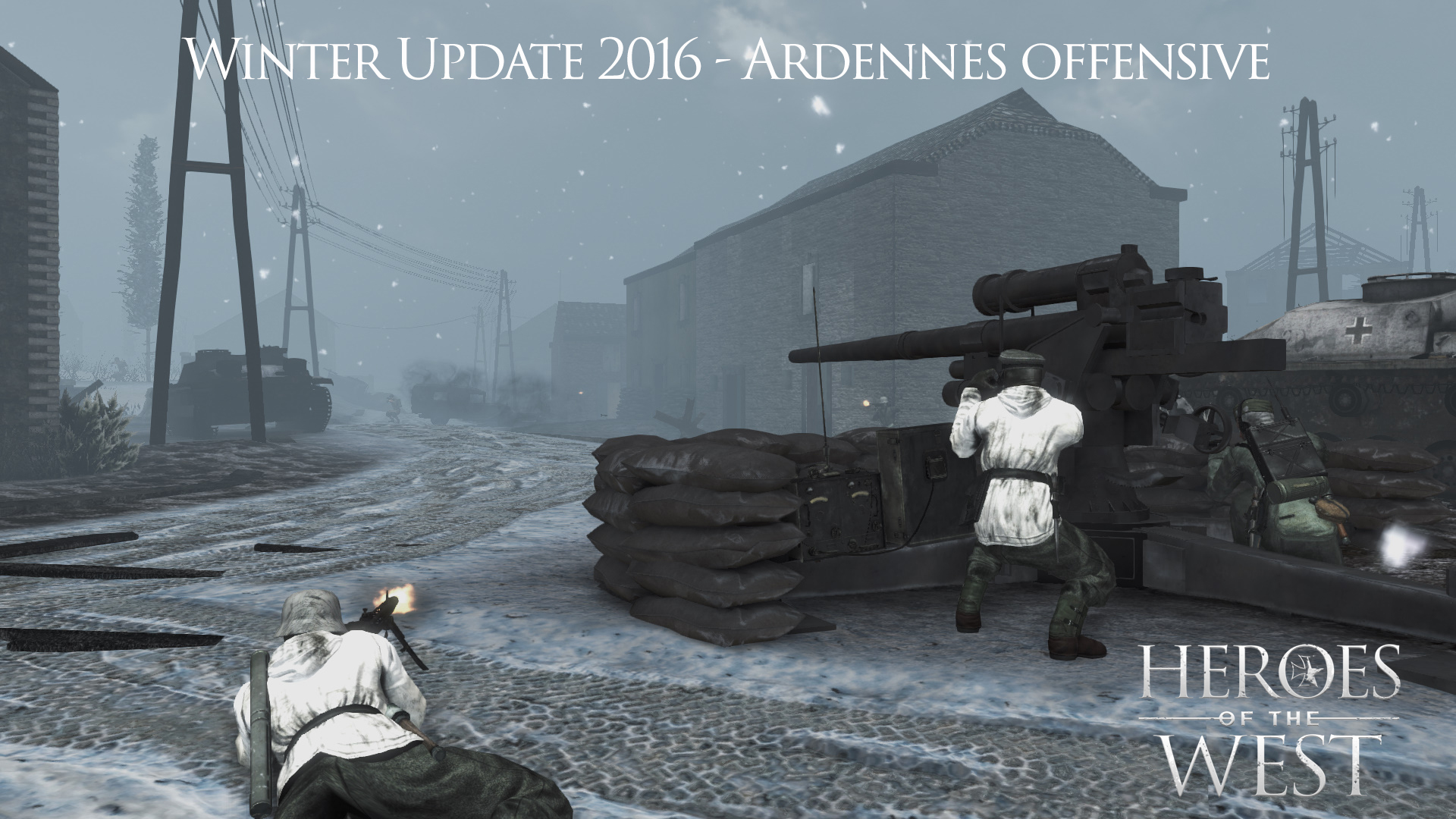 To mark the upcoming anniversary of the start of 'The Battle of the Bulge' (Unternehmen Wacht am Rhein) Tripwire Interactive and the team behind Heroes of the West mod are proud to announce the release of the HotW winter 2016 update for Rising Storm/Red Orchestra 2.

Based on the German counter-offensive in the winter of 44-45, this update has 3 new maps; 2 winter maps and Saint-Come-du-Mont, a community-made map based around the fight between US and German paratroopers in Normandy.

The maps set in the Battle of the Bulge include the classic map, Foy, from the Darkest Hour mod of Red Orchestra Ostfront. The other Map features brutal fighting with US GIs defending against an all out assault at Elsenborn Ridge in December 1944.

The update includes all-new winter uniforms for the US and German forces and features a new vehicle, the Jeep with an M2 50 cal. machine gun mounted on it, a fearsome light support vehicle.

Owners of Rising Storm/Red Orchestra 2 can grab the mod for free from Steam here- just run the launcher to get all new movies for the map loading screens.

Please join us on our Discord here.

Please allow servers time to update. If you join a server and begin to download files, hit F10 to exit and try another server. Also, if you participated in beta testing, don't forget to opt out of the beta. Questions and feedback are welcome on the discussion boards.

-The Heroes of the West Team



Here are the full Details

Three New maps:

Elsenborn Ridge: The Single American sector that held out during the Ardennes offensive. Located to the north of Bastogne the German failure to push the Americans back stalled the German advance into Belgium.

Foy: The 101st Airborne assualt the small town of Foy as the germans mount a hasty rearguard action to save their retreating heavy armour.

Saint-Côme-du-Mont: Before the Americans could take the crossroad town of Carentan they had to first secure the surrounding area. The small rural town of Saint-Côme-du-Mont is standing in the way of Carentan.

New Uniforms:

German Winter uniform made up of German greatcoats, white Parka's, white overtrousers and winter camo helmets.
American Winter uniform made up of Melton wool overcoats in brown and green as well as the M-1943 field jacket and uniform.


New Vehicle:

Willy's Jeep with a heavy M2HB .50 calibre machine gun


Loading Screens for all Official Heroes of the West maps.


Other changes:
Added A Sherman to Port Brest.
Adjustments to Brest to make it more tank friendly.
Destroyed Stug mesh is no longer partially see-through.
Stug front wheel flickering fixed.
Stug Cupola armour redone to better reflect its shape.
Fixed Collision issues on some Hedges on Bocage.