Arctic Warfare Release
Version 0.1
After nearly one and a half year of work, the Arctic Warfare mod has finally been released.
The mod will cover up your battlefield in snow and throw you in harsh environments.
But check out the trailer first:
The map
Rocky Mountains
Rocky Mountains is a large-scaled map taking place in Canada. Specialized Russian forces are battling against the Canadian Army, trying to get control over a bunker. It contains important coordinates, that both sides need to get as fast as possible.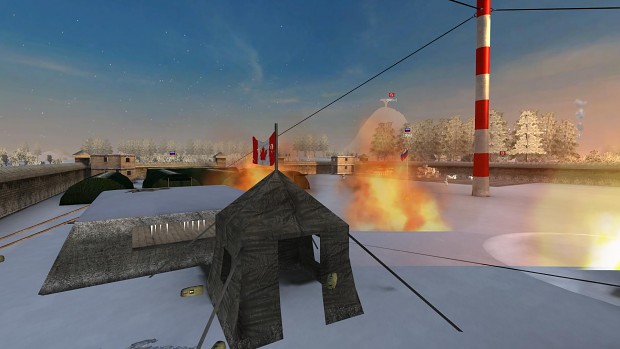 The Canadians are starting on a small plateau, that caps them of from the rest of the battlefield.
It's important for them to get control over a control point as soon as possible, otherwise they'll lose the match quickly.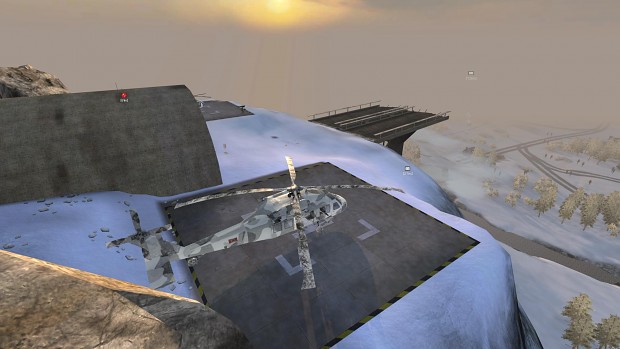 Gamemode sizes
16: Close quarter battle over the bunker
32: A medium sized fight, that promises many battle through it's special shape.
64: Large-sized warfare on the complete map
New vehicle
The Snowmobile
Jeeps aren't a option for the arctic environments, so the armies decided to use snowmobiles as a quick vehicle. It can carry 2 soldiers, while the rear passenger is able to shoot.

Gamemode support
Arctic Warfare supports every gamemode.
- The multiplayer supports three map sizes: 16, 32 and 64.
- The coop supports one map size: 32
- The singleplayer supports the same sizes as the multiplayer: 16, 32 and 64
New gameplay element
Suppression fire
Yes, inspired through Battlefield 3, we also built in some suppression fire, but only for MG's
It will blur the screen of your enemies, forcing them to run to cover if they want to have a clear vision.
Events:
Due to the small size of this mod, we won't have a multiplayer server running 24/7.
But we'll make a event every one or two weeks to get some players together and have fun.
Some info on the first event will follow soon
The mod should be very bug-free, but as this is my first real mod, it may happen, that there are still a few bugs. If this is the case, I'll patch them as soon as possible. It would also help me very much if you could leave some critics and/or reviews. Thank you!