Hi all and welcome to another news update. As you can probably tell we missed an entire month out, well I can say we haven't been idle, as you can probably see we have more concept art up for the main characters and there is more on the way.
Yoshiyukikatana (Ramida)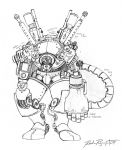 There is an updated/Revised edition we will get up at some point soon.
Have been working really well from the original descriptions and are turning out some wonderful stuff, as soon as the weapons are done and a few tests have been completed you can be garuenteed that we will be working on them in 3D as well as other characters.
There has been some testing going on in the background mainly referring to characters and facial animation which if I get sorted over the next few weeks you should see an example on the Alyss page. All in all its slow but steady. The main slow down on my part is we (by that I mean the girlfriend and I) have been looking for a place,having finally found one the next few weeks are going to be hell. Anyway we hope to give you an update and show you more ASAP.
P.S. we are still in need of concept artists and a programmer/technical mapper to work together to iron out the systems and what the Engine can/cant do.
Pm me if you can help.