Checklist
- Being able to drop different types of eggs. (x)
- Creating a scoreboard. (x)
- Different kinds of eggs, each one worth less/more points depending on it's speed. (x)
Still Need
A Life system- I was thinking about a system were the slower the egg falls, the more points it would take off if you miss it. When you hit -100 (Or another number) you lose the game.
Higher Goal- Not to sure what to do, feel free to shoot out ideas.
Animated Eggs- Eggs that spin in a circle like its falling.
A Basket- To replace the paddle.
Currently Working On
A Basket, it's still in WIP.
Better background and grass
More eggs
Screen Shots/ Videos
Some new shots of the game, plus the music currently include in the game.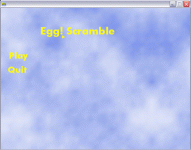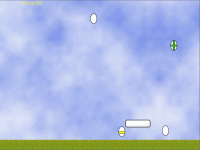 Garden Party audio - Egg! Scramble Game - Mod DB

-Carrots- audio - Egg! Scramble Game - Mod DB