Preamble
First off, watch our new trailer, 'The Spaces Between', which explores the fabled wastes of Oblivion, a new original musical combat theme, as well as a first look at new gameplay, and many of the places, artifacts, and enemies in Apotheosis!

Introduction
Its been a rough year. 2020 feels borderline cursed in some ways. Despite the insane curveballs 2020's thrown at us, progress on Apotheosis has gone ahead at a rapid and steady pace. While we haven't too frequently updated you guys, as usual, we've put our heads down and worked on producing content. We've not only improved on volume of produced assets, but quality as well. I'd like to thank everyone on the Apotheosis development team who've contributed to the project, and the invaluable time they've poured into the project, as well as our Discord Community Team.

Today we're excited to share some of the stuff we've been quietly working on behind the scenes; armors, weapons, artifacts, creatures, environmental shots of the Moonshadow tileset and more! We will also be taking a first look at the Apotheosis original soundtrack from both StanL and myself. And more to come from our other composers in the near future. Do keep an eye out in the linked videos, as I've included something a little extra towards the end...
What's our current status?
Word of warning, this does go into some boring details. But stick around if you wanna hear the long version. Here's what's been taking so long, and where we're at now:

1- Level Design: Arguably the toughest aspect of the making of Apotheosis, level design is at a very advanced stage of development. Especially because of the sheer variety of our environments (16 Daedric Realms, Dreamsleeve!), we had to build, source, re-skin or re-purpose a lot of custom assets to properly represent all these different and unique worlds. That's aside from the challenges of keeping things interesting, fun, well paced and balanced. The Dreamsleeve, the Apotheosis overworld, over 1/5 the size of the Skyrim worldspace, and the Apotheosis hub world is in its final polishing stage. The bulk of our levels are game ready, and barring a few more Oblivion based sequences, a new dungeon type, and intro and outro sequences, we're very close to reaching final stages. Apotheosis is playable almost from beginning to end! Do remember, we've been at this for more than 4 years. Typically, level design refers to moment-to-moment gameplay. This covers level and world design, points of interest (locations), friendly and hostile encounter design, AI navmesh implementation (pathfinding), puzzles, ambushes and other gameplay scripting and design.

2-Quests & Narrative Design: A ton of writing, voice acting, voice editing, quest implementation and scripting has been completed, but we still have some ways to go to ensure Apotheosis' story is fully fleshed out and realized. Quest design in Apotheosis is influenced by traditional RPG and Immersive Sim design, in its focus on reactivity and player agency. We want to ensure that players are able to really engage with characters on an emotional level, that characters have a sense of depth and character progression, in growing with the player and observing the influence of the player's actions on the world. We're about halfway through narrative design, and with level design being at a very advanced stage, this greatly accelerates quest production since everything is already laid out and exists in a physical form for you to build a story within it.

3- Environment, Prop and Character Art: Art production is also at a very advanced stage, most of our kits are functional and complete. Only one more kit remains under construction, and some more character art and artifacts still need to be built. But the majority of required art has been built already. Over the recent year, we've had several new artists join the team and contribute towards our production goals. I'd like to shoutout our artist, RottenCore, as well as Xilefenko, David Rathus and Mati Goosha who all contributed in the 3d department in the past year.

4- Gameplay Systems: While Apotheosis is mainly a story content mod, it is also bringing along with it new takes on traditional Elder Scrolls gameplay, in the form of new thematic gameplay systems to really complement the world and its conditions. Systems design also involves itemization, ie loot and its implementation, magic systems, new spells and abilities, where and when to pace out rewards, etc. Here, a lot of progress has been completed, but there's still some more room to go.

5- Original Score and Sound Design: Along with everything else, we are also creating our own original soundtrack for Apotheosis! Composers StanL, Tekkera, along with my own efforts are working to produce a unique, memorable and fitting soundtrack to accompany your trials and tribulations through the wastes of Oblivion. Equally as important, is creating new gameplay oriented sounds, things like location discovery, underscore critical gameplay moments, sounds for magic effects, and more.
---
N.B. Following environmental screenshots were rendered in Skyrim (2011), with Skyrim's native lighting/weather/imagespace settings and a custom Reshade configuration. Object renders were created out of game.

Moonshadow Tileset
Quite a bit of work has gone into the Moonshadow Tileset, which incorporates over 130 individual new kit pieces. While we incorporated some assets from the base game, community and commercial asset libraries, everything else had to be scratch made. From palace floor, wall and tower pieces, to new trees and vegetation, containers, character art and animated pieces. While its very painstaking and time consuming work, it was worth it to really help make Moonshadow feel right, and match the legends the lore books described.

---
Armors
To defeat the horrors of Oblivion, you will need effective protection. Apotheosis comes with over a dozen new unique armor sets, ranging from the ultra heavy to the ultra light, and covering all major role-playing archetypes.

While the creative and artistic aspect of armor creation is certainly a challenge, the bigger challenge is getting these armors in to the game, especially with Skyrim's requirements for custom pieces to be made. So for instance, every armor piece has to include _0 and _1 versions (highest and lowest weight versions/ie weight slider support) of every single armor piece, as well as support for both sexes (individual _0 and _1 versions for every sex), separate first person shoulder and hand models, and individual havok enabled versions of inventory and ground display models (the version you can drop on the floor/ view in the inventory).

---
Weapons and Props
Part and parcel in acquiring the tools to defeat the denizens of Oblivion, a respectable and vast arsenal of weapons to choose from is essential. You may have been able to spot some of these in 'The Spaces Between', our newest trailer. Apotheosis incorporates dozens of new hand crafted weapons and artifacts, faithfully modeled, sculpted and painted to match modern standards, to provide the player with a wide array of options in dealing with challenges. From heavy weapons like greatmaces, greatswords and battleaxes, to light daggers, swords, bows, staves, and more!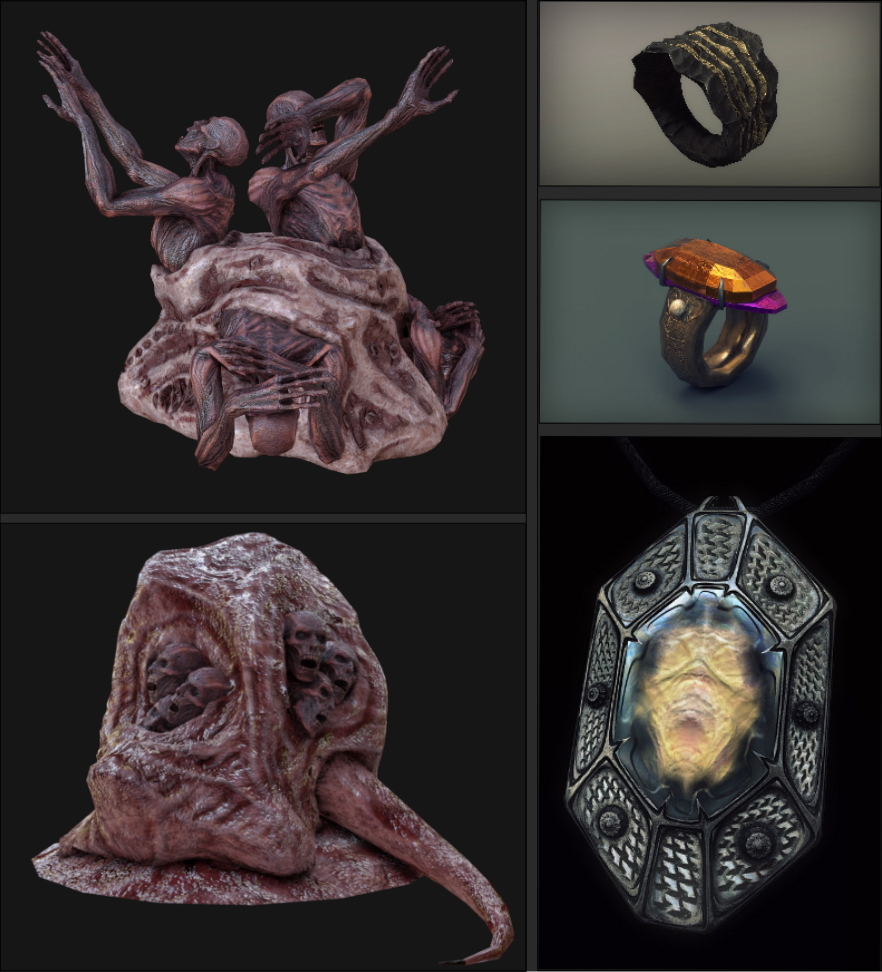 ---

Creatures
Your journey through Oblivion will not go unnoticed. The denizens of Oblivion are fierce, dangerous and unknowable. Creatures are a very important aspect of Apotheosis as it will incorporate many new and old species of creatures in order to defend their respective realms, as well as populate the Dreamsleeve. Creature design is meant to cover a wide array of tactical approaches, from ranged spell casters, illusionists and destruction specialists, to close range heavies, light swarmers, and melee duelers. The combination of these approaches is what allows for a formidable and interesting fighting force, capable of mounting a fun level of challenge to the player.

---
Conclusion
Thanks for reading! We hope to have more to reveal soon. We are very hard at work on Apotheosis. We are indeed looking for people to help us out through this final stretch, so if you have the skills, please be sure to apply! Every bit helps.

If you haven't already, be sure to follow our ModDB, join our Discord, and sign up to the @updates role, where we will start posting regular short snippets of in-development assets, from animation gifs, to production renders, early environment teasers, and more!

Stay safe out there.