New Lighting System!
The old Lighting System was impractical, and well.... old! so the new one is going to be MUCH better! the change isn't THAT drastic as too players can see the difference but for the future it will cause less problems!
New Particle System!
Smoke puffs, Fire particles, Muzzle Particles you name it! everything is now possible since i've added in the new System to the game! it's still a WIP though.
Flares!
After watching a few Apocalyptic Zombie videos on the internet, i realized that 'survivors' use Flares regularly!
so i've decided to add it into the game! :D


Sleeping Pills!
Players can now sleep even though they aren't tired! just make sure you don't over do it!
New 'Road' Sprite!
The Black Aspalt that the player steps on outside has changed into a side walk! and it looks better then having a black rectangle as a road! XD
(also changed the spawning mechanics for Grass and Useless Garbage lying on the floor)
and too make it look more 'Roady' i've added in Street lights! they are just for decorative purposes,for now... *evil grin*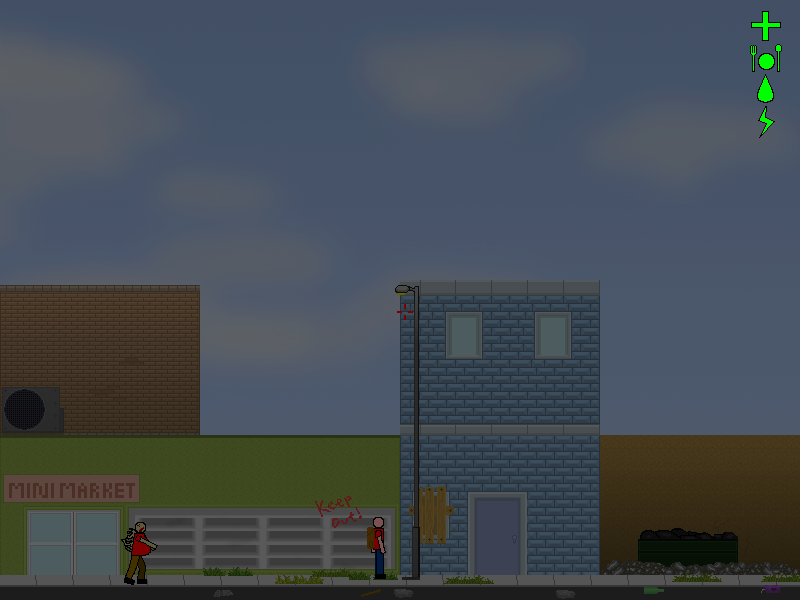 And also there were some minor bug fixes involving item sprites and 'teleportation', and finally some other minor changes.
and that's all for this update! enjoy! :D
Facebook : Facebook.com
Twitter : Twitter.com
Youtube : Youtube.com
Itch : Apocalypse Scavenger
if you're interested you can try the DEMO of Apocalypse Scavenger for FREE! and if you like what you see don't hesitate to buy the game! every bit helps!
you can also help out by spreading the word! :D (by sharing This Game)