United Nations Space Command PR-TRANSMISSION 44877H-08
Encryption Code: Green
Public Key: file /tango-six-three-four/
From: >>FLEETCOM.MO.BL.AM
To: >>CAWCOM
Subject: STATUS REPORT
Classification: Restricted
/start file/
Alright then, it's time to discuss the long awaited June Patch, let's dive right in with the changelog as it currently stands (subject to change before the patch's release).
Changelog
UNSC:
- New UNSC Charon and Paris Frigates
- New MAC projectile
- UNSC AI will now fire MAC cannons correctly
- UNSC SMAC Platform added
- UNSC Prowler space mines now explode like proximity mines (extremely hand against corvettes and fighters)
- Added more resource upgrades
Covenant:
- Added Covenant SDC Corvette
- New Covenant Light Cruiser
- New Covenant Destroyer
- New Covenant Assault Carrier
- Added upgradeable ship system
General:
- Several performance optimizations, including:
* LoD models for a few ships and projectiles
* Most reworked models from the above lists are significantly lower poly
- Countless balancing tweaks, you'll find the game plays quite differently to the last version
Upgradeable ships?
That's right, several Covenant ships can now be upgraded on the go in skirmish simply by clicking the ship you want to upgrade and selecting the desired upgrade. At the moment the ships only have generic upgrades that improve/add more weapons, and boost shield strength, but over the course of the next few months we will be adding in many unique upgrade paths that will give you some serious fleet customization options.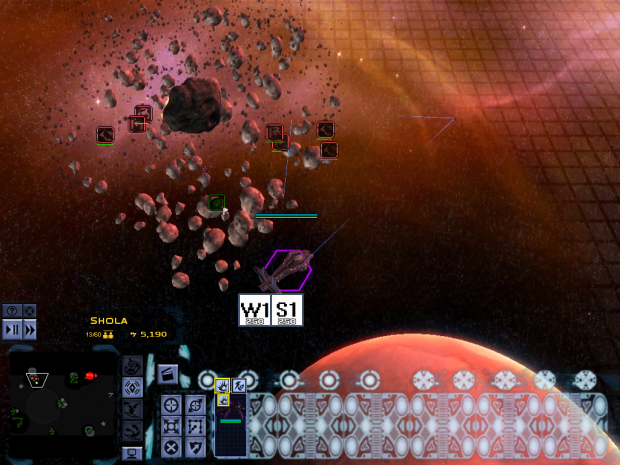 The only ships currently using the system are:
- Picket ship
- SDV Corvette
- Light Cruiser
- Destroyer
SMAC Platforms
These are a game-changing addition in the UNSC's fight against the Covenant, SMAC platforms are long range turrets that can be built anywhere on the map. They can be used to take out large chunks of an oncoming fleet before it can get anywhere near you, but be careful of the Covenant's in-system slipspace ability, if you don't pay attention a whole fleet could easily slip straight into your SMAC cluster and take it down.
Covenant Reworks
In addition to the unit reworks you've already seen in previous updates, we've also re-textured and re-modelled the Covenant Destroyer:
And the Covenant Light Cruiser:
Both of these ships deal can deal some serious damage with their Plasma Torpedo launchers, and the ability to upgrade them with more weaponry has made them even more deadly than ever.
Release Date and Beyond
The June patch will be uploaded on June 25th 2013, it will include all the mod files, so you will need to delete your old mods/CaW folder before installing it. As with last year's christmas release we will listen to your comments and try to get a patch out to address any issues ASAP.
As before, this release is SPACE SKIRMISH ONLY, if you try and run Galactic conquest you'll get all kinds of weird bugs.
Over the summer months following this patch, we hope to release an exciting new gametype along with at least one map pack, stay tuned for that (I'm sure DGaius will talk about it more in his blog: Halocaw.net )
That's it for this update, see you on the 25th.

/end file/