Welcome to the first of many dev updates. In these I will discuss the development progress over the previous two weeks and talk about what is coming down the pipe. The two week development cycles are called "Sprints" and force us to complete a bunch of tasks, from the planning stage to being in-game, within a reasonable amount of time and have the game in a playable state afterwards. Not publicly playable yet, but once it reaches alpha and beta.
Change log
Civilian fading in/out when entering building. Instead of just disappearing, they will gently fade when entering or exiting a building.
ability to attach entities to other entity's nodes. Entities such as weapons or other items. They attach to the bone nodes of the models.
Give the civilians more actions when encountering a blob: inspect, flee, attack. All weighted differently based on how scared the civilian is.
Allow the civilians to purchase guns at the gun store. The weapon is equipped and they can then use it to attack and defend themselves effectively.
Guard locations for civilians. If they are somewhat scared, but not terrified, and if they have a weapon, they will find a location near a critical location on the map (their home, weapon store, grocery store) and guard that location attacking all blobs that get near.
Integrate the individual and human team's fears into the GOAP actions. Different levels of fear will cause different actions to happen. A really scared civilian will run away instead of attack.
Integrate the GetDown update downloader into the build scripts. This will check for updates automatically whenever the player runs the game and download only what has changed. Without having to use Java webstart.
Change attack actions to follow the target entity if it is moving around the map.
Started work on "Ray" the ray gun. Completed and rigged the model but should lower the poly count before UV unwrapping it.
Upcoming Changes
Being the start of holiday season, we might not have too much time to complete in-game tasks. However there will be some game balance, story development, and abstract level design. Also a hopefully completed "Ray" the ray gun, places of interest (POI) for the civilians to wander to and check out so they can look busy (also integrated into the editor).
Triangle Bob
This is Triangle Bob, he is a placeholder/stand-in for the real models. His audition was okay, but he lacked conviction. We just didn't believe he was scared enough when a blob attacked.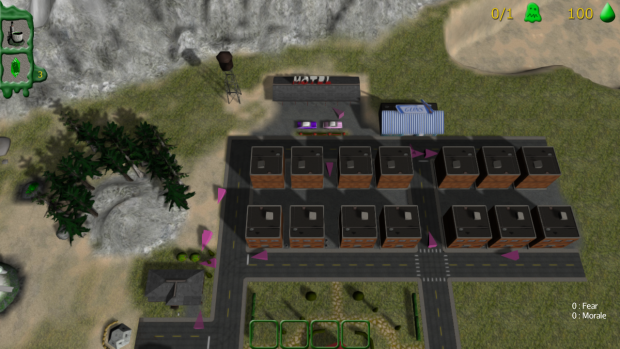 In this shot you can see him wandering to stores, browsing around, and heading off to buy a gun. He has about 20 identical twins.
An early 'Happy Holidays' to all.